Spring has sprung at the Farmer House!  Now that we're officially over winter, I'm ready to bust out the color and maximize the curb appeal.  For me, that means doing a full front porch spring refresh.  I thought it would be fun to show you what I came up with, and also where I found some of my inspiration.  So, get ready for my Farmhouse Front Porch Ideas for Spring!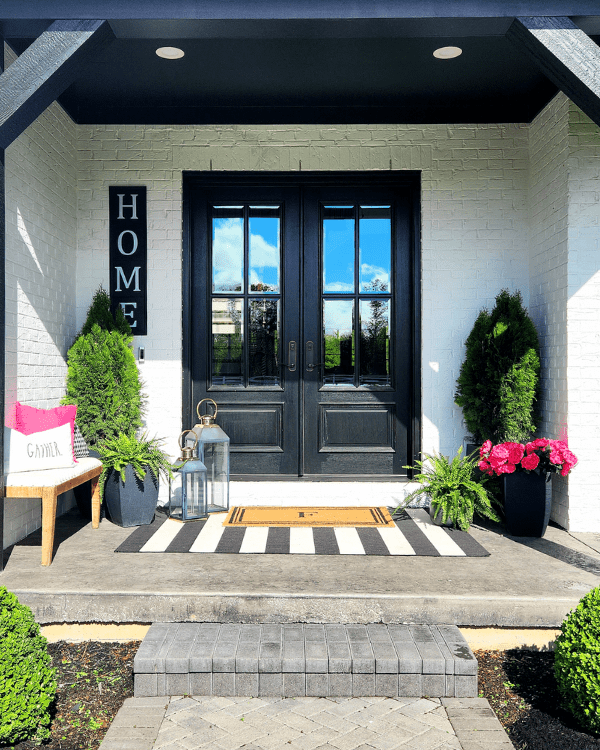 My Farmhouse Front Porch Refresh
To get started on my front porch refresh, I first pulled every thing I had off, except my HOME sign.  I love this sign and knew it wasn't going anywhere!  But, like most farmhouses, without accessories, my front porch is pretty bare.  It's basically white brick with black trim, windows and doors.  While there's nothing wrong with that and I do love it, it definitely needs something.  For me, that's color and comfort.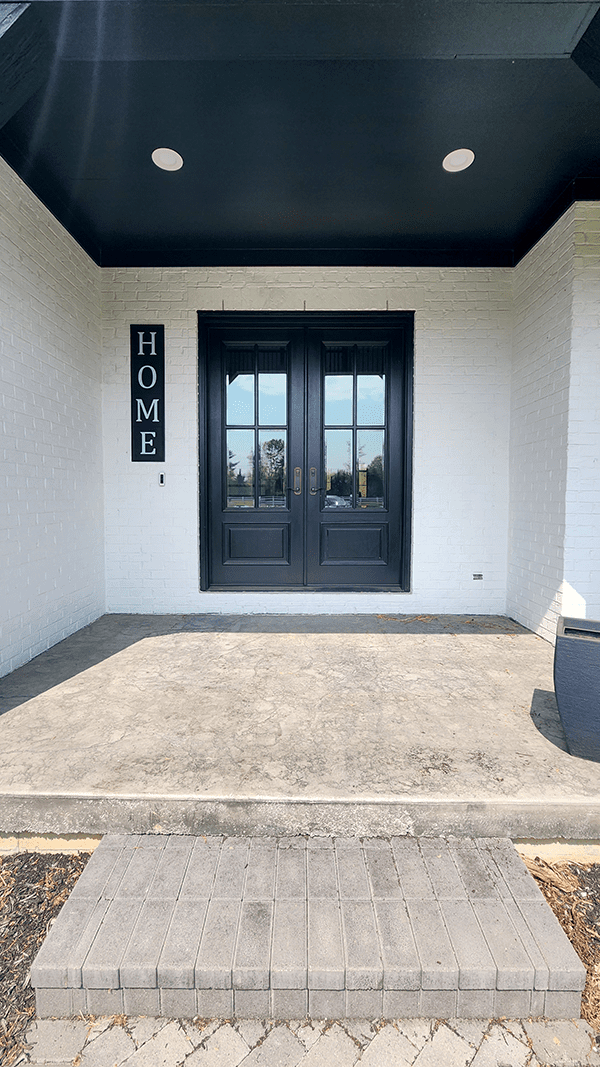 Once everything was bare, I figured out what I already had to work with.  In my case, I had several empty planters, a bench, some faux spring flowers, and outdoor pillows and rugs that I knew I wanted to incorporate.  With that in mind, I went to a local nursery and gathered a few living supplies – two sizes of evergreen trees, a handful of ferns, and some bright pink flowers that I knew would match the fakes I already had.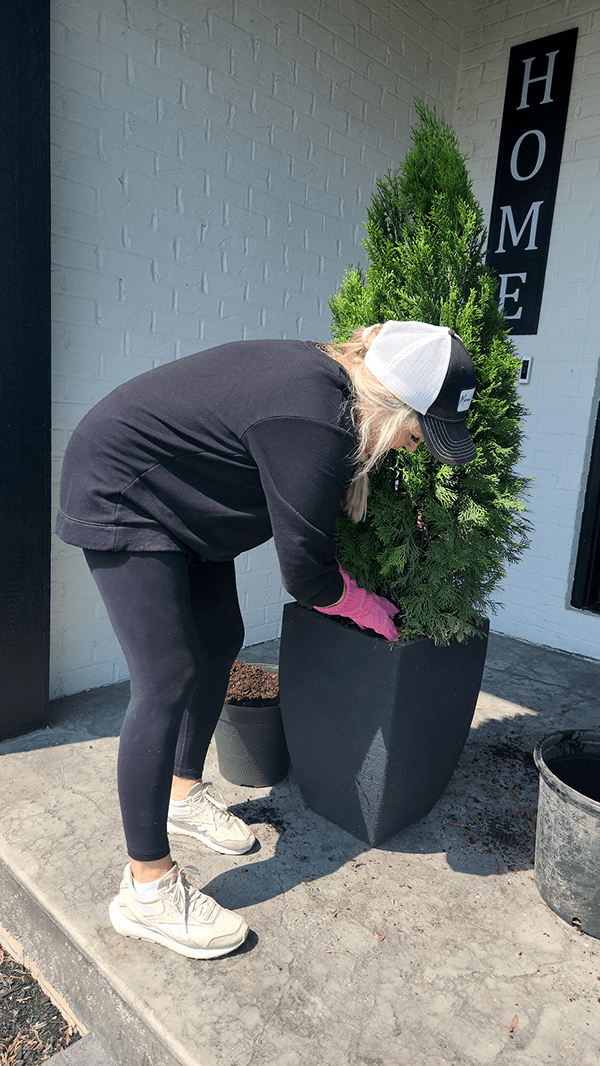 After re-potting the trees, I placed them in the corners of the porch and built the rest of my design around them since they are the tallest decoration besides the sign.  From there, I added my oversized faux flowers to matching planters.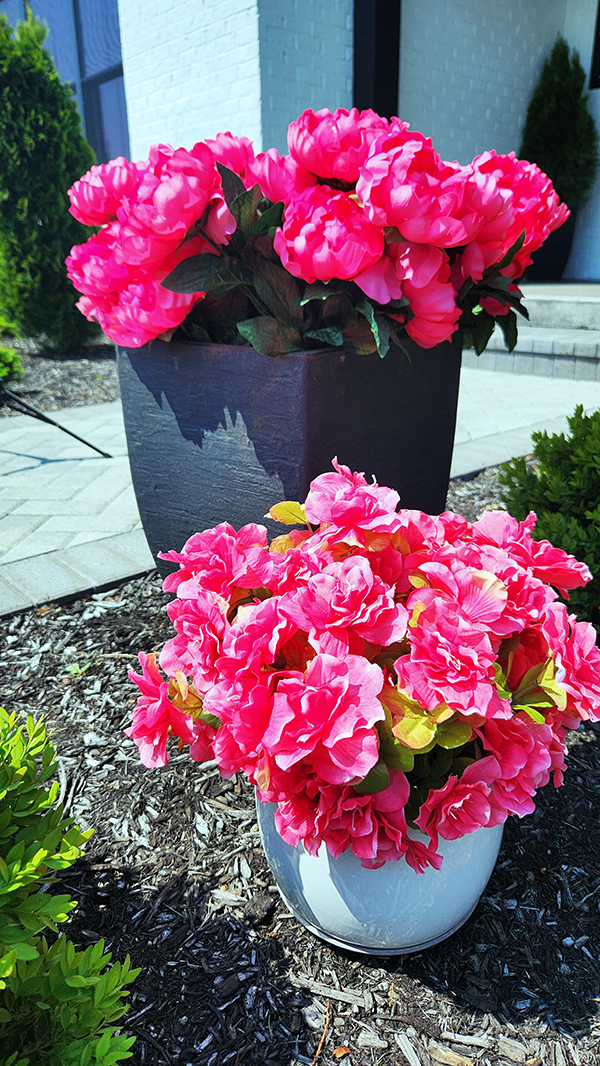 I'm not going to lie – these are my favorite part!  They're bright, they're pink, and they add the best pop of color to my black and white porch.  I layered these, along with the ferns I had purchased and some other cute lantern accessories with the two evergreen trees.  I then topped it off with my bench and matching pillows.
Farmer House Side Porch Refresh
For the extended portion of my porch, I followed the same formula, except I have two rocking chairs and a cute table to work with.  From the road, I truly believe you can't tell which flowers are real!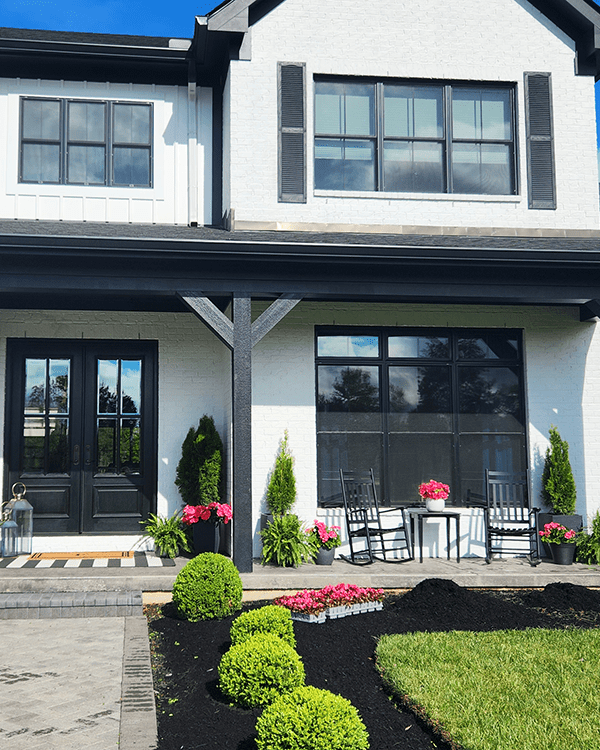 The last step for me after the porch is fully complete is re-mulching the front landscape and planting a few other complementary pink flowers.  I am incredibly happy with how everything turned out, and I have the following Farmhouse Front Porch Ideas to thank for it!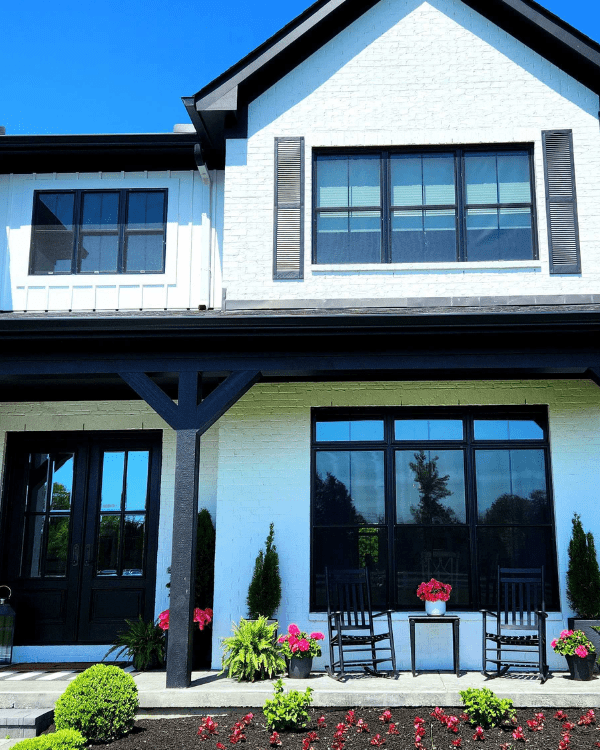 Farmhouse Front Porch Ideas: A Blooming Antique Ladder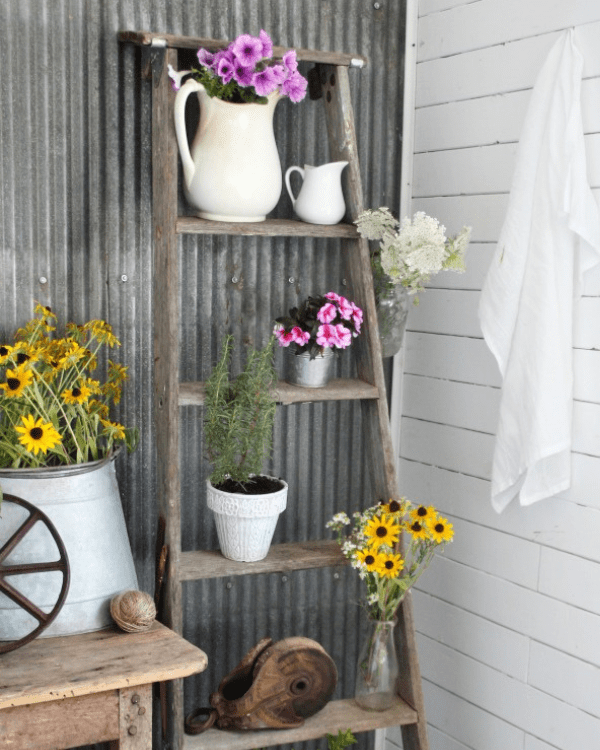 Image & Decor Source:  Knick-of-Time
What a darling and simple idea!  Take an antique ladder and dress it up with different vases of blooming flowers.  This is a budget friendly way to add color and personality to any corner on your farmhouse front porch.  And, with my tip of using faux flowers instead of the real deal, your blooms will last from spring through summer if you'd like.
Try out Vintage Accessories: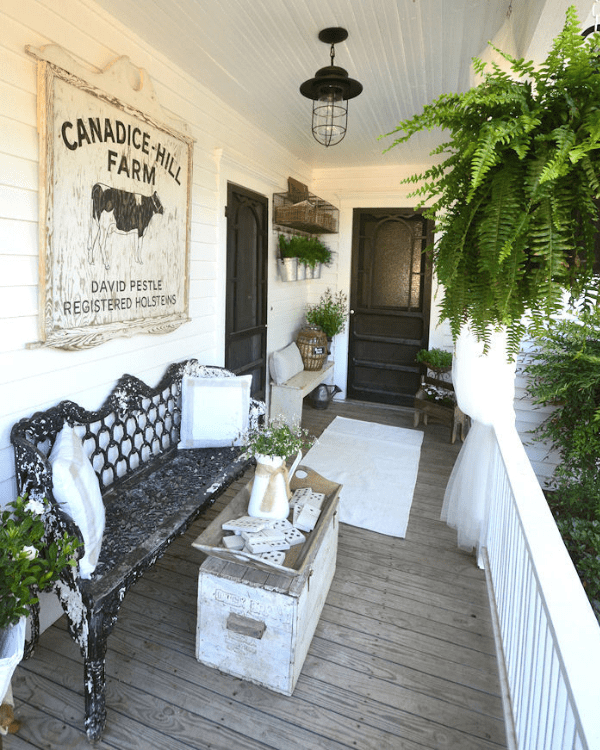 Image & Decor Source:  Laurieanna's
This weathered (and dreamy!) iron bench looks right at home on this farmhouse inspired front porch.  It complements the black doors and subtle light fixture so well with its rustic and worn paint.  I also love the addition of the farmhouse sign tying it all together for classic curb appeal from the street.
Farmhouse Front Porch Ideas: Add A Spring Wreath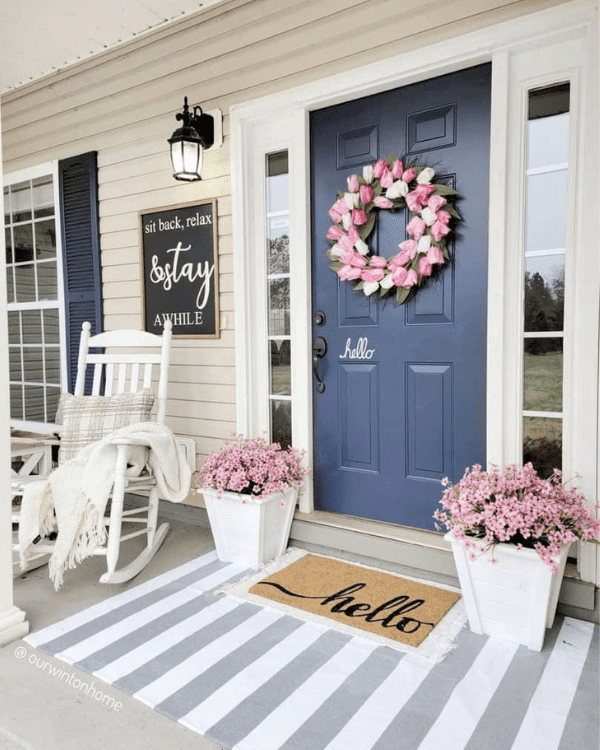 Image & Decor Source:  ourwintonhome
This porch definitely inspired my own; we have similar layered rugs!  While I love a bright pop of color personally, this more subdued blush pink still says spring loud and clear – especially with the tulips.  The cozy throw blanket and classic rocking chair make this farmhouse front porch friendly and inviting without too much clutter.
Vertical Palette Planter: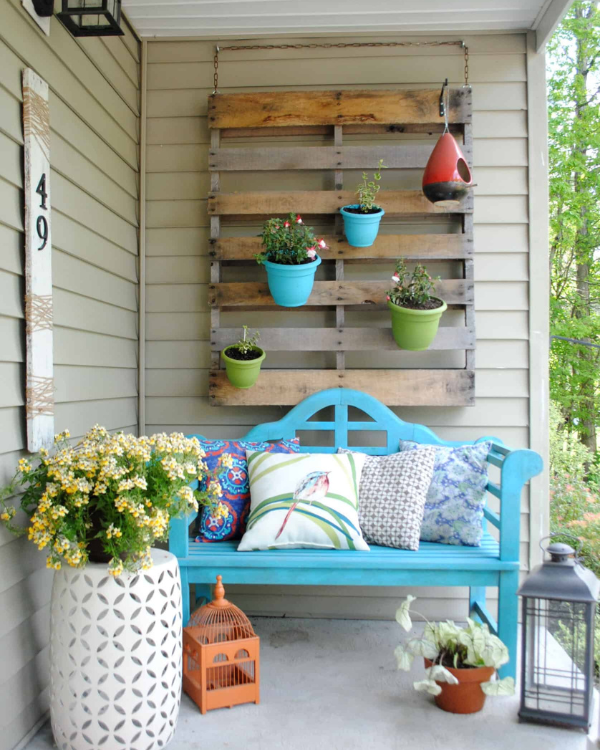 Image & Decor Source:  jenna_burger
While this vertical palette garden doesn't quite fit the aesthetic of my porch, I do think it's quite cute.  Another budget friendly option, this garden gives plenty of opportunity for flowers, herbs, or even a bird house as shown here.
Hidden Pop of Color: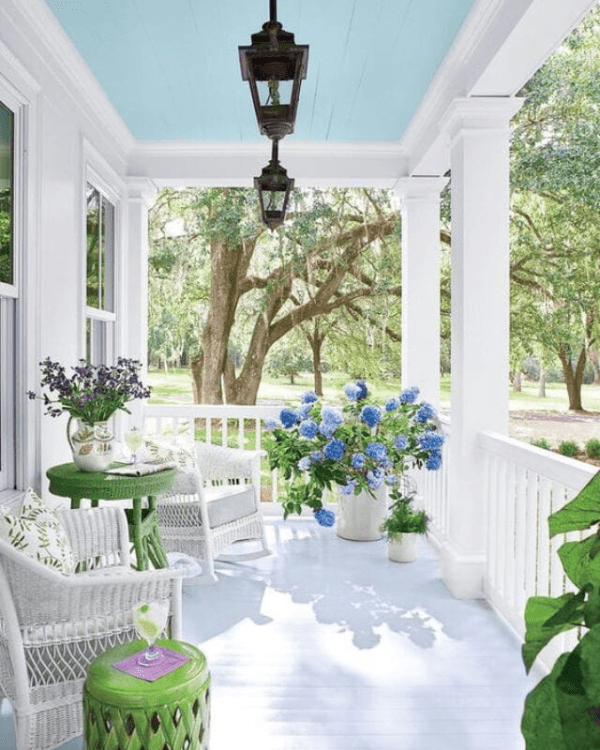 Image & Decor Source:  Southern Living
To me, this farmhouse front porch idea is less about curb appeal (although it is beautiful from afar) and more about homeowner happiness.  The eggshell blue ceiling instantly feels like that classic Southern charm I love.  The oversized flowers and green accents really set off the otherwise white design.
I hope these Farmhouse Front Porch Ideas have inspired you to refresh your own this Spring!  I'd absolutely love to see what you do so give me a follow and tag me on instagram @ourfarmerhouse so I can see and share your creations.
For more farmhouse inspiration, check out these posts:
XOXO,