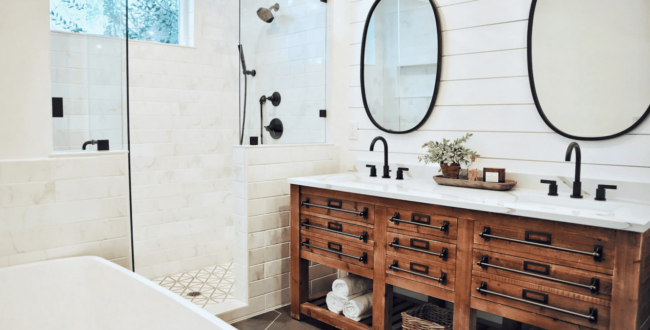 Image Source: CityGirlGoneMom
Farmhouse bathrooms can be so charming. They're usually a bit rustic and warm, mixed with hard and soft. Some have pops of color and bold patterns, while others have touches of glam and shine thrown into the mix. To get that signature farmhouse look, here are my 7 Farmhouse Bathroom Tips!
Incorporate Wood Tones:
I understand that sometimes materials like marble and porcelain can be too expensive or impractical to use.  But, you don't need to go big with ultra-priced materials when you have cheaper options that are just as beautiful like wood.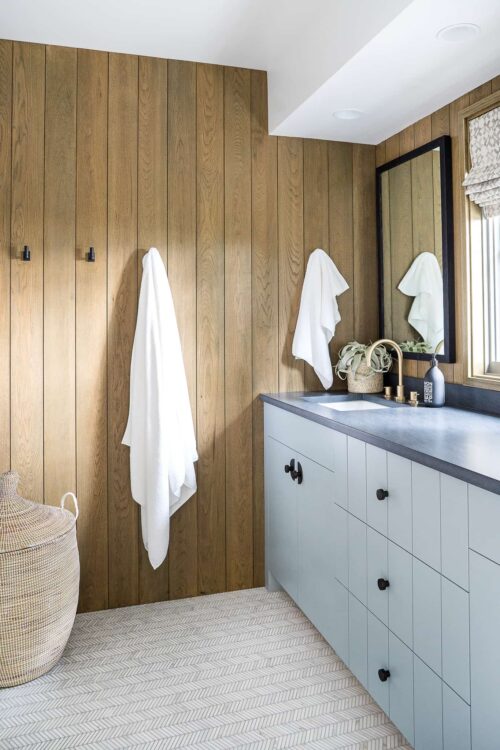 Image Source:  Mindy Gayner
Adding wood paneling, faux wood beams, or simple floating shelves can bring some warmth back into your space. Farmhouse bathrooms tend to be pretty neutral, but the soft wood tones create homey-vibes where you may need added comfort.  You could also add touches of warmth with natural baskets and wooden accessories like a toothbrush holder.
Switch your Shelving
It's your sanctuary; update what you want! One of my favorite 7 tips for that signature farmhouse look is open-concept shelves and cabinets. These shelves always feel more welcoming than the traditional cabinets. It does mean you have to keep them somewhat tidy, but keeping them simple should take care of that.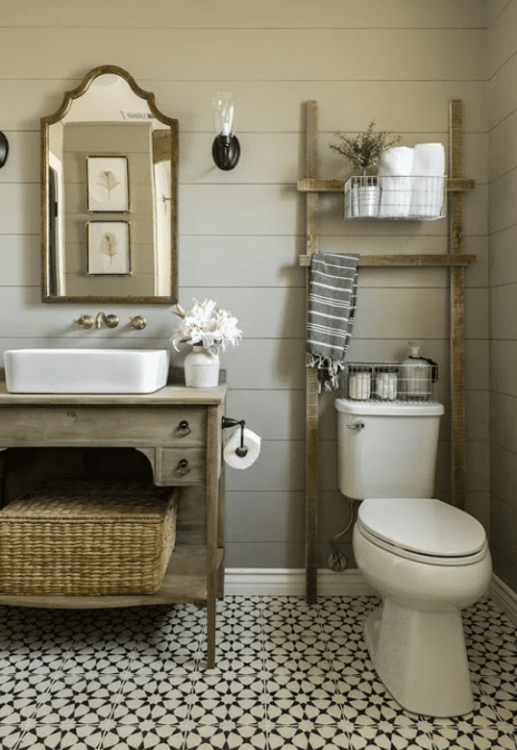 Image Source:  JennaSueDesigns
Open shelves are a great place to store your robes, plants, and favorite perfumes. You can make open shelving work for you in many ways – whether it's an over the toilet shelf, or a few traditional floating ones — The style makes the bathroom feel less clunky and allows you to insert a little personality out in the open if you choose.
Update the Tub and Sink Fixtures
Another easy way to get the farmhouse look is updating the bathroom faucets with something high-end, yet typically vintage-inspired. Buying higher-end faucets offers various characteristics, such as multi-functionality and more water temperature controls, but they can also add a touch of glam or a pop of color!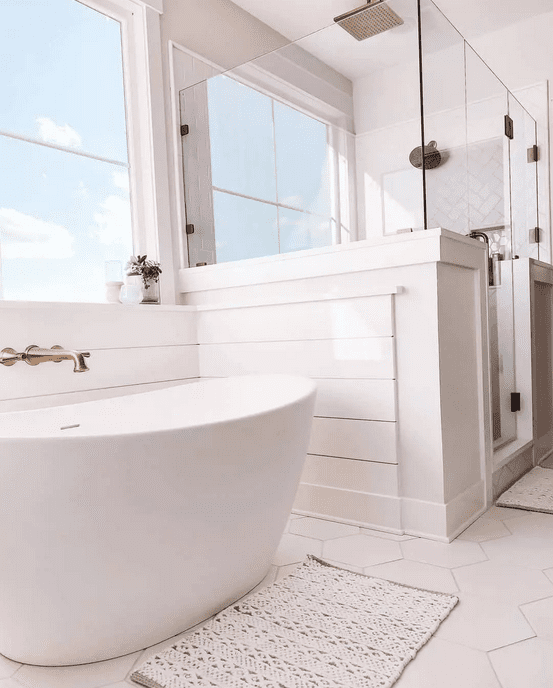 Image Source:  holmessweethome_615
Gold and Brass faucets are a current trend – they're gorgeous, match the farmhouse theme, and are a personal favorite of mine as evident in our kitchen!  However, matte black faucets are also pretty popular and lend to the neutral aesthetic of a farmhouse bathroom as well.  Updating faucets (and cabinet hardware to match) is not only satisfying, but studies have shown it increases your home value!
Try a Barn Door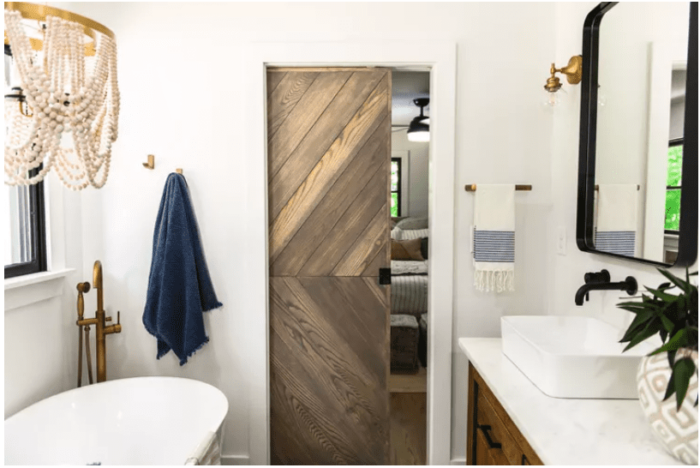 Image Source:  Accent Prone
If farmhouse is what you want, you can never go wrong with a barn door!  Whether it's a pocket door, a sliding door, or a regular door finished with a barn-inspired veneer, it will scream farmhouse to anyone who sees it.  Often found in shades of white or natural tones, you could go out of the box and pop some color into it as well – think light blues, grays, or even a fun green or pink.
7 Tips to Get the Farmhouse Look: Experiment with Wall Paper & Tile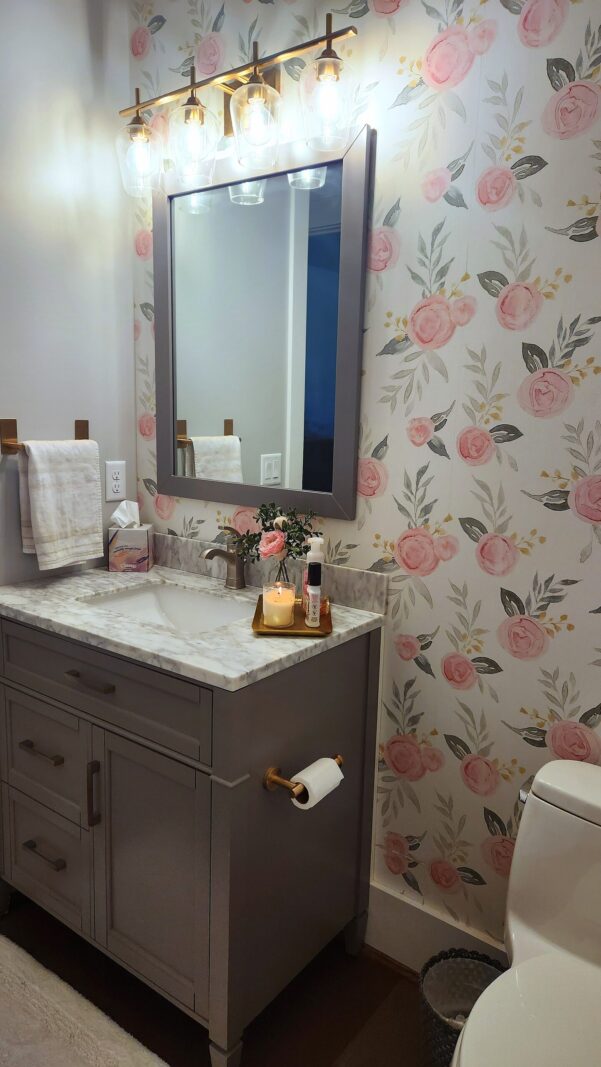 Image Source:  Our Farmer House
I adore wallpaper. When Daron built our house a few years ago, he surprised me with this beautiful floral wallpaper in our half-bath off the living room.  He always knows what I like!  It's big, bold pattern makes me so happy every time I see it, and it injected some femininity into this simple bathroom space.
Go for the Farmhouse Sink!
The most obvious of my 7 bathroom tips is the farmhouse sink.  They work in a variety of spaces – kitchens, bathrooms, laundry rooms.  I would go so far to say that they're one of the main reasons people love the farmhouse look to begin with.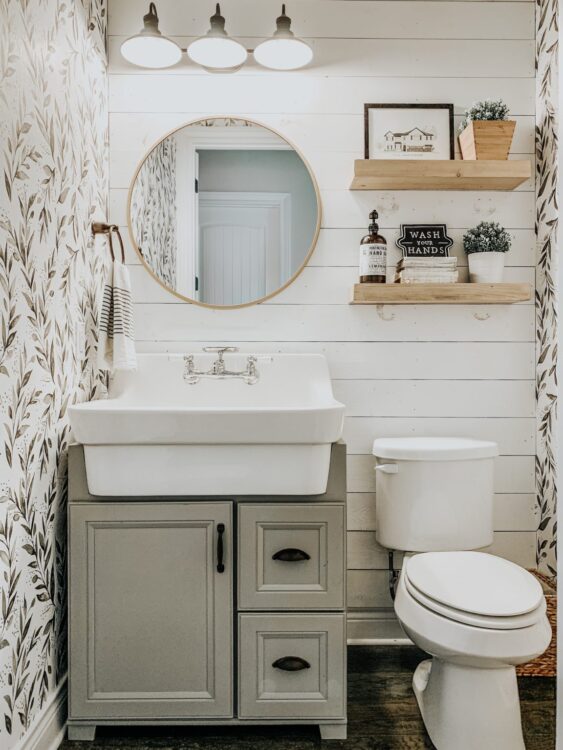 Image Source: OurFauxFarmhouse
There's just something timeless about the look of a farmhouse sink.  They're usually big, deep, and classy in any setting. I love them in a bathroom because they can be a bit unexpected.  Pair them with a ship-lap wall, or a vintage-inspired faucet and you're instantly farmhouse chic.
7 Tips to Get the Farmhouse Look: Add Accessories
Farmhouse inspired accessories can really polish up any bathroom space.  I love the look of woven and metal baskets.  Pretty faux flowers in simple vases and rustic or minimalist toothbrush holders and cups also help sell the look.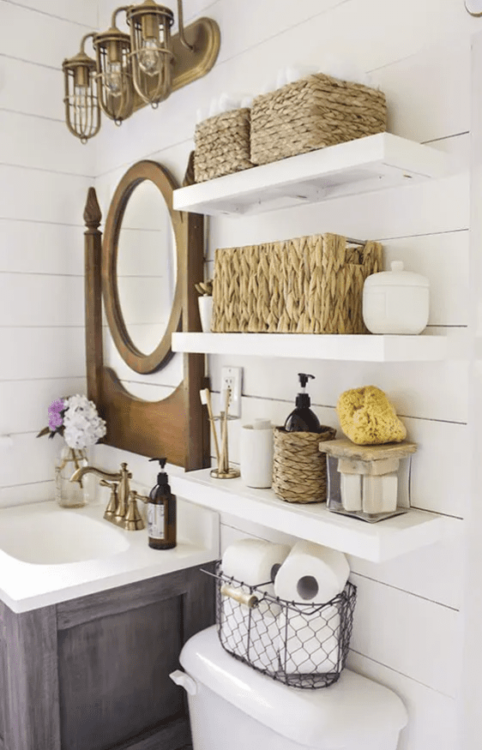 Image Source:  DigsDigs
I also like to add simple trays to set my accessories on.  Trays help make everything feel like a "collection" and intentional.  They also keep things looking organized while adding a touch of elegance or a metallic pop to an otherwise neutral bathroom space.
What are some of your favorite accessories?  I want to hear from you in the comments!  What are your must-haves in a farmhouse bathroom?
Last but not least, if you're not currently following Daron's custom homes business, @farmingcontractingllc, we invite you to do so!  He would LOVE to help you build the home (or bathroom) of your dreams.
XOXO,