Our Mexican Fiesta Party, aka Thanksgiving 2020
Thanksgiving in 2020 looked a little different for Our Farmer House this year as we decided to celebrate with a Mexican Fiesta Party in lieu of a traditional turkey day. Usually, I would go to Corbin, KY, my hometown, and celebrate with my extended family of more than 50+ people. Together, we would have turkey and all the fixings, a tradition that I've been a part of for more than 35 years. However, this Thanksgiving, in the middle of Covid-19 and with my papaw Curly's recent passing, we decided to postpone the large family gathering and celebrate with only our immediate family members.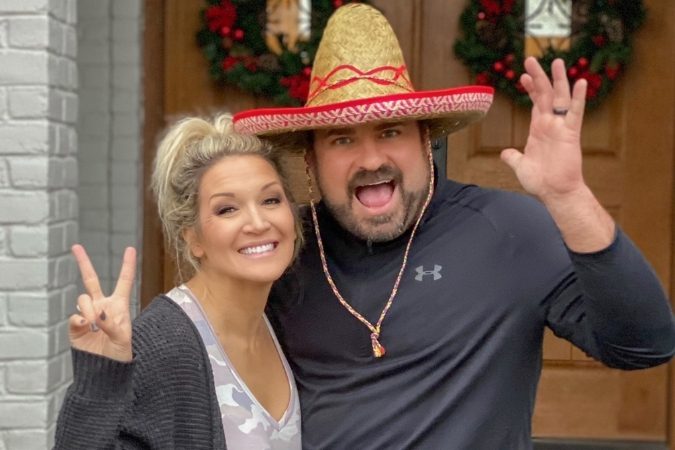 Having just had a significant and fun Thanksgiving pre-party the weekend before, at my sister Amanda's house, I decided to host my immediate family at our home for a new Holiday tradition–Our Farmer House Mexican Fiesta Party!
I couldn't think of a more perfect and fitting way to celebrate this Thanksgiving, but in true Texas Farmer fashion by having a Mexican Fiesta Party complete with a menu of fajitas, tacos, chips and salsa, and a delicious Tres Leches Cake. We also made the day festive with a stuffed cactus pinata and Thanksgiving trivia.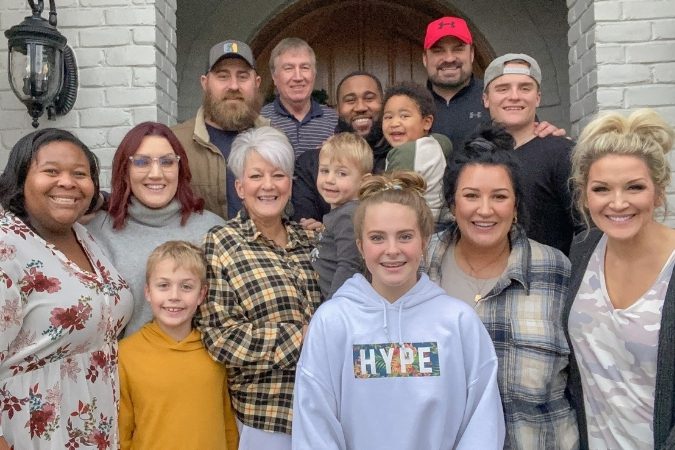 For the Mexican Fiesta Themed Party Decor:
To keep the fiesta decor easy and inexpensive, I used a combination of what I had on hand along with a few items that I picked up online. I was excited to remember having purchased a set of jewel-toned colored milk jug shaped vases a few years back. I used these along with two other small vases for flowers.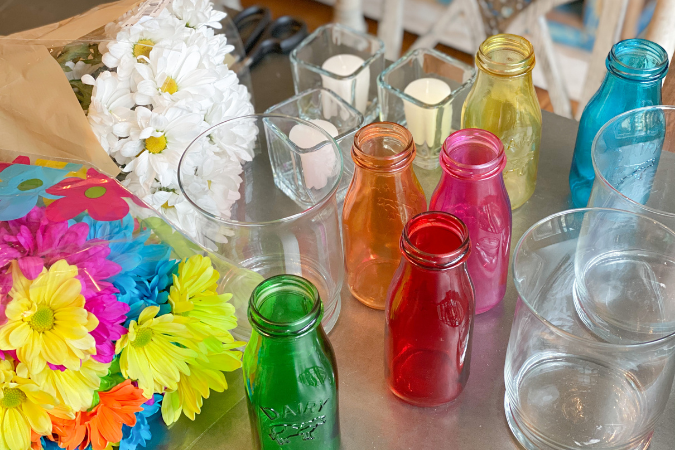 I purchased two bouquets of inexpensive dyed bright colored and white daisies from my local grocery store for the flowers. I trimmed the ends and mixed them in the vases.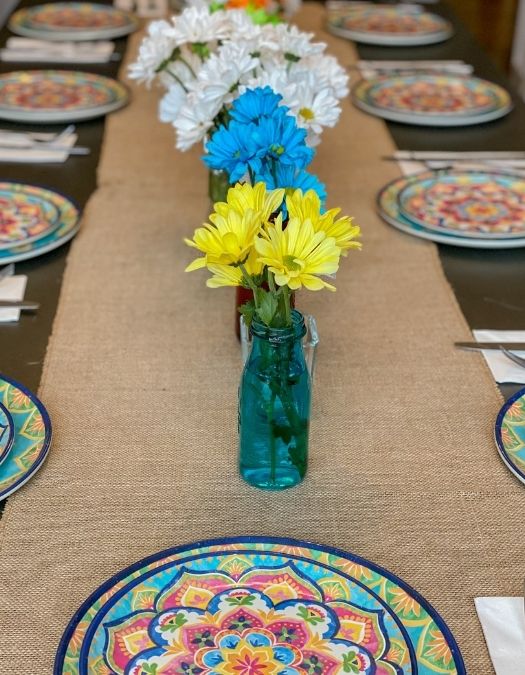 The table place setting included a simple burlap runner down the center. Then I alternated the colored vases and two clear vases. I added three small clear votives with white candles. I used a set of bright colored dishware that my mom had given me as a gift last year and easy white paper napkins for the dishes.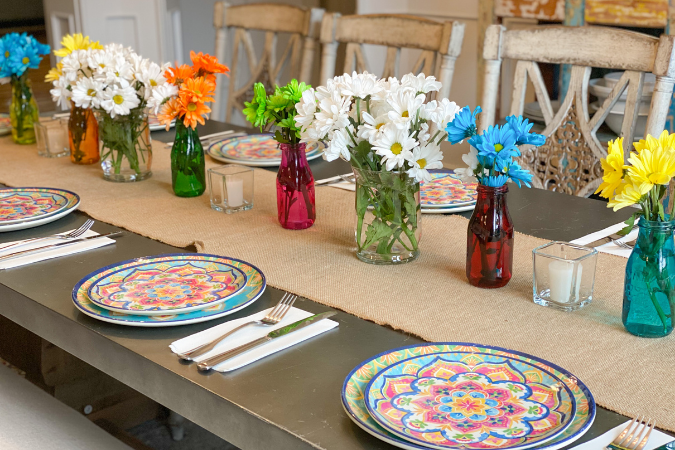 I used my kitchen island to serve food and to dress it up; I added a fun sombrero hat, a cactus pinata, a cute taco day sign, a few fiesta cupcake toppers, and white dishes for serving.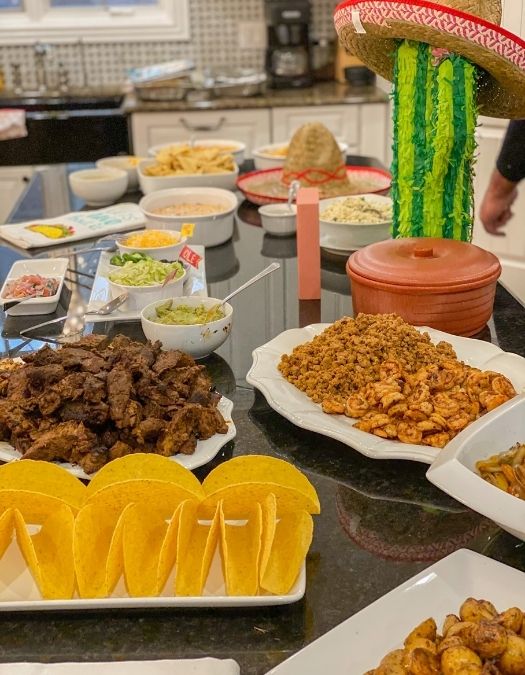 Mexican Fiesta Menu:
Now let's talk about the essential part of the day–the food! For the menu, I chose:
Steak, Shrimp, and Chicken Fajitas
Tacos made with lean ground turkey
Cilantro Lime Rice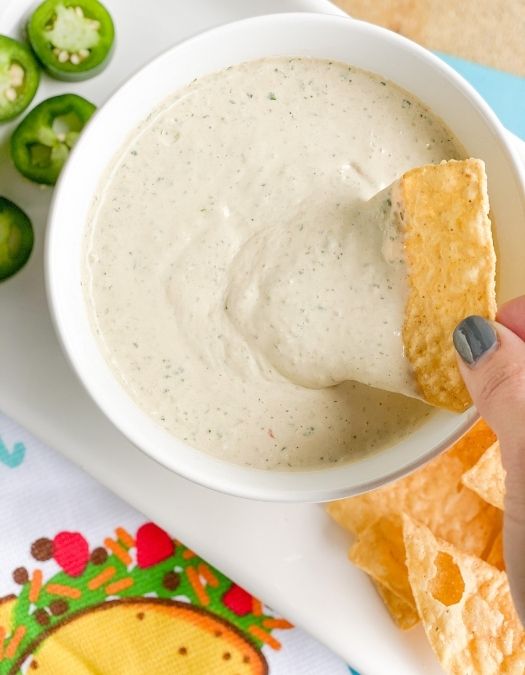 My friend Tiffany made a delicious Tres Leches Cake. On the evening before, we were surprised by church friends who dropped off a homemade pecan pie (Daron's favorite) at our front door. Hailey made Funfetti cupcakes, and my sisters also brought desserts. We had more than plenty of sweets to go around!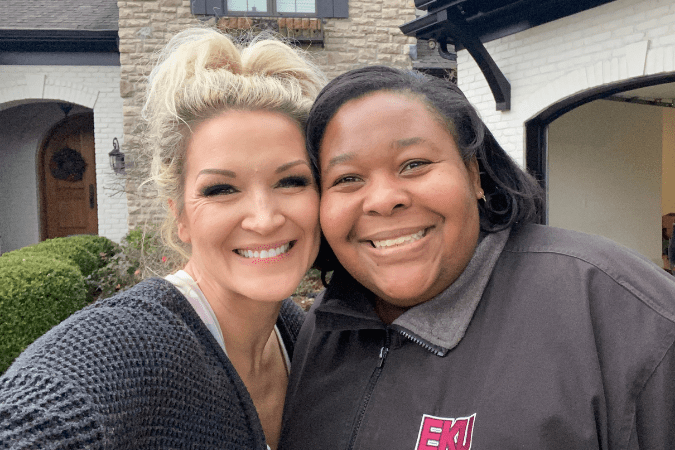 Other Mexican Recipes You Might Like:
Clean Eating Chipotle Lime Salad 
Mexican Fiesta Themed Party Games and Fun:
No Holiday get-together would be complete without a little fun and games! No Fiesta would be complete without a stuffed Pinata! Therefore, I found a cute cactus pinata and filled it with candy (I might have had Daron stuff it with our leftover Halloween candy, shh don't tell). I also filled it with a few small surprises.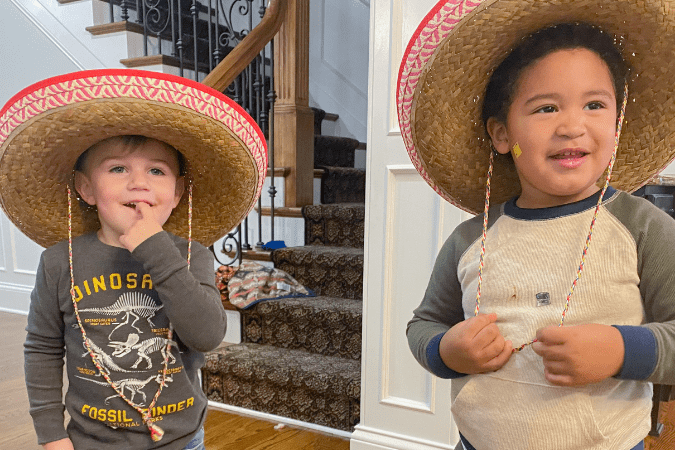 During our meal, we played a game of trivia to test our history of Thanksgiving knowledge. I found a free printable that had a list of challenging questions related to Thanksgiving and printed it out to play for a chance to win a gift card. Needless to say, we all should have studied a bit more in school as most of us did horrible. Still, we all had fun, and it was exciting learning facts like who knew that a turkey could run 25mph and Abraham Lincoln was the first president to declare Thanksgiving a national holiday?" To print a copy of the Thanksgiving trivia game, click here.
After dinner, Daron hung the pinata outside, and we blindfolded the kids, spun them around, and let them go at it. Once the pinata broke, spilling the candy and treats, you would have thought these kids were celebrating Christmas early.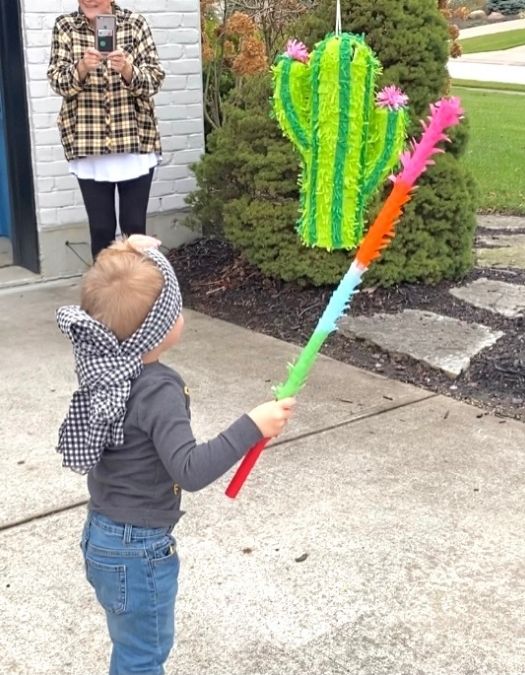 Thanksgiving Final Thoughts:
The only hiccup of the day was while preparing the food; I got a call from my son Easton's dad. He shared that Easton had fallen on his wrist, and I needed to come quickly to the E.R.! In proper mom form, I dropped everything to rush to the hospital.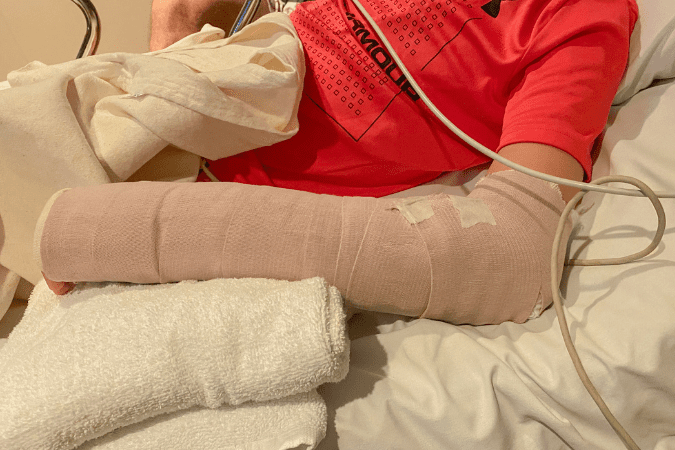 Thankfully, Daron, our friend Tiffany, and my mom stepped in to help finish pulling everything together while I was away. Once I got to the hospital, I was relieved to find out that Easton was ok and walked out with only a fractured wrist. We are praying that he doesn't need surgery, and his wrist will heal quickly. At first, I thought, what are the chances that this would happen on Thanksgiving day and in the middle of hosting our family?  Still, I calmly reminded myself that it was 2020, and what else should I expect, right?
I would love to hear about your Thanksgiving day plans? Did you host your family? What did you cook, or did you travel to a family member's house, and maybe they did all of the cooking? Would you ever want to host a Mexican Fiesta Holiday? Please share your comments below and let me know! Also, follow me on Instagram @brookegriffinfarmer as I would love to hear from you.
XOXO,