Y'all I'm so excited! Today, I'm sharing our Boho Modern Farmhouse Kitchen Reveal on Instagram and on the blog. I put together a fun Instagram reel that I would love for you to go check out that really shows off all the details of our Boho Farmhouse kitchen.  You can find it by following us @ourfarmerhouse. 
I also can't stress this enough and it's the fact that Daron and I build and design all of our homes on a budget and we try and find on-trend styles at affordable prices including everything that you see here in our kitchen space.  You can shop all of the details below and make sure to follow us on the Liketoknowit app to shop our other affordable favorites.  
What is Boho Modern Farmhouse Style?
Boho Farmhouse style is a twist on farmhouse style that blends the fun, bright, and spirited bohemian decor with the relaxed, welcoming vibe of the American farmhouse.  When you think Bohemian style, it's all about bright colors like pink, gold, yellow, turquoise, and orange.  Often, you will also see a lot of green coming from the use of plants and tan coming from the use of fringe, rattan, and baskets as decor.  Traditional farmhouse style usually has a more subtle and neutral color palette.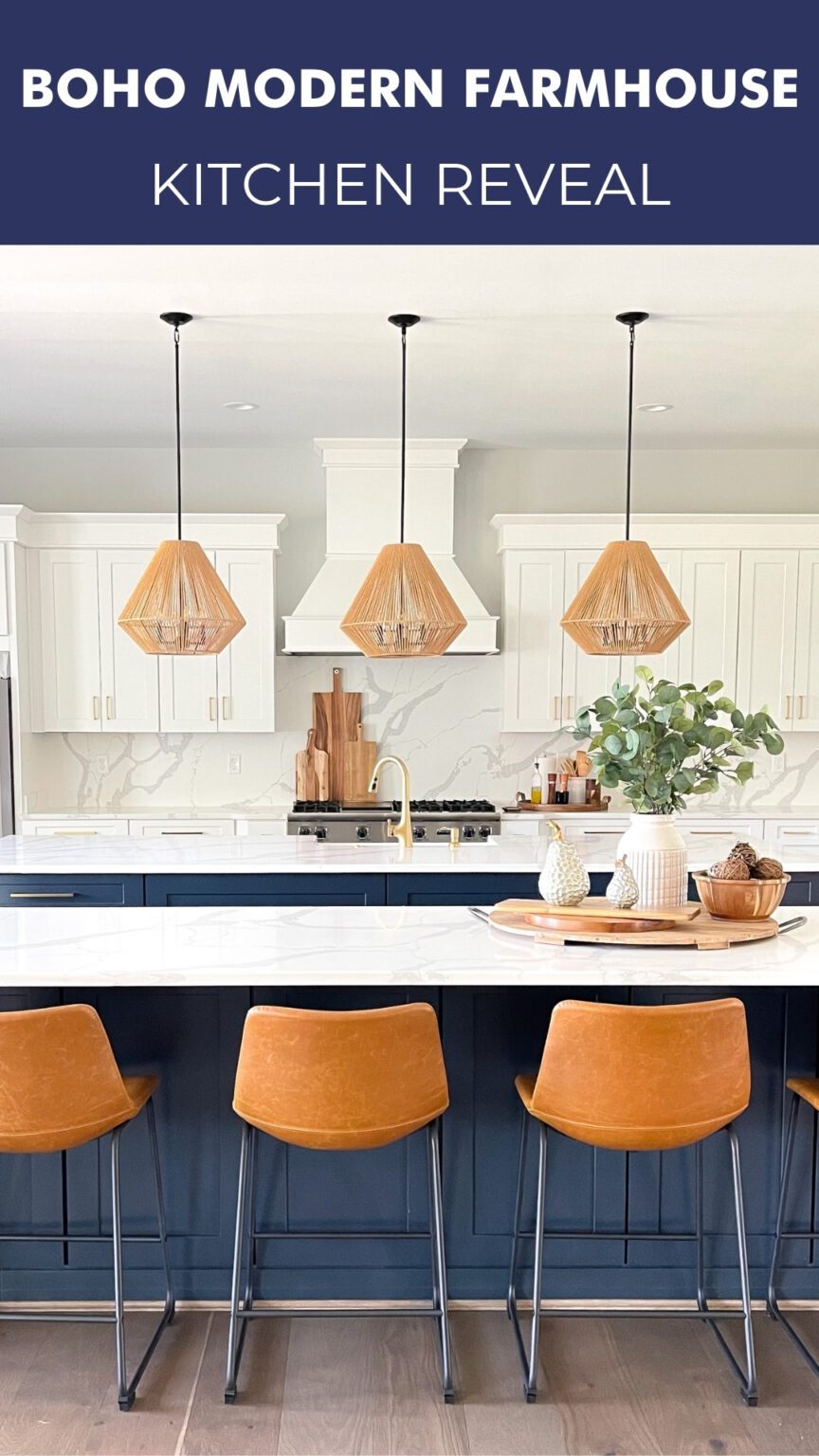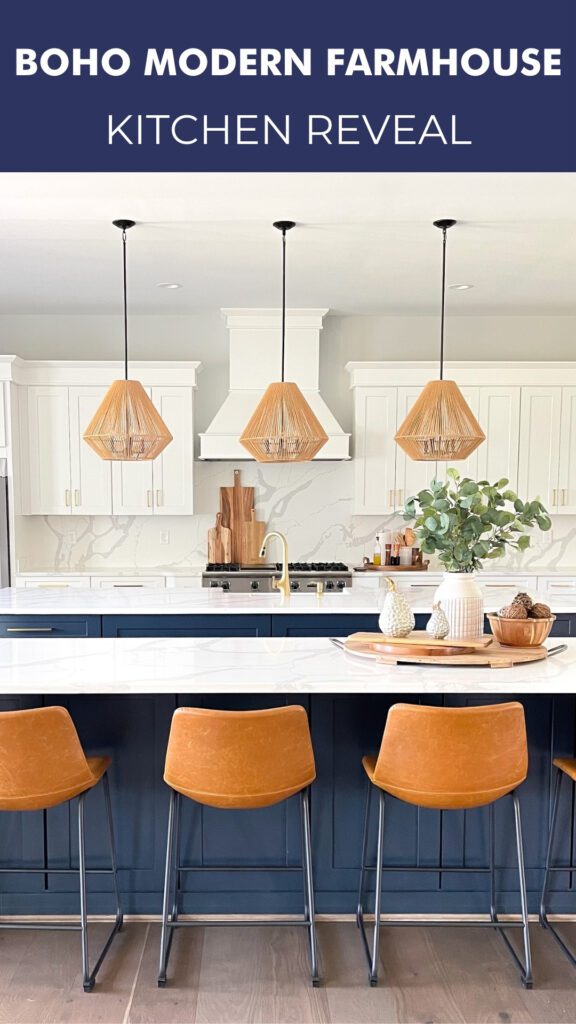 I like to combine the two styles and the end result is the classic farmhouse look with more color, but I like to think more subdued color than the traditional bohemian style.  Instead of turquoise, I like to use navy blue, instead of bright orange, I like to use rust, and instead of bright yellow, I use a deep mustard color.  I also add in a lot of green plants, rattan, and wicker to the space to bring in additional boho-inspired elements.  To add to the boho farmhouse look, I use gold accents as I think they work particularly well with the combined style.
Boho Modern Farmhouse Kitchen Color Palette
For my kitchen space and sticking to the theme of a boho farmhouse, I decided to go with a rich color palette of navy blue, tan (it almost looks rust), and gold.  I also added a little bit of gray that came through in my countertop and I accented with a touch of green in my decor. Selecting a solid color palette is a great first step in designing your kitchen space.  I would suggest picking 2 main colors and adding 1-2 additional accent colors.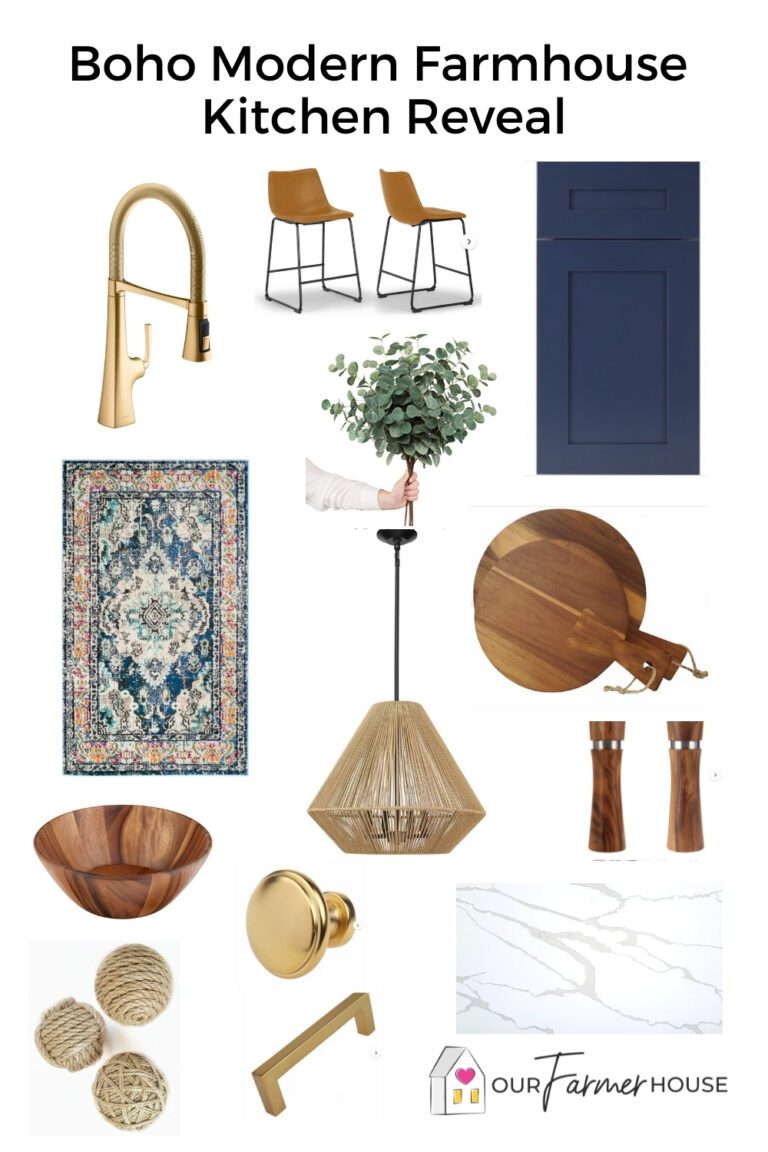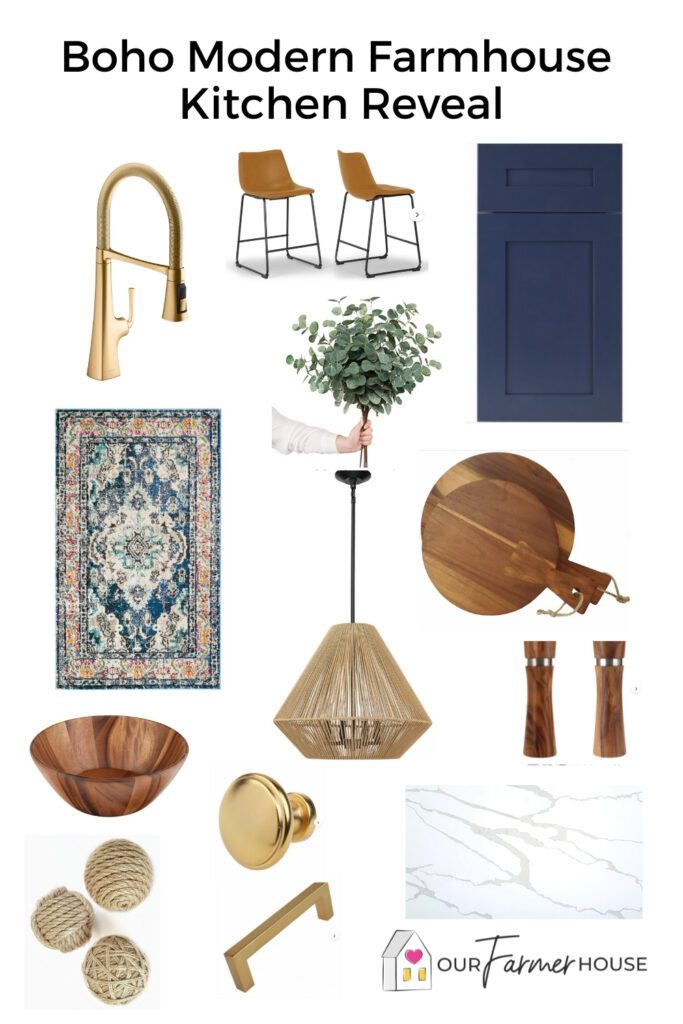 Kitchen Cabinets, Countertops, and Backsplash
The next couple of big decisions that you will make in designing and remodeling your kitchen, is selecting the kitchen cabinets, countertops, and cabinet backsplash.  For our kitchen space, I tried to stick to my color palette, and again since I'm a big fan of navy blue, this was the main color that I wanted to bring attention to in my cabinets.  I did this by using the navy color as the focal point of the kitchen.  The first thing that your eyes are drawn to in the space, is the large double island, and I chose a deep navy blue semi-custom cabinet as the base and added a white quartz countertop that has a beautiful gray vein throughout.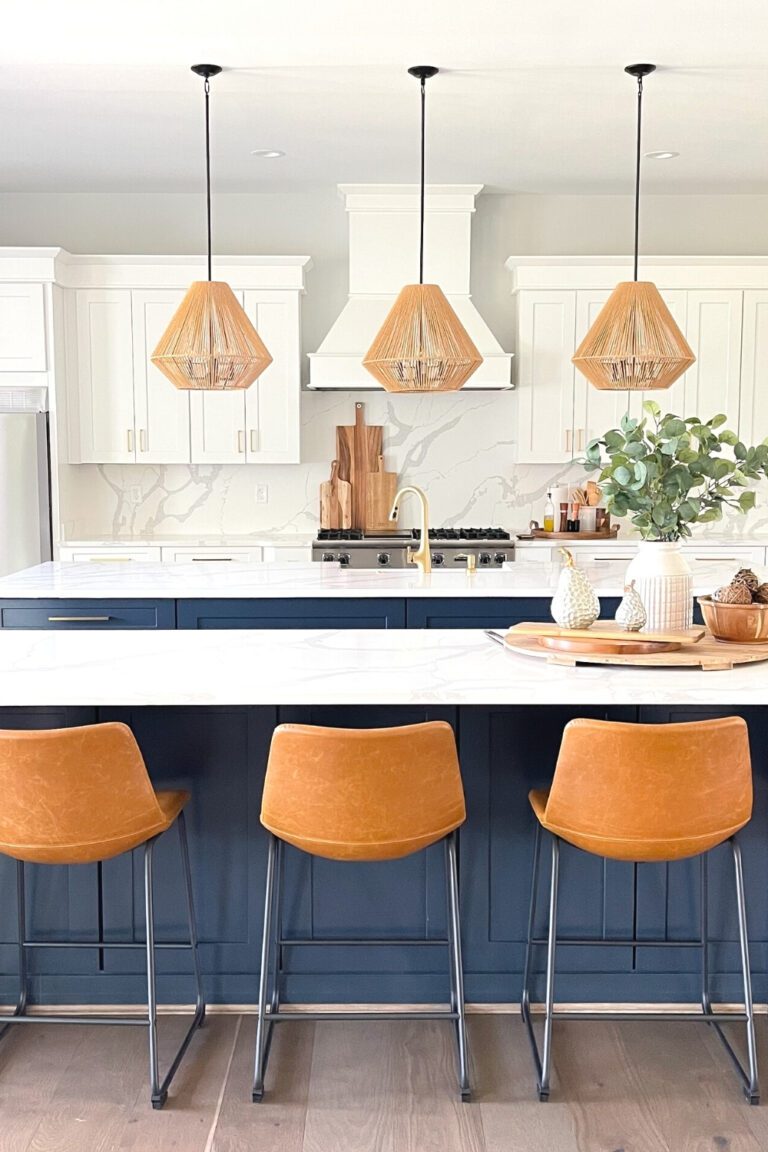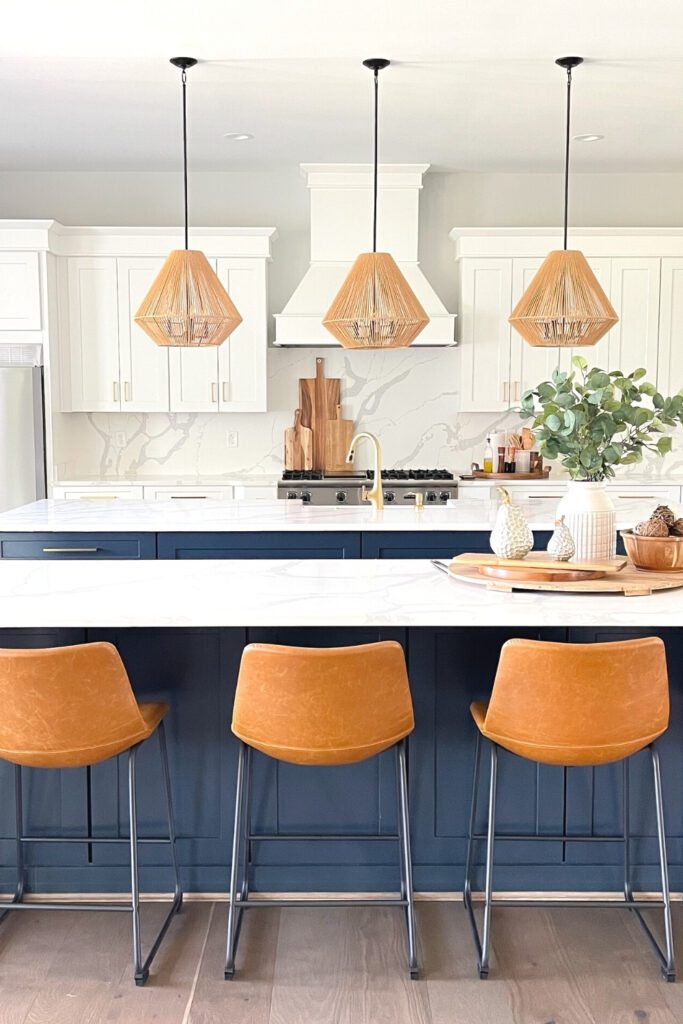 My heart also loves a bright white kitchen, especially when using white as a cabinet color.  I think it's classic, timeless, and it perfectly represents an American farmhouse.  For this reason, I went with white cabinets on the outside perimeter of the kitchen and I used the same white quartz countertop.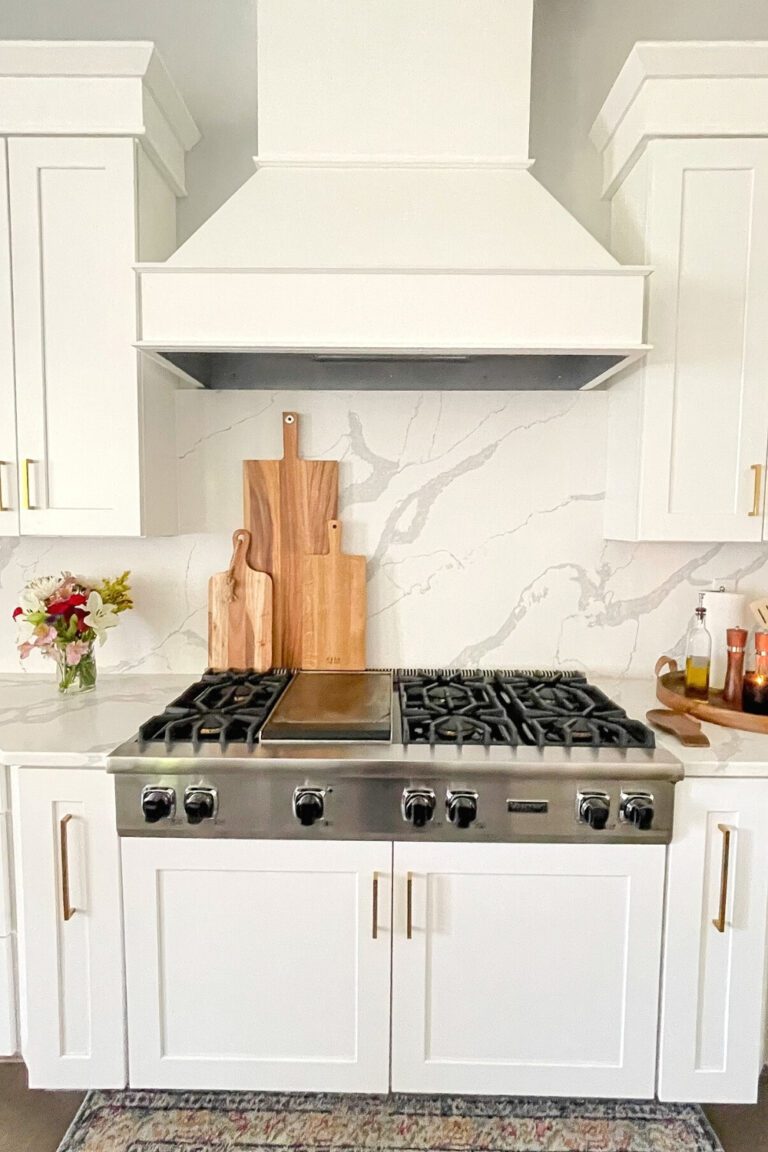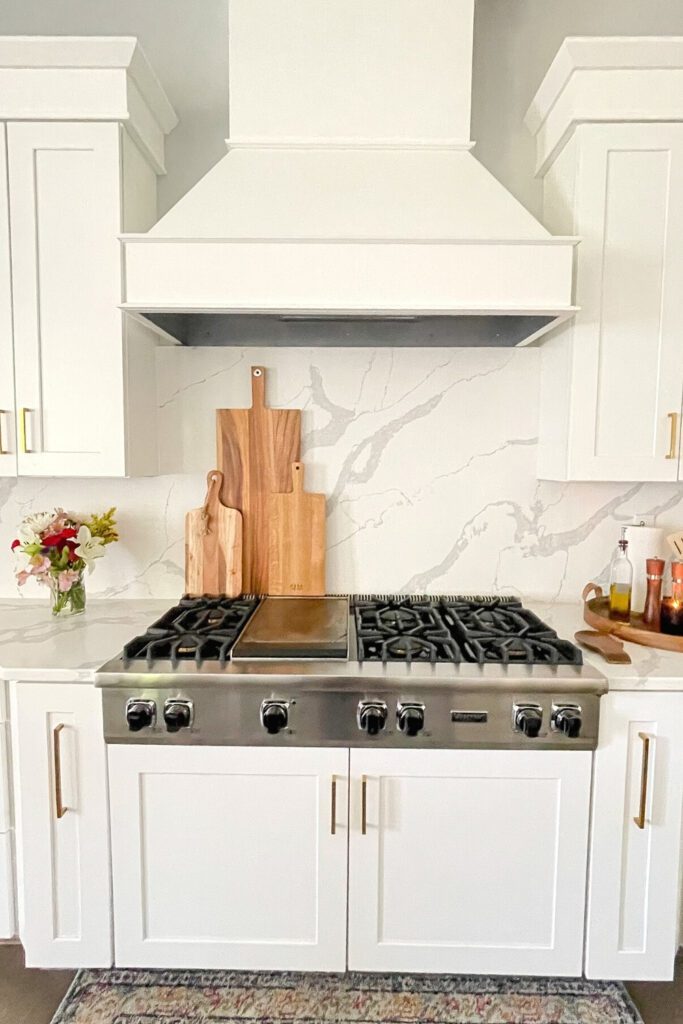 While Daron and I went back and forth about what to do for the cabinet backsplash, he suggested we go with a white subway tile, which I think would have looked great,  but I wanted to be a little more bold and trendy and use quartz on the walls.  After many conversations including lots of compromise on our budget, we ended up agreeing on my idea of using the white quartz as the backsplash and we both love how it turned out!  I felt that the quartz added a "wow" factor to the kitchen and really tied in the navy blue double island without taking away from it as a focal point.  But with that being said, I do have to be upfront in saying that using quartz as a backsplash is more expensive than going with a tile option.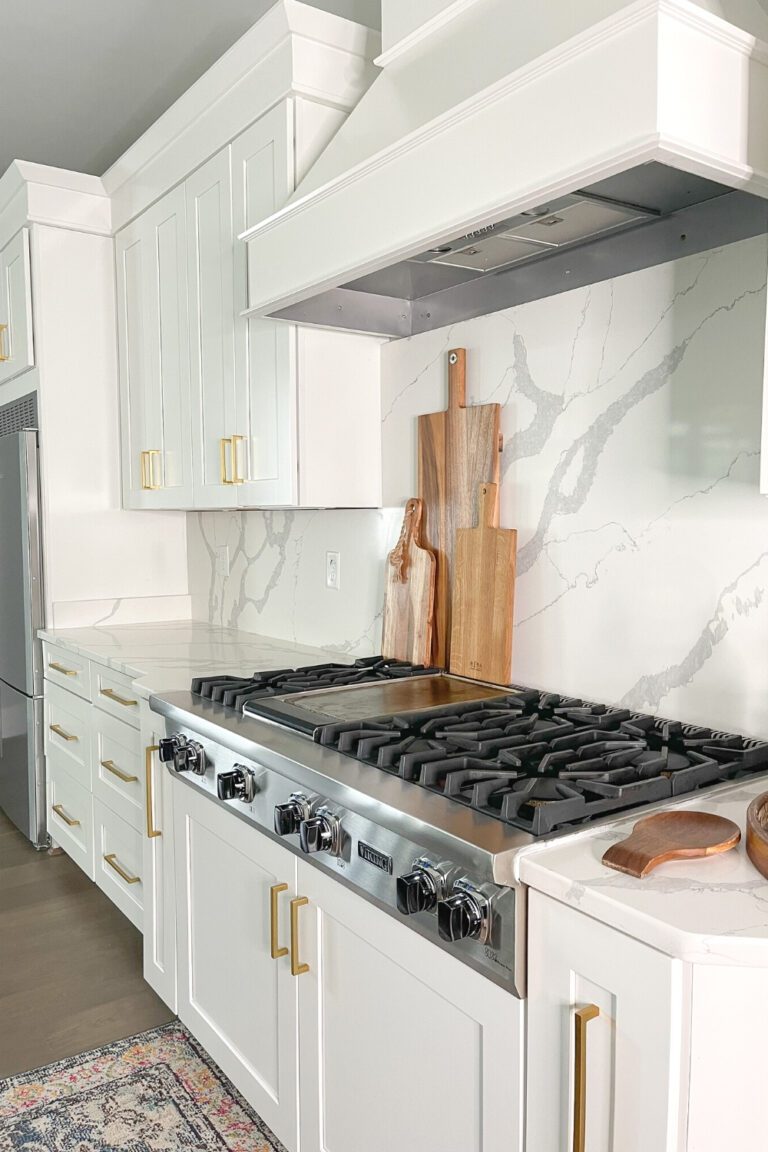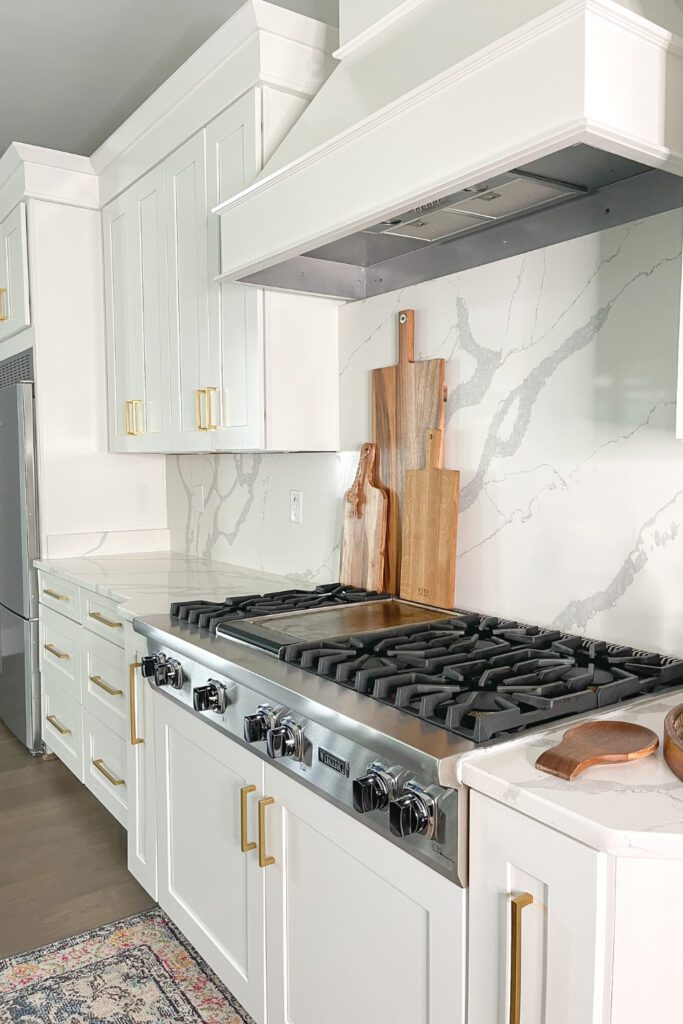 If you want to know the details of our kitchen cabinets, we actually went with a semi-custom line from Home Depot and I'm happy to share with you if you're interested.  Yep, that's right.  Daron and I design and build all of our homes and remodels on a budget!  We believe in finding affordable options and like to make things look nice and on-trend while staying on budget.
Ok, now let's talk about these double islands.  This past year after watching way too many HGTV shows, I became obsessed with the idea of having a double island in our kitchen. At first, we didn't know if we were going to have enough space in our house plans, but after doing a modification we were able to fit in the concept of adding a second island.
I have to say that I'm so happy we made this decision, not only does the double island offer so much extra cabinet storage ( because you can never have enough cabinets, right?), but it also gives me a great space for entertaining.  I use one of the islands primarily as a bar space and I have six counter stools.   The other island has my farmhouse sink, dishwasher, and microwave.  I love being able to wash dishes and talk to the kids while they eat breakfast, it feels like multitasking made easy.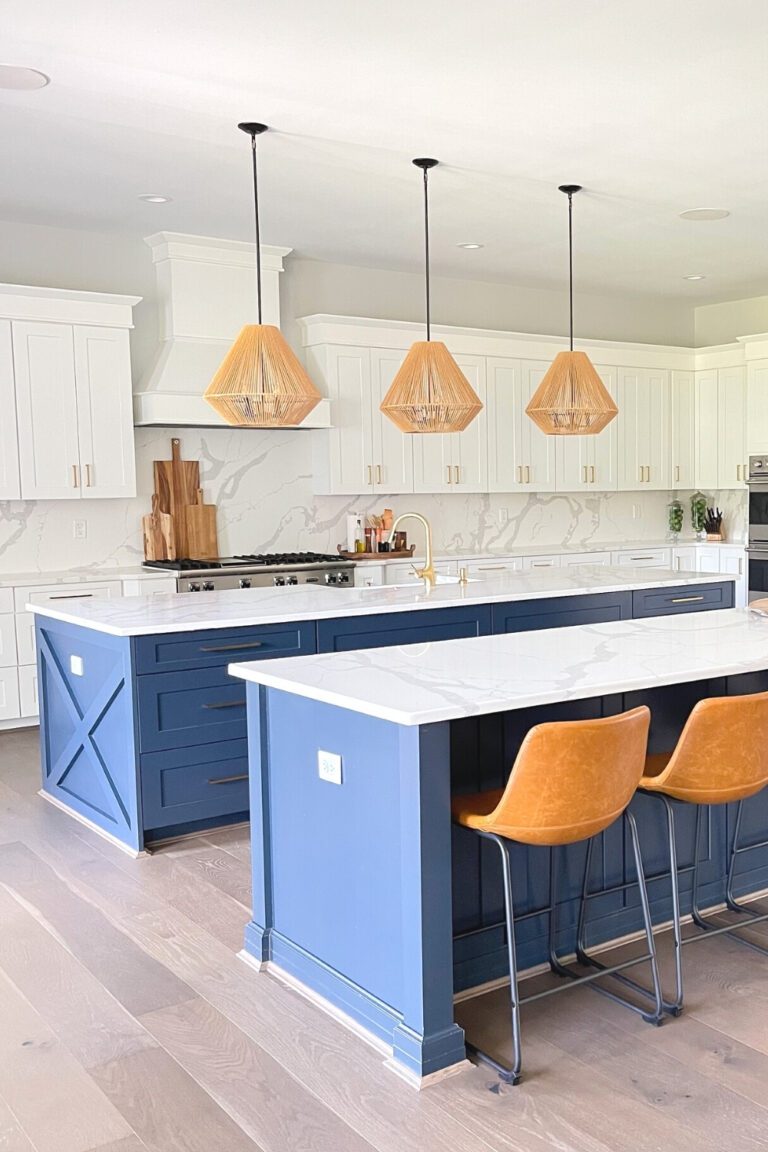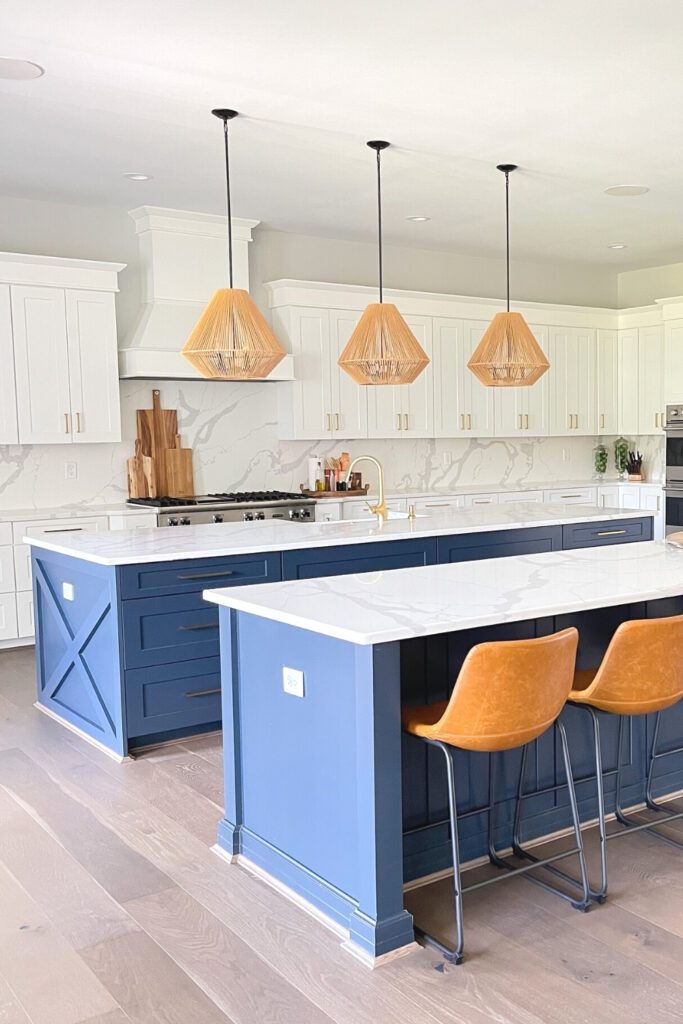 Kitchen Hardware, Fixtures, and Decor
For the kitchen hardware and fixtures, let's just say it's all about that brass, lol!  To be honest, I was really intimidated about using gold brass fixtures in the house.  But after scouring through pictures and looking at Pinterest, I decided to go for it, especially because the gold brass pairs so beautifully with the dark navy cabinets.  I ended up using two sizes of gold brass cabinet handles.  I used a 3 3/4 mm size for the doors and an 8mm size for the drawers.  For the cabinet hutch on the side of the kitchen, I mixed the handles with drawer pulls in the same gold brass finish.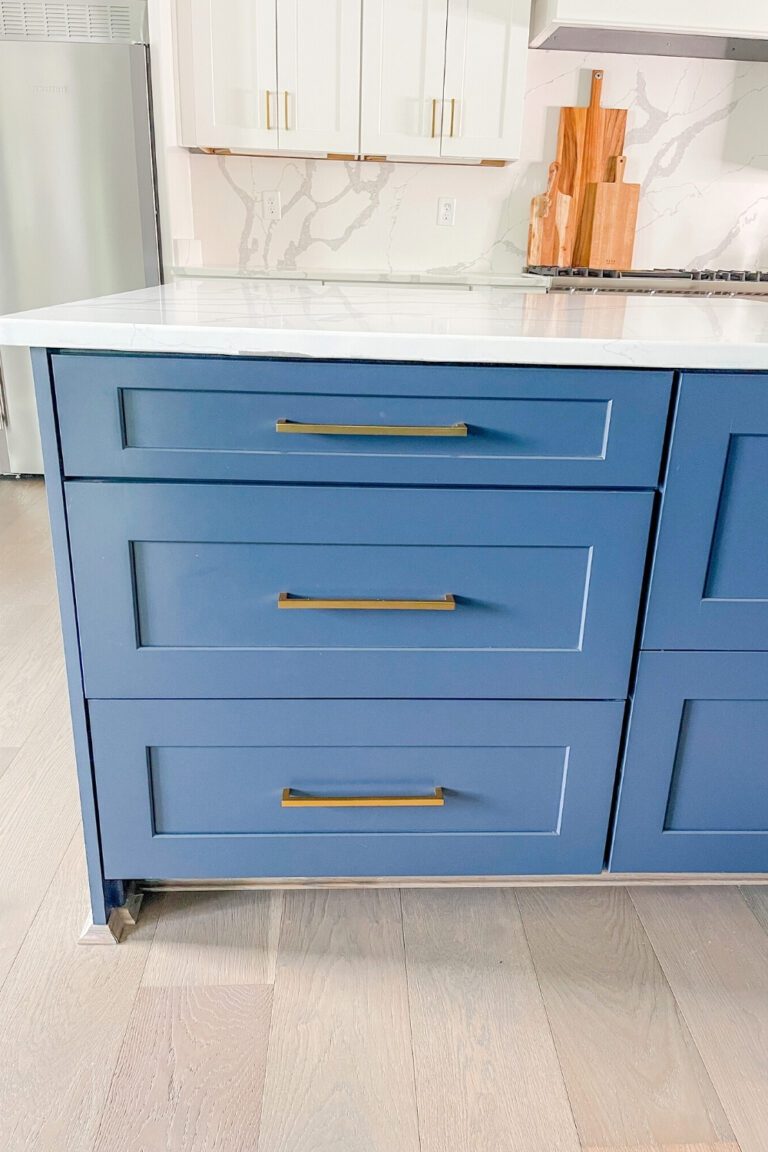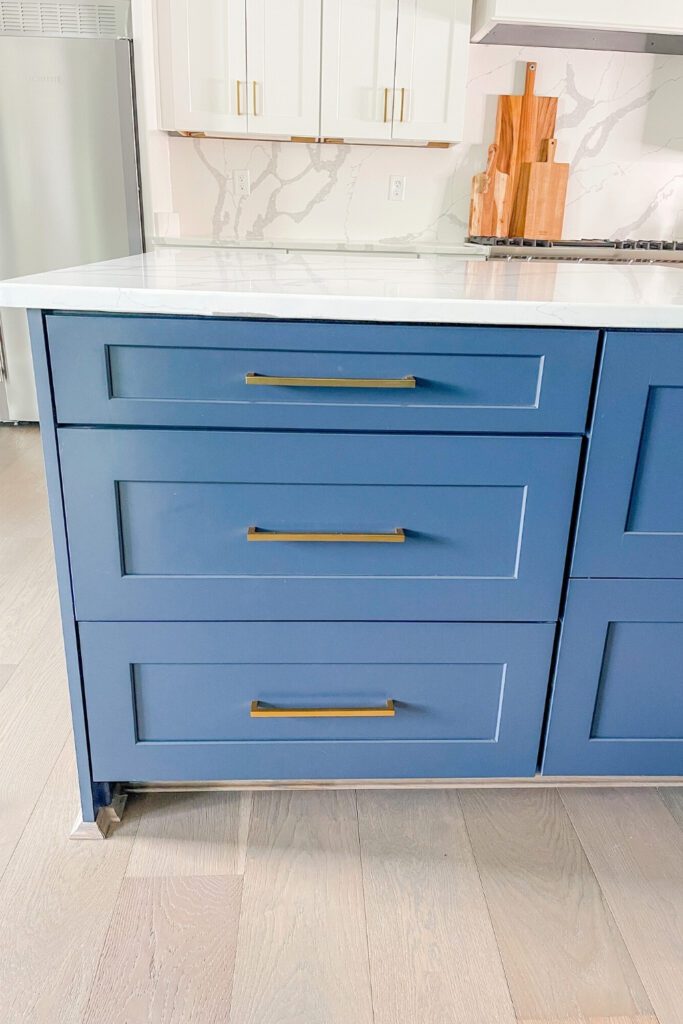 For my kitchen faucet, I found a beautiful gold brass single-hole faucet made by Kohler.  I especially love that the brass finish is exactly the same as my cabinet hardware.  It's really important to get samples and shop around with your cabinet hardware and faucets as the finishes with gold brass are all different in shine and tone.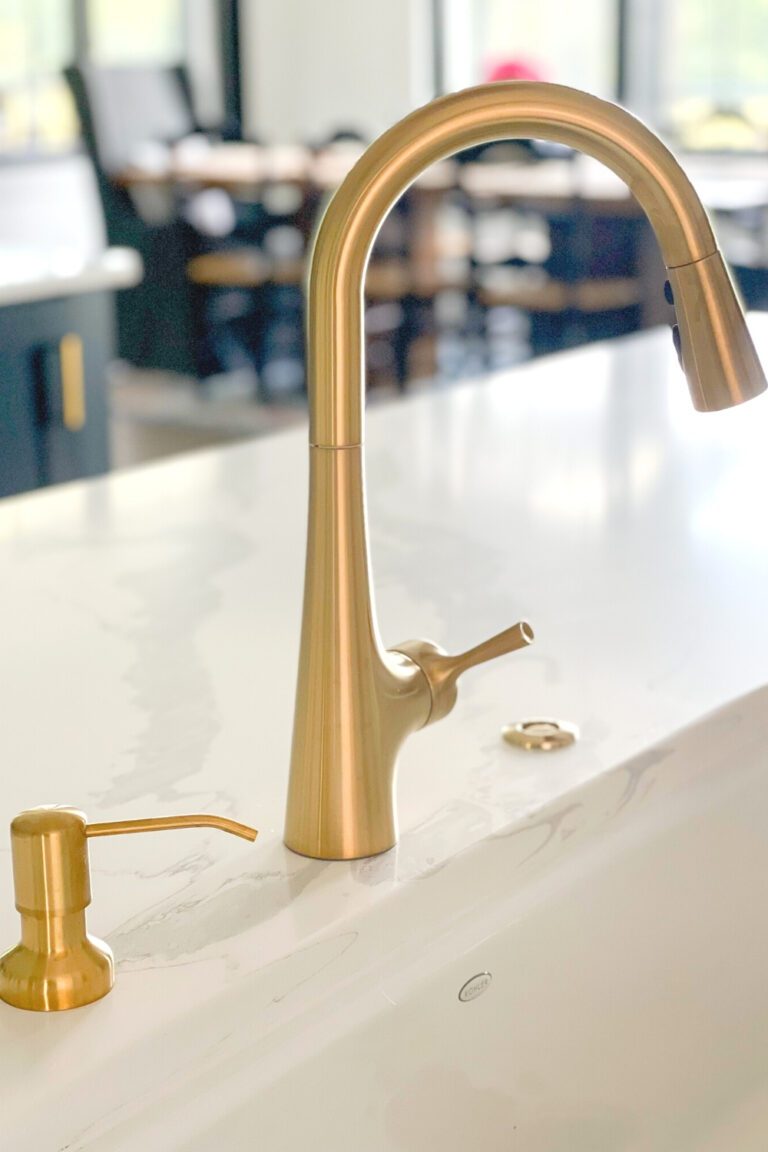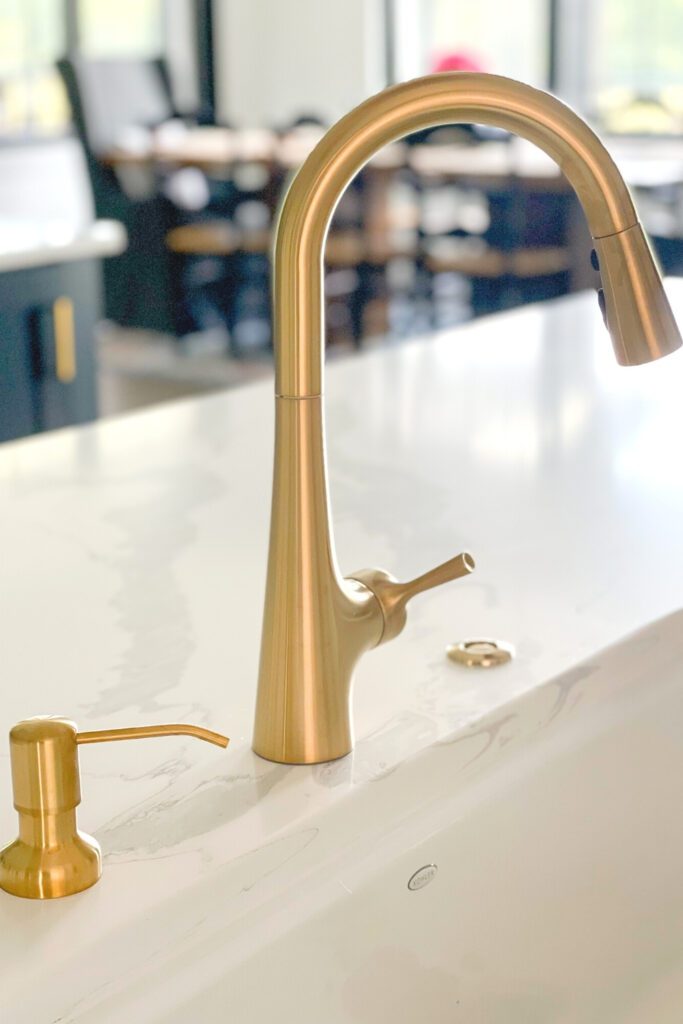 Of all the design features in the kitchen, the one that I probably love the most is the three center light pendants!  I think the light fixtures set off the entire kitchen space and make give it a boho farmhouse feel.  I searched everywhere for just the right light pendants and I was really happy to find these online at a very reasonable price.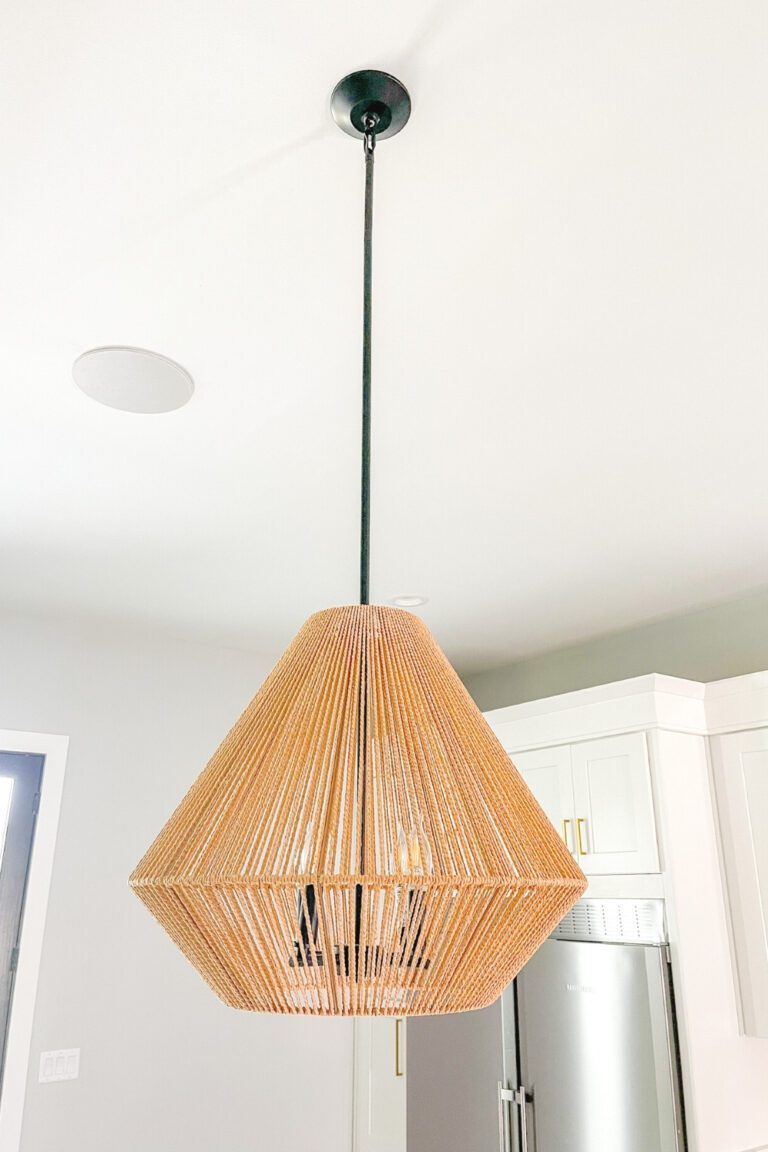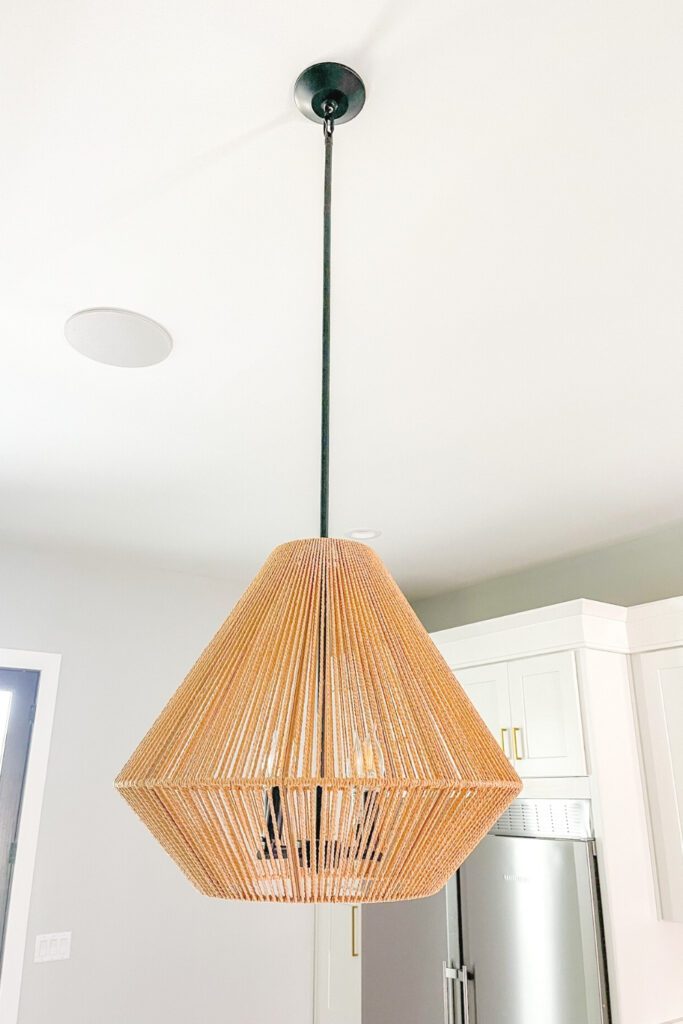 All of my appliances are stainless steel and I don't think there's any problem in mixing the gold brass and stainless steel together as it creates a nice mixed metal look in the kitchen.
As for the decor for the kitchen, I kept it really simple.  I brought in a lot of acacia cutting boards and put together one centerpiece on the first island that brings attention to a large round serving board that I styled with a eucalyptus arrangement, a small acacia bowl filled with wooden balls, and a few stacked cutting boards with two pear-shaped figurines.  I also positioned three cutting boards behind my cooktop range and used another large round serving board as a place to store my olive oil container, bamboo utensils, salt and pepper shakers, and a candle.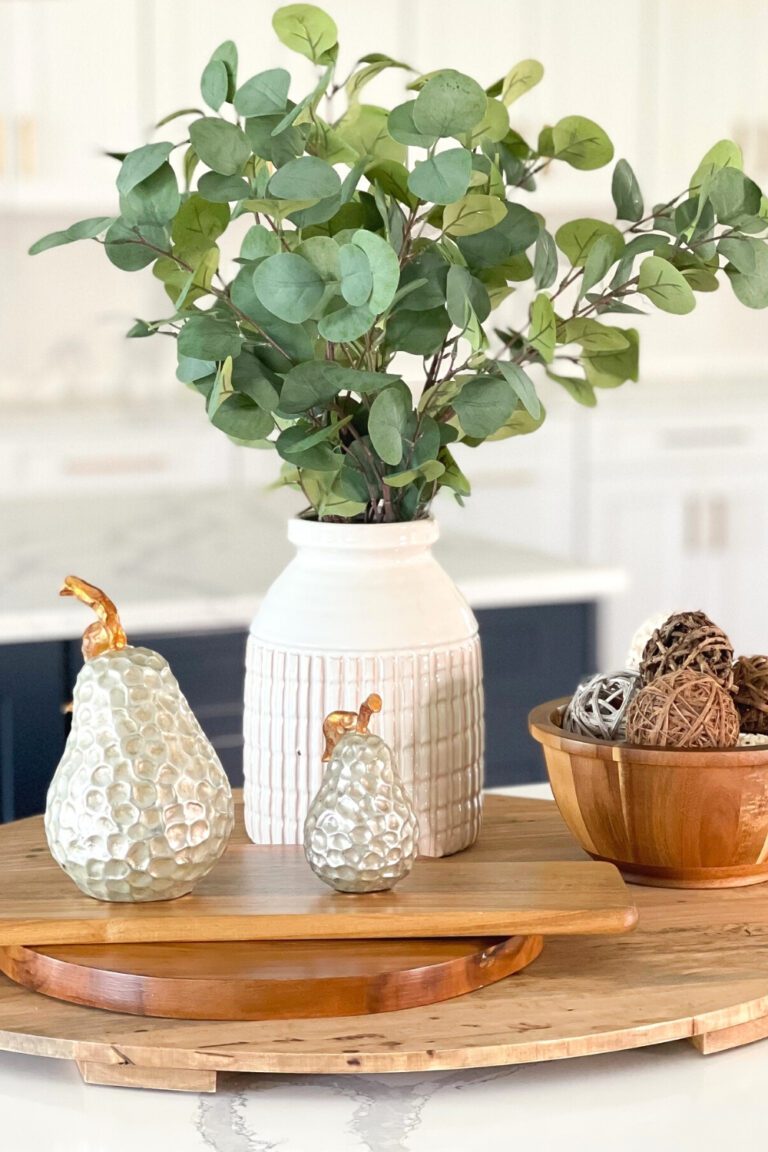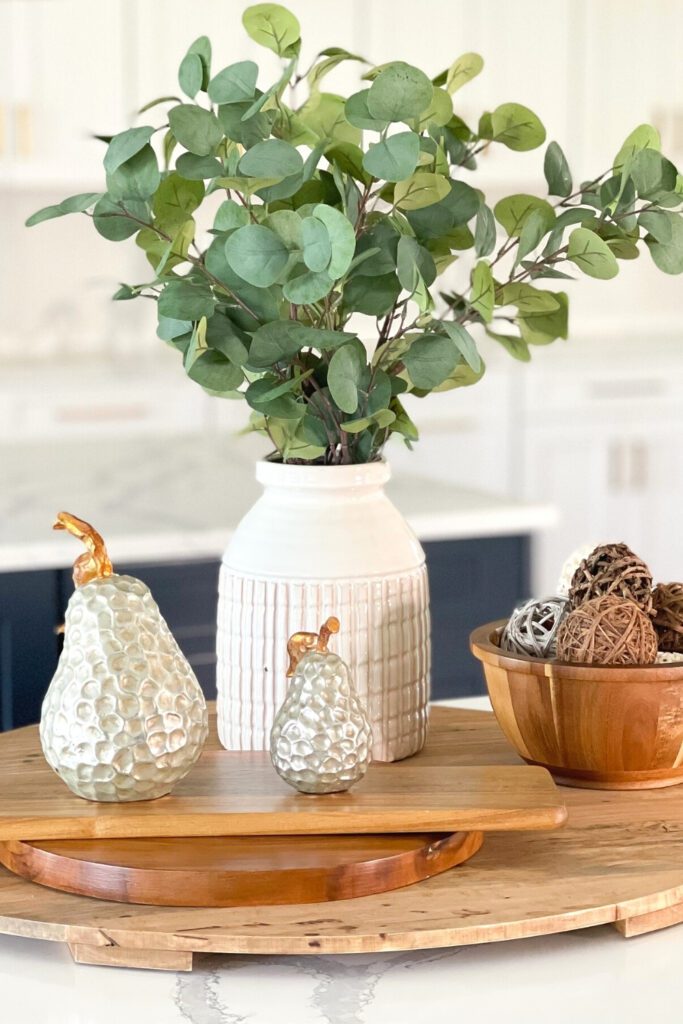 To help you recreate this look or find any of the actual products that I used in our kitchen, I have shared details and links below.  You can shop more of our favorites by following @Ourfarmerhouse on the Liketoknowit app.
As I wrap up this kitchen reveal, I would love to know what you think?  Please comment and share your thoughts?  Also, what is your kitchen design style?  Are you more American farmhouse? Modern? Bohemian?  Or perhaps Boho Modern Farmhouse like me?  Can't wait to hear from you!  Thanks for taking the time to read and share this post and I can't wait until we connect again.
XOXO,