Are you looking for dream home office inspiration and pictures to help you create the perfect space? I'm Brooke, and I'm here to help with 16 easy tips and suggestions to help you make your dream home office!

Creating a home office space is a must-have for any mom, whether you work from home, are a stay-at-home mother, or work outside the house.
You need an area that is just yours to keep track of your life, family activities, and more! Having just a coffee table in the kitchen will not help you when you want to be organized and creative. Instead, you need a space to make your own, focus on work that needs to get done and be more productive.
Where to Start and Find Home Office Inspiration With Pictures?
When you are staring at an empty office room or corner, it can feel overwhelming to know where to start. Unfortunately, I know firsthand how this feels! And that's why I wanted to share some home office inspiration to help get your creativity flowing and help you create your own dream office space at home.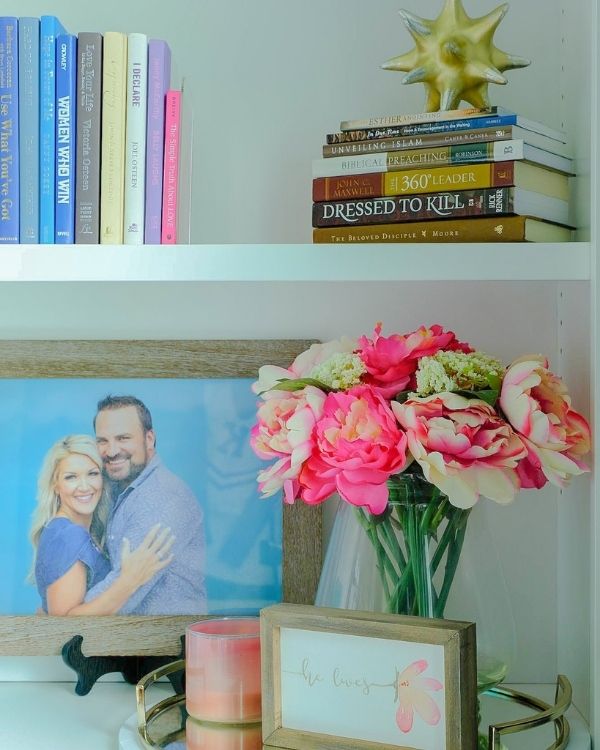 Determine Exactly What You Need
Everyone's personnel office needs are different depending on the line of work that you do. So consider what you need and start by making a list of what you have and want to purchase.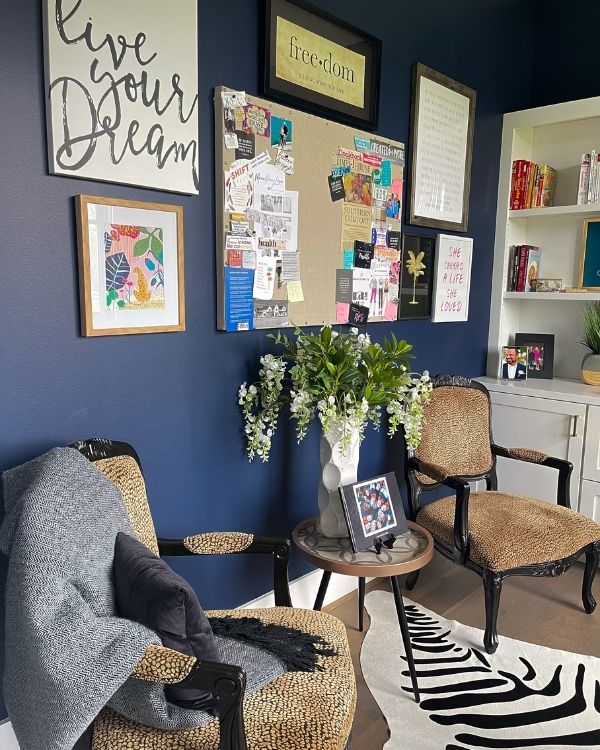 For example, as a content creator and entrepreneur, I needed a desk, computer, and built-ins for books and storage. I also knew that I needed a good office chair, so I looked for something practical and stylish.
Some who work in an outside office during the week might not want their office to feel like a traditional office, so their inspiration might look different. Instead of a desk, you might want a table where you can spend time being creative. You can spread papers out for home projects, arts, craft times with your kids, etc. Or a stand-up desk might make more sense.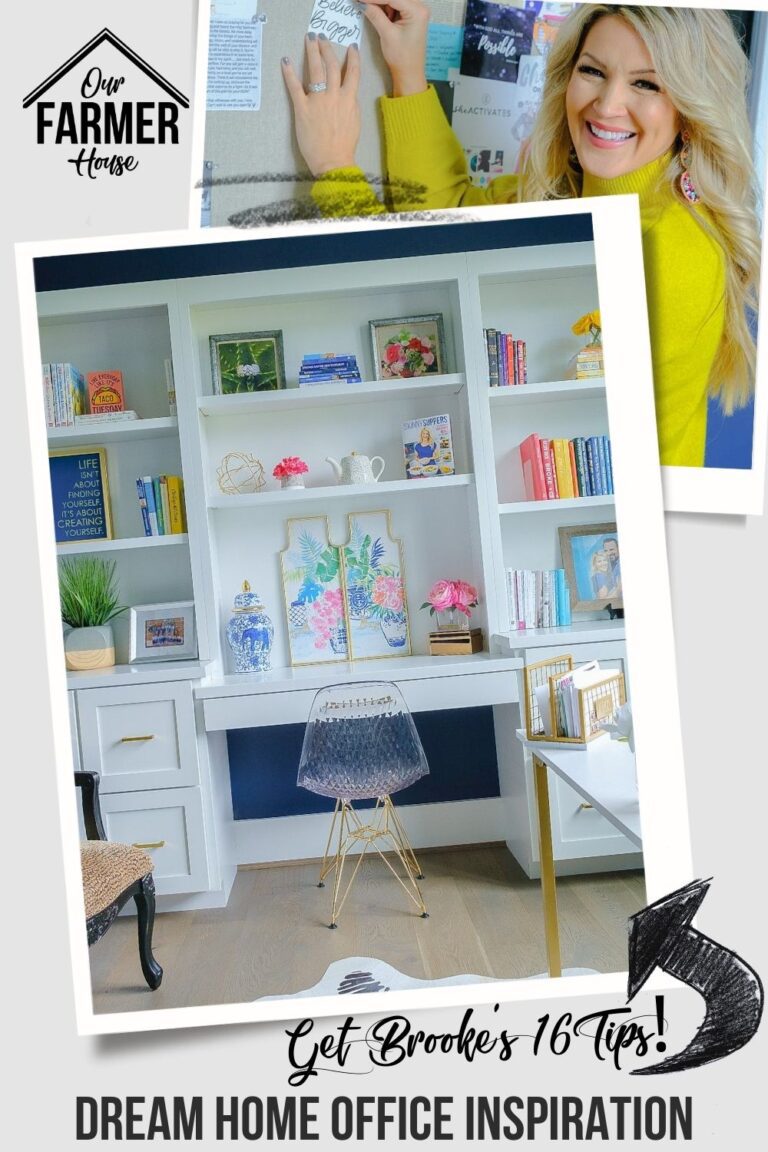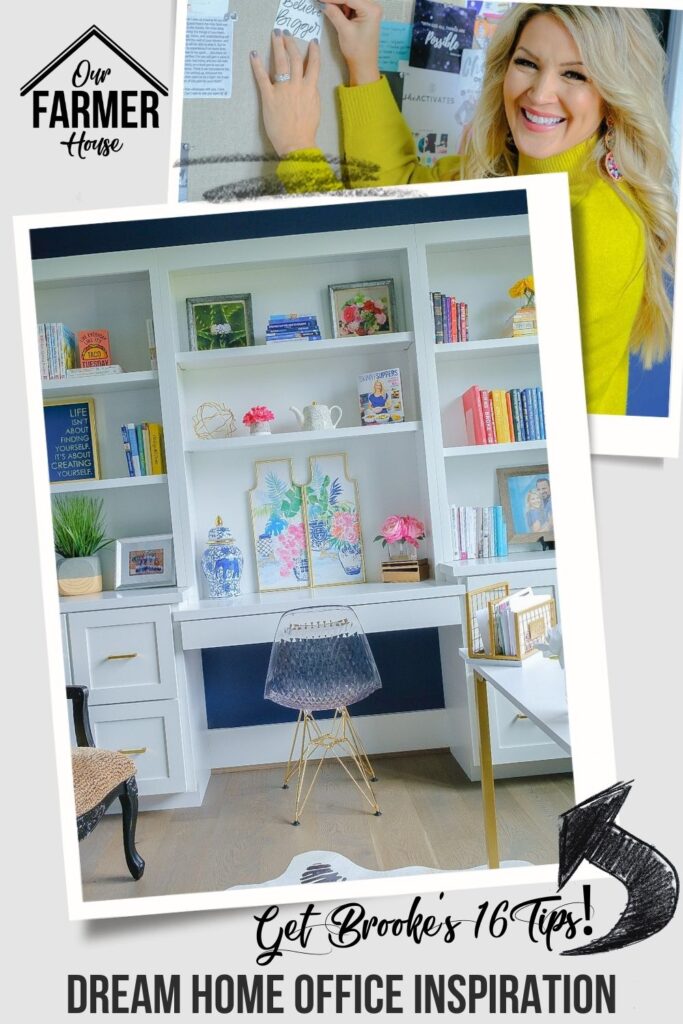 Add Color with Paint
When creating the perfect home office, the first thing I did was painted the walls. Bland, boring walls can make me feel uninspired and affect my mood. When I step into my office, I want to feel happy and creative. So I went with my favorite color, navy, and I used Navel by Sherwin Williams.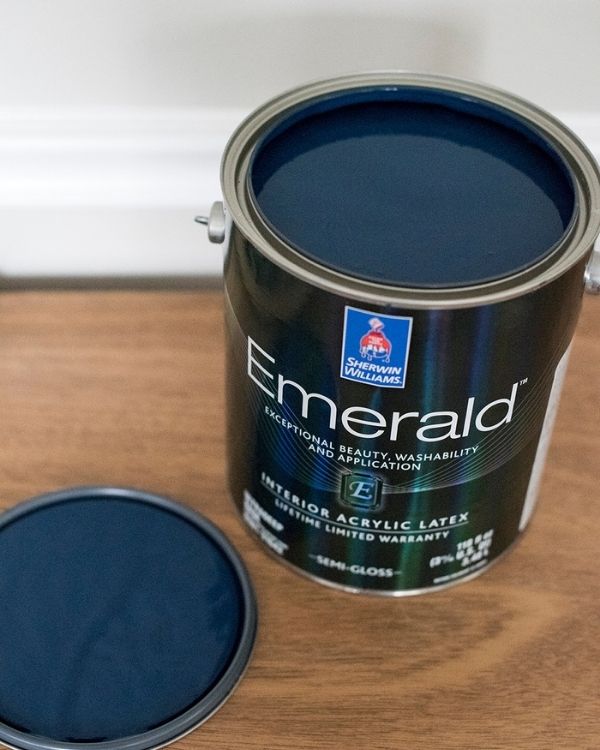 This shade of paint makes my office feel like myself but doesn't distract me. When looking for paint, remember that you will always see it, so think through your color choice and find a shade of paint that you love!
Create a Focal Point with Built-In Bookshelves
I knew I needed bookshelves because of the many items I wanted to display. But I didn't just want bookshelves that were not sturdy. So instead, I ended up getting built-in bookshelves and made this a focal point in my office. I love my white built-ins because I can style them with my favorite books, cookbooks, bright-colored flowers, and pictures.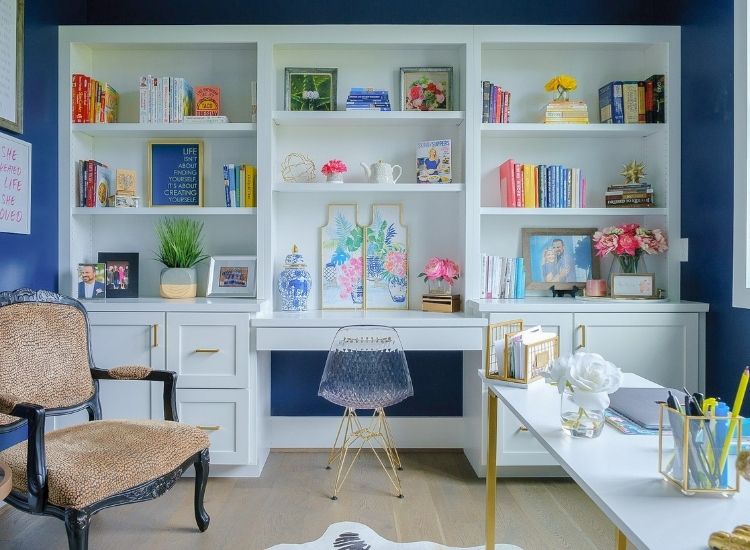 Adding bookshelves to your office is excellent for storage, but it also allows you to have decorative elements.
Save Money, Shop Secondhand
For some, creating a home office can feel like it will cost a lot of money to get the items you need, but it doesn't have to. Shopping secondhand at vintage and thrift stores (my favorite) can be an excellent way to stay budget-friendly while finding unique pieces. Using secondhand items is also great if you are looking for special items that you can't find in stores. Then, you can take these items and up-cycle them into a dream piece for your office.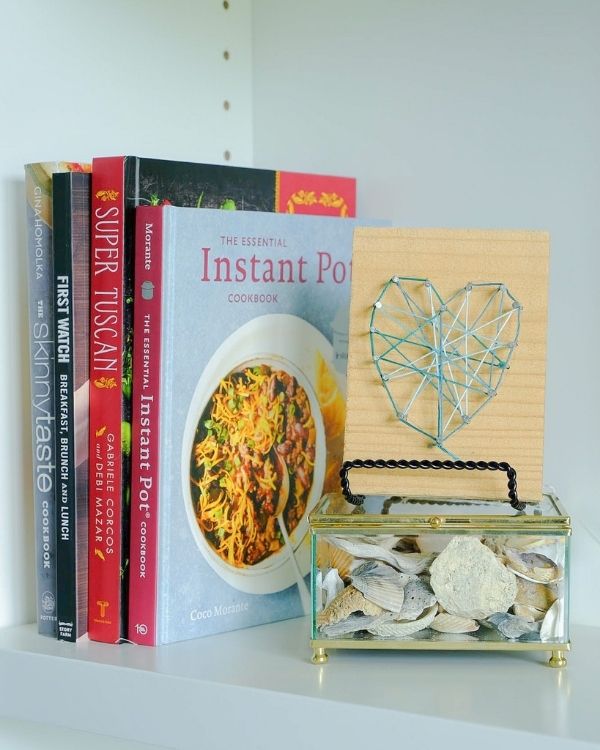 Don't Be Afraid to Mix and Match Patterns to Add Color and Style
These days, you don't have to be matchy-matchy anymore with prints and patterns. In fact, it's just the opposite; use your favorite images and designs to bring in your personality and add color. For example, if you have a bold personality, you might want bright, fun colors, or if you are more classic, then Earth tones and muted pastels might be a better fit for you.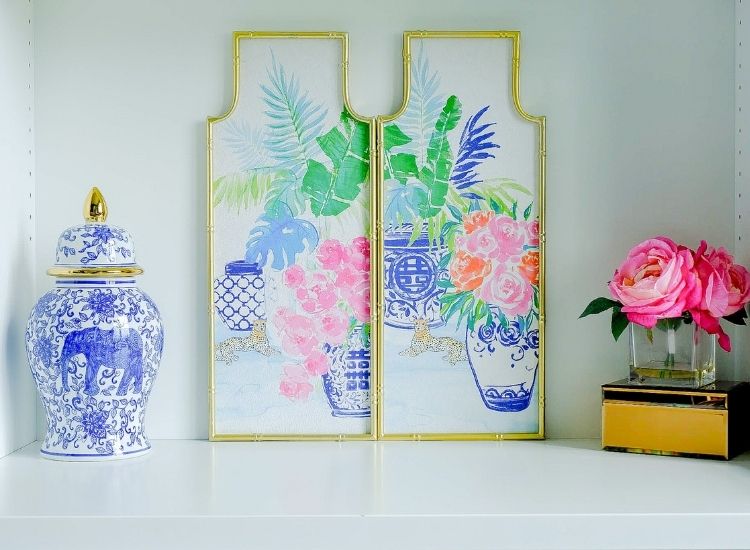 I love bright, fun, colorful, and eclectic. To achieve this look in my office, I mixed and matched patterns throughout my decor. I did this by pairing two cheetah chairs with bright pink, yellow, and navy shades in the office. I also mixed and matched the frames and pictures I hung on the walls.
Add Style by using what is Most Important to You
Incorporate items that are important to you. For example, I have pictures of my family and a designated space (it's actually the focal point in my office) on my vision board. Seeing pictures of my family reminds me of why I do what I do. Likewise, visual inspiration for my dreams helps me stay on track with my goals and continue to believe big while working in my office.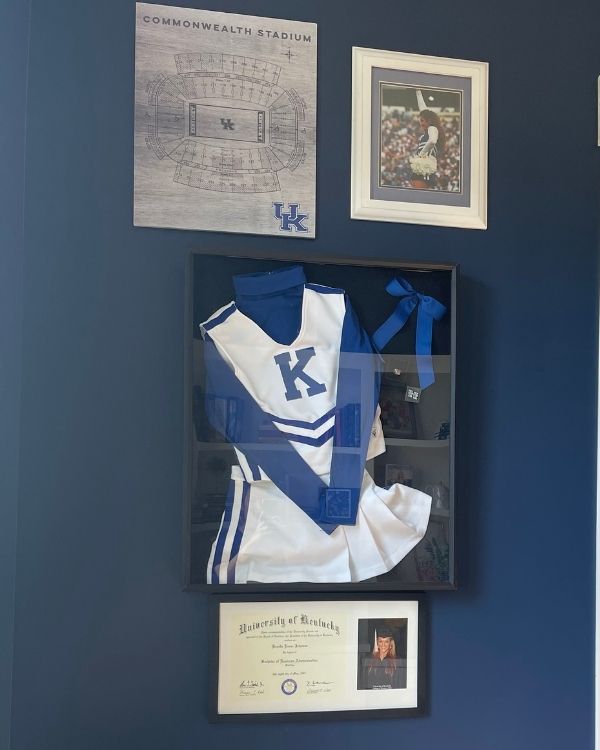 Then I also added my UK corner displaying my love for my alma mater, the University of Kentucky. I highlighted my degree, a shadowbox of my cheerleading uniform, and a picture of me back in my cheerleading days. I also added my favorite print, which is simply the word Freedom. This has carried special meaning to me as I've been going through my personal healing journey to Freedom over the past several years.
Decorate with Plants and Flowers
Add a bit of green color and life to your dream home office space. Adding plants and flowers can bring a piece of calmness to the area. They can also provide a feel of the outdoors and a fresh smell. If natural plants are too much for you to handle, then go with a more accessible option of artificial plants and flowers. Though they are plastic, they can still make you feel more at peace, and you can easily change them out. Some options that you can find online even look real!
Stay Inspired with a Favorite Quote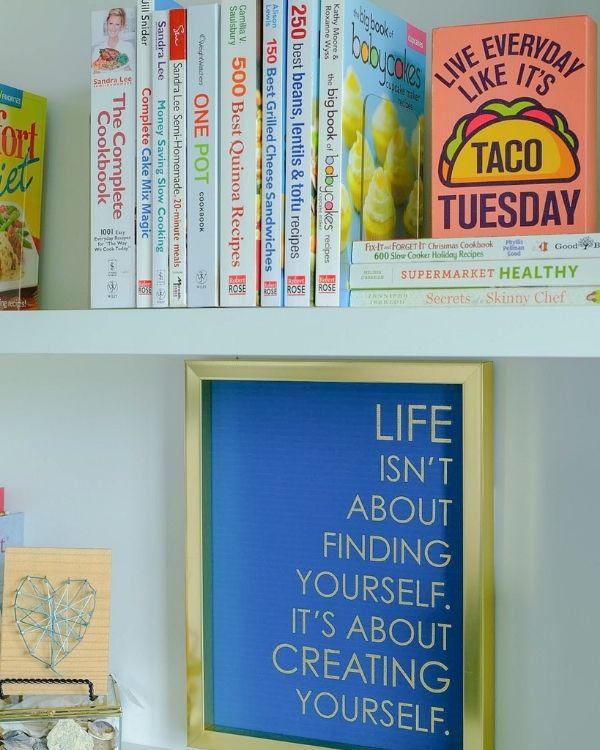 Place a quote that you love in your dream home office. There will be times when you are working on something, and you don't feel motivated or need an extra push to the finish. When you add a favorite quote to your office, you will be able to look over it and remind yourself that you can do anything you put your mind to!
Add Color and Style with Books: More Home Office Inspiration with Pictures
Having books in your office is a must-have for everyone as we all need a place to store them. Whether these books are self-help, cookbooks, fiction works, or others. It honestly doesn't matter, as long as you don't just throw your books on the shelf. Instead, style and add color to your office with your books!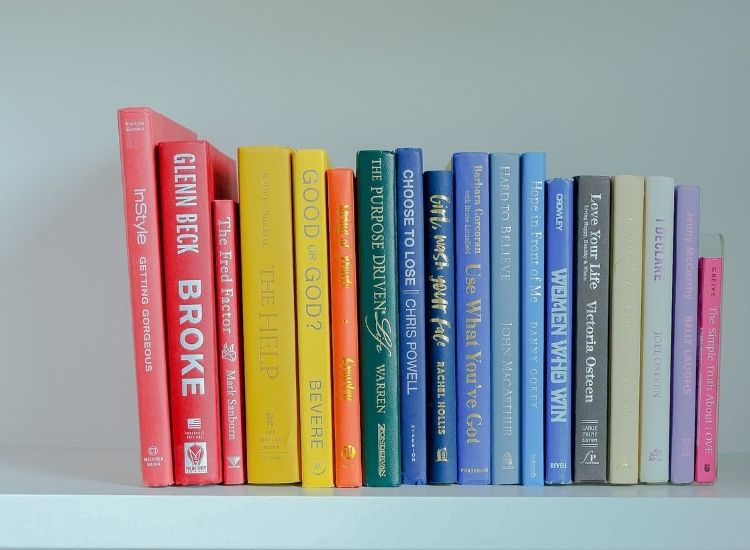 You can organize and decorate them to make the books flow into your office style. For example, you can line up books to make a rainbow color or just put specific colors of books out for display in your office.
Create Warmth with Layered Rugs
I knew I would need rugs in my office space to make it feel cozy with hardwood floors. So instead of a single carpet, I opted for layered rugs. I layered a zebra print rug under my office desk with this bright pink and navy rug.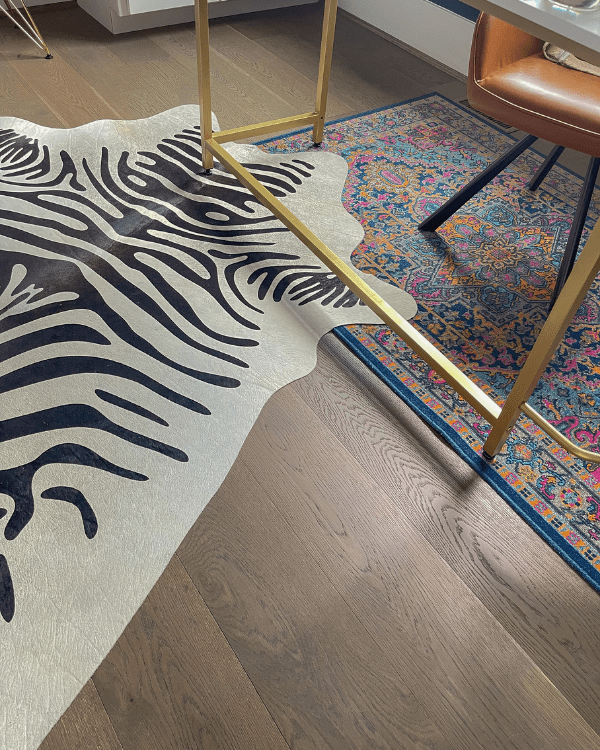 Of course, an animal print rug goes with everything and makes a great layering rug but also a jute rug is also great for layering. So if you have two rugs that you love for your office, use both and add layers.
Focus on Lighting
Most importantly, think about the lighting! I wanted a lot of natural light to come into my office, so I chose an area in my house that would let a lot of natural light in. If you are using a space that does not have natural light coming through, you need to focus on overhead lights and lamps.
Looking For More Home Inspiration? Read These
Modern Farmhouse Boho Kitchen Reveal 
12 Beautiful Modern Farmhouses
21 Favorite Bible Verses for New Home or Remodel
Inspire with a Vision Board
A vision board is one of my favorite pieces that I believe should be in everyone's office. I knew I would want a giant vision board to display my big dreams, and I made this a focal point in my office. On it, I place pictures of my family, quotes that resonate with me, and magazine cutouts.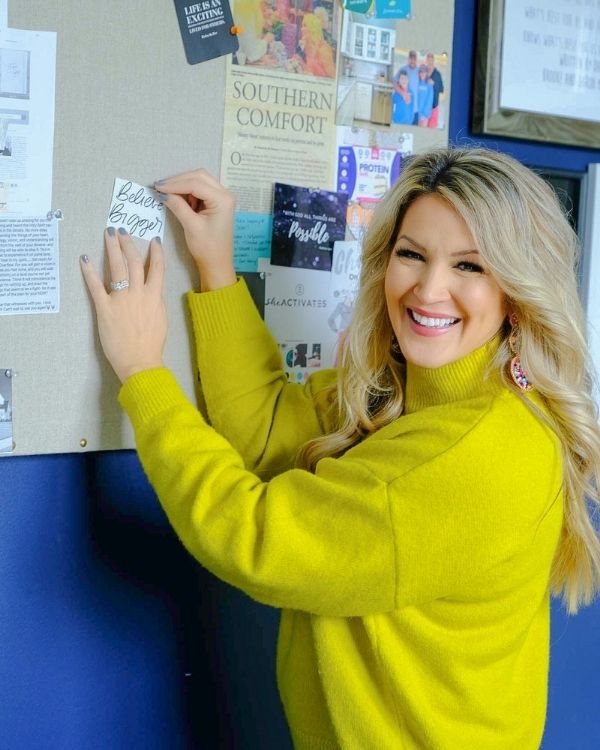 My vision board inspires me to keep up with my content, continue sharing and helping others, and focus on my family. The best part of a vision board is that you can change it to what you want your life to look like as you continue to grow.
Create Your Very Own Dream Office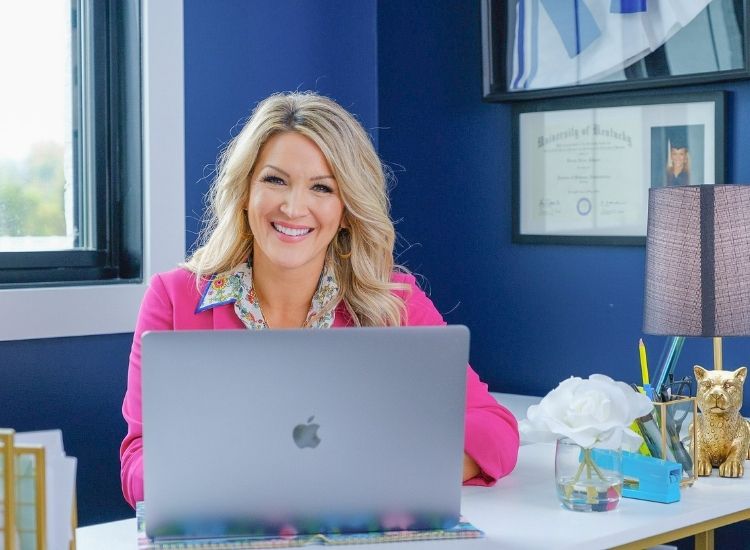 No matter how big or small your office is, find a space in your home and make it your own! Look at the things that make you unique and find inspiration and designs you are drawn to.
I hope this home office inspiration with pictures helps you create your own dream home office. I would love to hear what you will do to create a space that works for you. Leave a comment down below for your plans!
XO,