My husband Daron and I believe in the importance of home and family. When we moved to Cincinnati, we decided to put our blended family first. Over the past five years, we've worked hard to improve family bonding and create a happy home atmosphere. I'm excited to share some of the ways that have helped us. I hope they help you and your family improve family bonding and create a happy home atmosphere.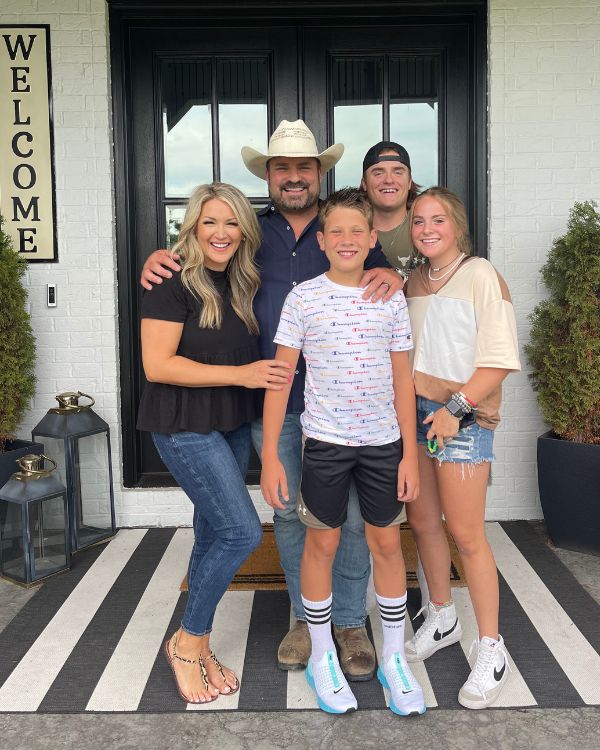 Family Meals
Make time to eat together regularly around the dinner table. I like to schedule and plan family meals ahead of time based on everyone's busy schedules. For example, during the Fall, when the kids play sports, it's more challenging for us to sit down together during the week. So I prioritize family dinners on the weekends, especially on Sundays, to ensure that we get to have family dinners.
I usually involve the kids in setting the table and helping me prepare the food. Then, we take turns at dinner, sharing our day and anything meaningful. Sometimes we will use this time to talk about big picture family goals with the kids or use conversation-starting questions to get the kids engaged.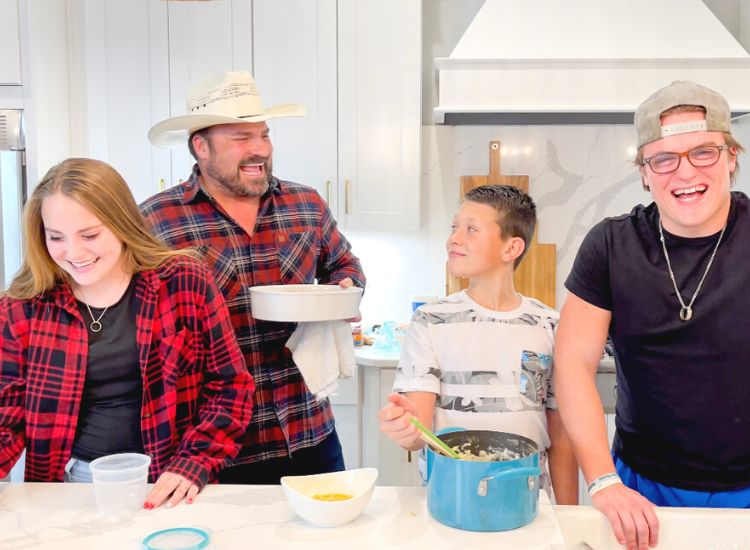 To keep family meals upbeat and encouraging, we very rarely, if ever, discipline the kids over dinner.  Rather we table these discussions for a later time in a different location and time. After dinner, we all work together to clean up.
As a best practice, plan family meals together 2-4 times weekly. Meal plan so you know what you will cook in advance, making it easier to stick to your family dinner schedule.  Avoid disciplining your children during family meals and keep the mood light and encouraging.
Create a Happy Home Atmosphere
When we built our farmhouse, our goal was to create a place of rest and healing for our family. As a blended family, we all had been through many complex challenges. From Daron and the kids losing their mom to walking through the heartbreak of divorce, we knew that we wanted "our home" to be a safe place and a place of love and healing.
Therefore, we intentionally set the atmosphere in our home before we had even finished construction.  For example, after framing the house's walls, we all got together and prayed over the home. Then, each of us took black sharpies and wrote our favorite bible scriptures on the door frames of each room.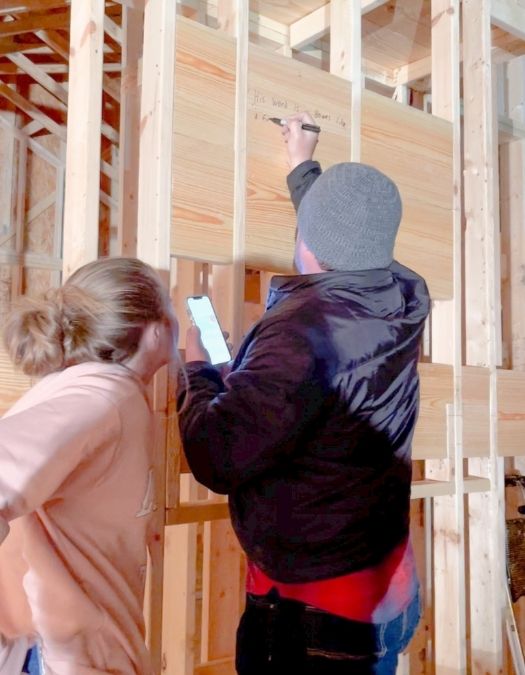 Once construction finished on the house, Daron and I walked the property and prayed throughout the home. We pray that everyone visiting and staying with us will somehow experience God's love.
Now that we are living in the house, one thing that I enjoy doing is setting the atmosphere daily with worship music. I put together a playlist of our favorite worship songs and turn it on daily to help create an atmosphere of worship in our home. I also try to incorporate scripture and inspirational artwork as part of my decor. This helps to create a happy home atmosphere.
Worship and Pray Together as a Family
We started worshipping and praying together regularly once we moved to Cincinnati. It has helped our family grow and bond in ways we could have never imagined. We try to do this weekly, but sometimes our schedules, especially during school, get a little crazy. If you can commit to once a week, it's a great routine to implement as a family.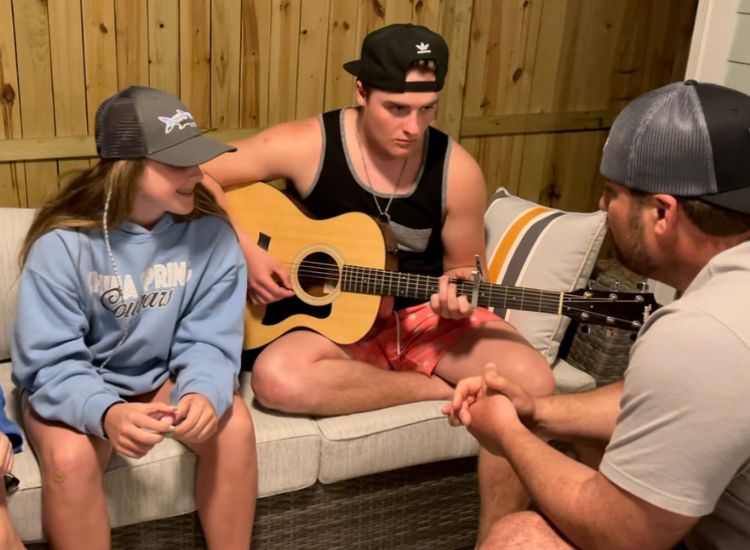 We set a time and encourage the kids to come prepared to share a scripture. We usually start with 2-3 worship songs. Sometimes Daron and the kids will sing and play. Other times we will turn on worship songs on Youtube or on our phones and worship together as a family. We all then take turns sharing a scripture or something in our hearts before we close our time together with prayer. This time has also been great for us to speak to the kids about important life lessons, talk about hard things, and be honest with our feelings. Creating a safe environment for everyone in the family is crucial to help improve family bonding.
Be Intentional with Drivetime in the Car
Now that we live out on the farm and our drive time is longer being intentional about our time together has become even more important. So I plan for our drive time and have something I want to talk to the kids about. Either a lesson I want to share, something relative that is going on in the world, whether it be news or politics, or we listen to a podcast together.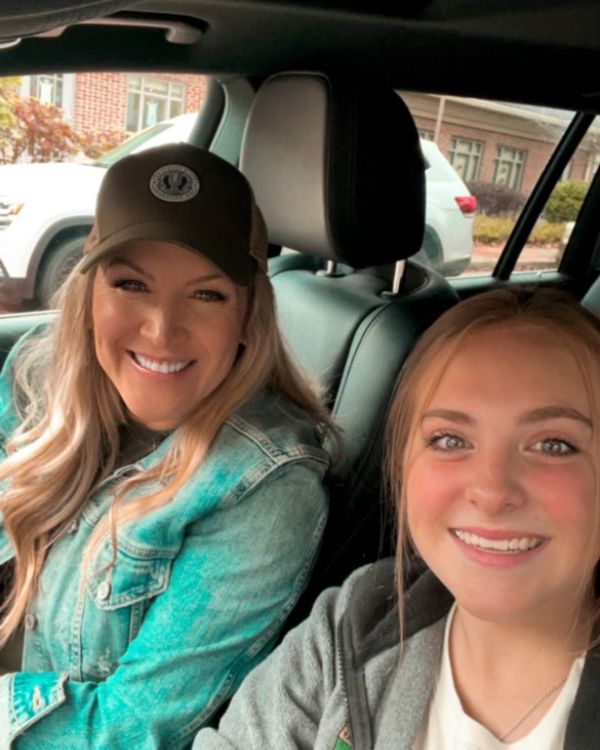 Another thing that I started doing when Easton was going to preschool, and we still do this to this day, seven years later, is to memorize bible scriptures and pray together. When he was younger, I would offer incentives like ice cream after school or extra time for his video games to encourage him to memorize scripture (hey, whatever it takes, right?). Now he does it as part of our morning routine, and it's so special for us to start our day encouraging each other with God's word.
Read the Bible Together
We started doing it as a family over the Summer because of our kids' extra time being out of school. I wanted to incorporate daily Bible reading as part of their Summer reading time.
So how it works for us is that Daron or I will pick out a book in the Bible that we want to study. Then we send the kids chapters and verses to read each day. We try to follow up with the kids over dinner and ask what they learned and if anything stood out to them in a specific verse.
It's been fun to see how we all have different takeaways from the same scriptures depending on what we might be going through and how the Holy Spirit directs. If you don't want to make a Bible reading schedule on your own, you can easily find Bible reading plans online or on the Bible app on your phone that you can follow.
Build Community
When Daron and I were growing up, our community always looked like going to church. Both of us had families that served in full-time ministry, and this was the community that our families emphasized. While we still love the local church community and encourage everyone to join an excellent local church, we also try to promote community building in many ways as a family.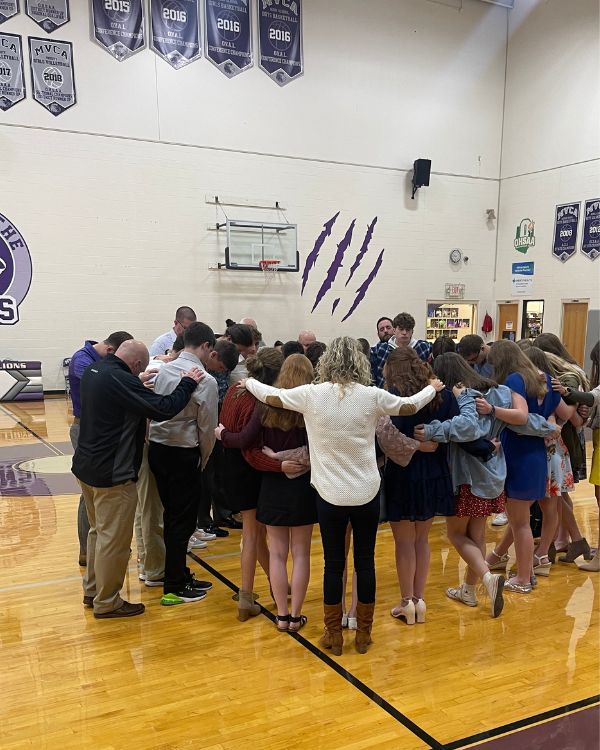 A few of my suggestions include getting connected to the parent community at your children's school—volunteering to coach sports or serving in areas that interest your kids. We also have worship gatherings at our house and invite neighbors, friends, and people we work with and see daily. In addition, we've invested in our local Farmers Market and visited on the weekends as a family to be more active in our local community. There are also many nonprofit organizations you can volunteer at and work with as a family to meet new people, build community, and improve family bonding.
Talk About Hard Things
As I have spent a lot of time learning what makes a healthy family, communication is one of my biggest takeaways. Healthy families communicate and often talk with one another. If you want to improve family bonding, establishing your home as a safe place for your children to feel and talk about hard things is essential.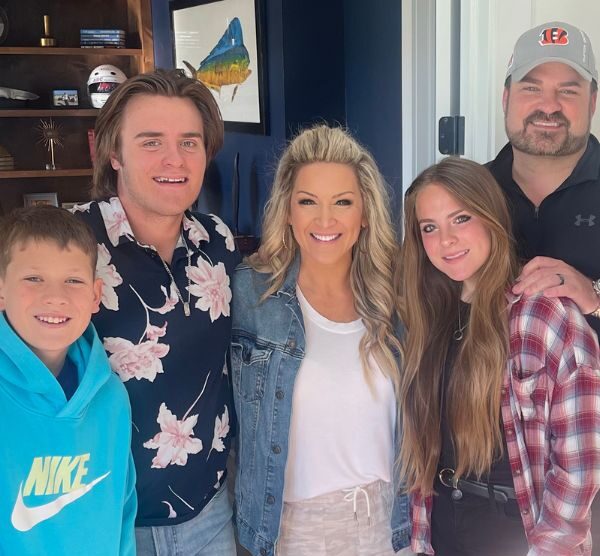 We have a rule that no matter what you're going through, "we," as the parents, want to talk about it with you because we care about you and love you. With "love" being the emphasis and trying to love them unconditionally regardless of what they want to talk about or what they might be going through. We do weekly check-ins with our kids and ask if there's anything we need to talk about, and we give them the option to express their feelings through writing or talking to a trusted family friend if needed.
Be Active Together
Being active together is an easy and healthy way to improve family bonding. It also helps teach your kids the importance of taking care of their bodies and creates good habits and hobbies.
As a family, we love sports, so we try to be as active as possible together. We play basketball, and football, jump on the trampoline, go for walks, and ride bikes together. Since I love teaching workout classes, sometimes we will do a family class at home. We recently started playing pickleball, which has been so much fun! We also all enjoy golfing and going to the driving range together.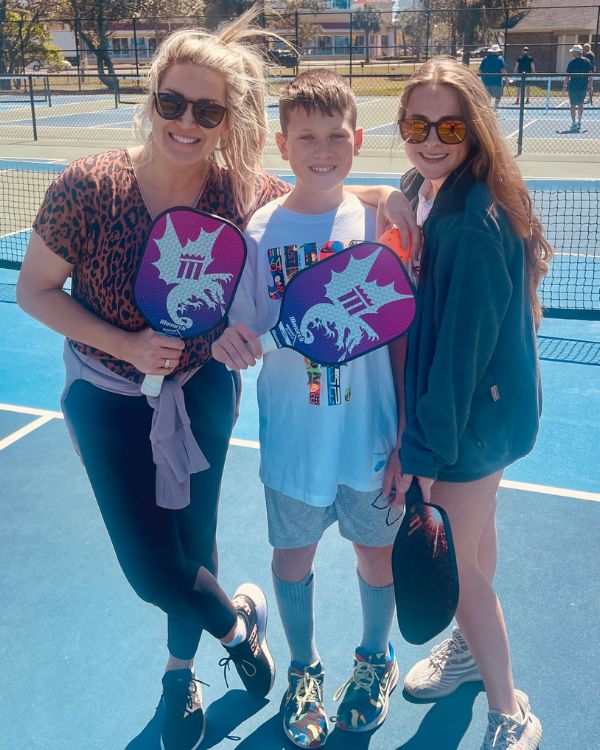 Whatever sports or activities you and your family enjoy, I encourage you to make a day of it! Try to be intentional about doing something active together each week. Don't be afraid to try new things or take a new class together as a family. I would also encourage everyone reading this to get your family involved, including your spouse, in helping you with chores around the house and taking care of things at home as another way to be active together!
Have Fun As a Family
I can't stress this enough: spend as much time as you can together having fun! The window of time we spend with our children is precious.  I have learned firsthand that it goes by quickly, and there's nothing more important in life (not a job, a hobby, or a ministry) than the time we spend with family. So be intentional about taking fun trips together, planning experiences, and just doing everyday life with the attitude of making it fun.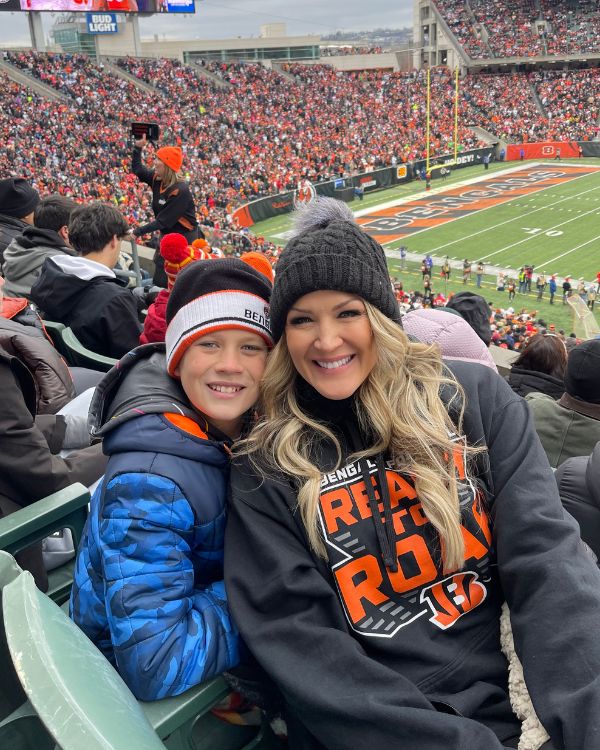 At the beginning of each year, we set a calendar and plan out family vacations, special events like professional football games that we want to attend, conferences, and shows. Then we try to do fun things each week with the kids, like movie night, game night, and swimming in the pool together.
We also try to find fun in everyday moments by celebrating often. Whether it's big occasions like Holidays and Birthdays or everyday moments like doing good on a test, winning a ballgame, or having a sleepover, we make an effort to celebrate and have fun, encouraging each other as a family.
I hope this list has been helpful and encouraging! I also would love to know of other ways that have helped you increase family bonding and create a happy home atmosphere. Share your comments and feedback below.
XO,