When it comes to style and design, Daron and I can have very different opinions.  He likes something a little more masculine, while I prefer more soft and comforting.  One thing we can agree on, however, is having a space that feels like you.  That's why we have separate home offices.  Mine is definitely more feminine with pinks and yellows, while his is darker and more earthy.  Here's some inspiration from his masculine home office design and how we chose it!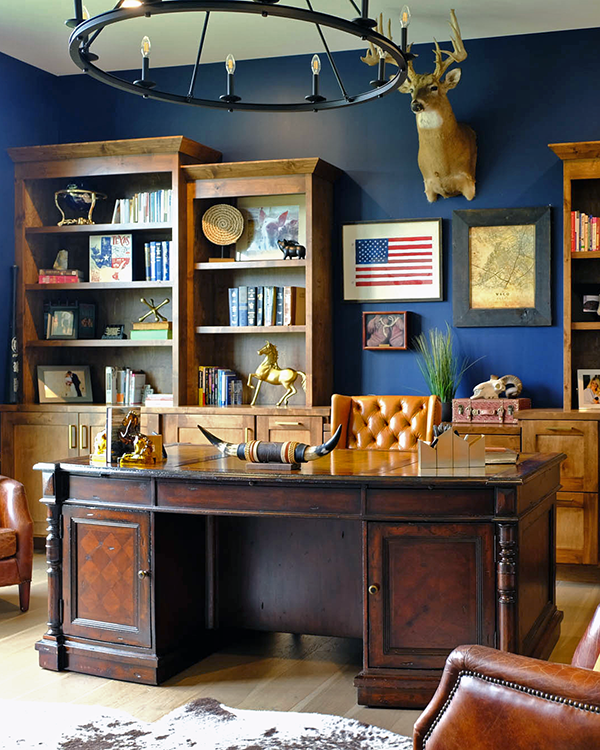 Daron's Masculine Home Office Must-Haves
As some of you may know, Daron runs Farmer Contracting from our home, specializing in custom homes and barndominiums, roofing, and commercial needs.  It is imperative that he has plenty of storage space for client files, blueprints, invoices, printers, etc.  He has some help staying organized, but creating systems that work for him while he's constantly on the go was definitely necessary.  The must-haves we discussed before we decorated were:
A comfortable chair and desk
Touches of Texas
Room to relax and take a break
Space for organizing files and paperwork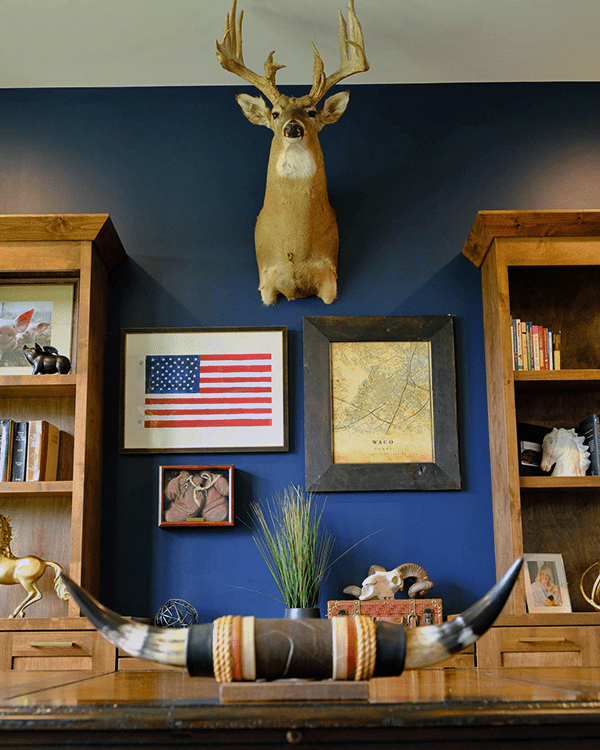 Some of the items he wanted are pretty self-explanatory – the comfy desk and chairs, and the storage space.  As you can see, we definitely made sure there was plenty of cabinetry to hide printers and other electronics that don't need to necessarily be seen.
Personal Touches of Texas
Daron wears his cowboy hat all over Cincinnati, so there's always Texas no matter where he goes.  However, it was important that his office remind him of home and where he grew up.  He selected a map of Waco and a framed American Flag to be displayed on the walls behind his desk.  He also wanted to include several farm animal accessories like busts of horses, deer antlers, and high-quality images of cattle throughout the space to give it a common theme.
While his office is masculine, I personally love the vibrant colors and gold accents we added, as shown in this cabinet and the fish print above it.  The deep, rich tones throughout really make any greenery or reds pop while staying true to his Texas heritage.
A Space to Relax
Daron spends a lot of his time on the phone talking to sub-contractors and clients so he can coordinate their needs.  He wanted to make sure he had a spot to get away for a few minutes to breathe between calls.  Daron loves to relax with music so we thought it would be perfect to add his piano.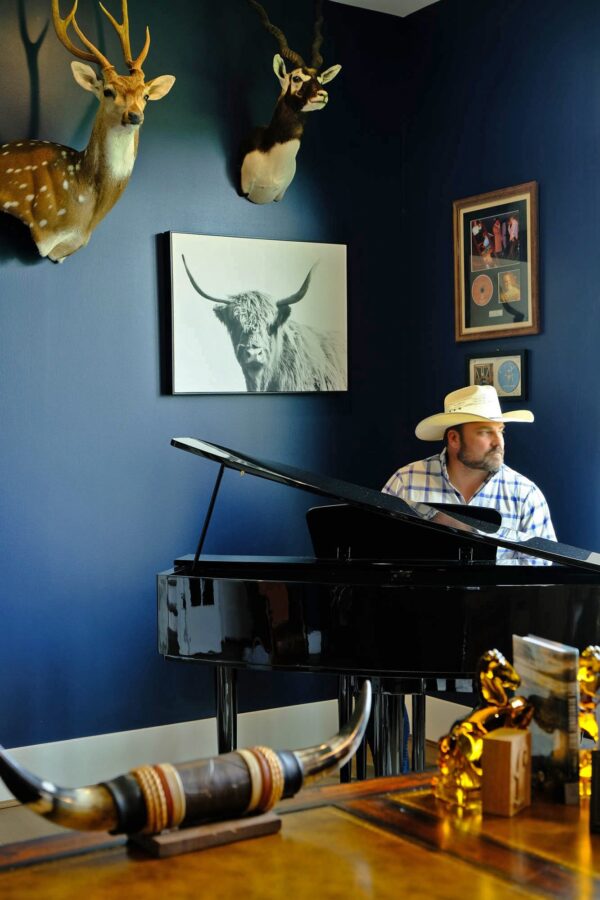 Not only does it fill up the space nicely, but it gives an anchor to the corner wall so we could decorate around it.  You can see by the art that we stayed right on theme with Texas!  He also keeps his guitar close by and I love to hear him playing songs throughout the house.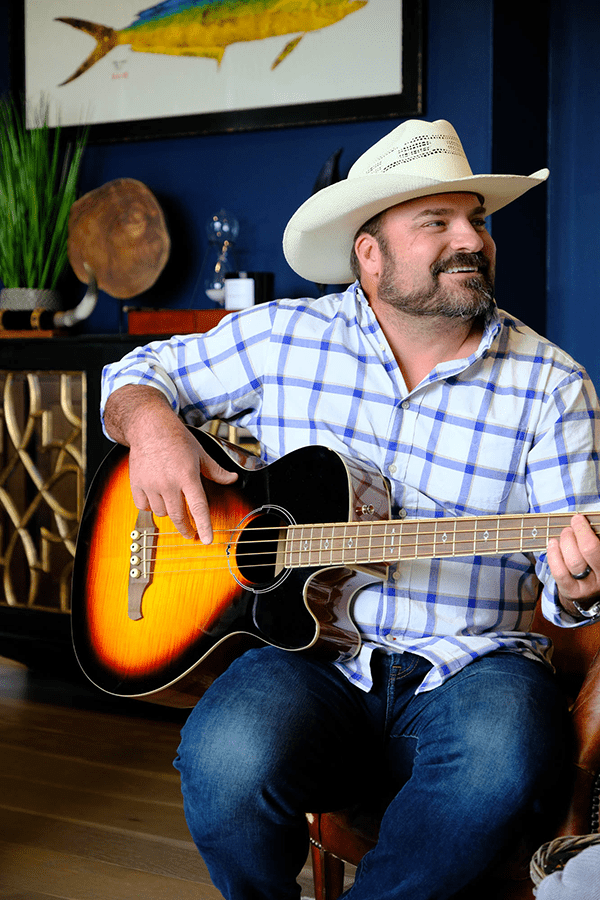 Masculine Home Office Inspiration
Have you decorated a masculine space in your home before?  I would love to see your rooms and where you found your inspiration!  Tag me in your offices, living rooms, etc. so I can see what you've done at @ourfarmerhouse.  I am always looking for ideas!
And, let me know how you think we did on creating Daron's office space.  He absolutely loves it, and I honestly think it's beautiful too.
XOXO,