When dealing with design, sometimes less is more.  However, when it comes to small spaces, you can afford to be a bit more daring with your design choices.  Wallpaper is a great way to add texture, pattern, and color to any room, but I absolutely love it for a powder room.  This is your chance to show off your personality and character without disrupting the rest of your home's decor.  Here are 16 Beautiful Wallpaper Designs for Your Powder Room to inspire you!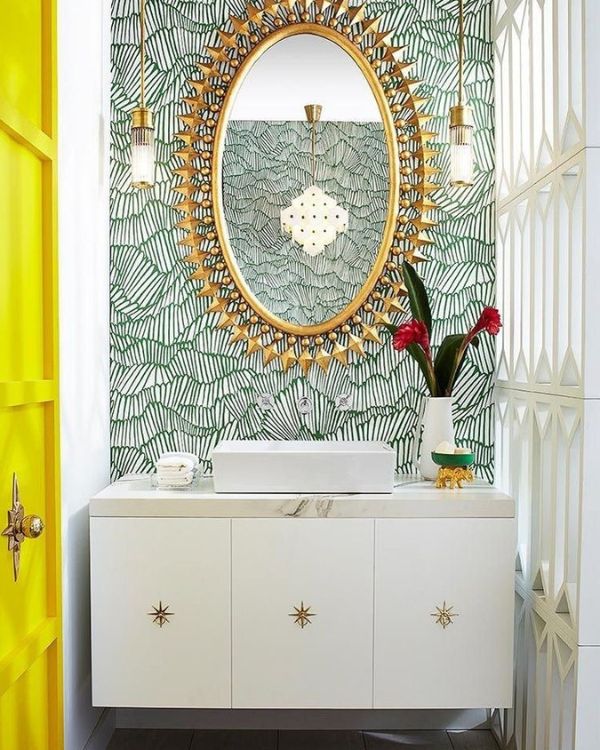 Image Source:  Carolina V. Gentry
This powder room goes all out!  The green pattern of this wallpaper has an animal print vibe, but also complements the gold accents of the room just perfectly.  It creates focal points in the space with the help of a statement mirror, making it feel more dynamic and fun.  I also love that it's mirrored on parallel walls.
Wallpaper Powder Room Designs: Blooms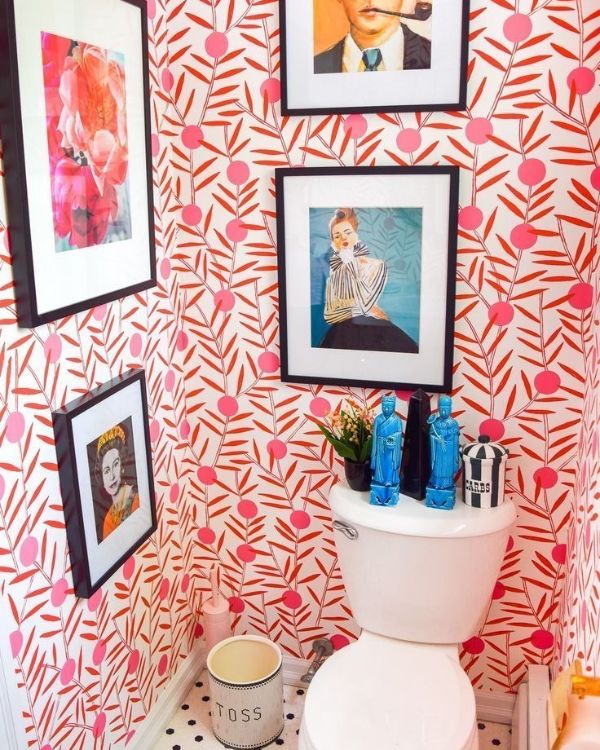 Image Source:  PMQforTwo
This big, bold floral print wallpaper was utilized on every wall in this powder room.  Talk about a statement.  The black, white, blue, and other colorful accents really make this space pop!  I also love the use of retro-inspired art for extra character.
All That Glitters is Gold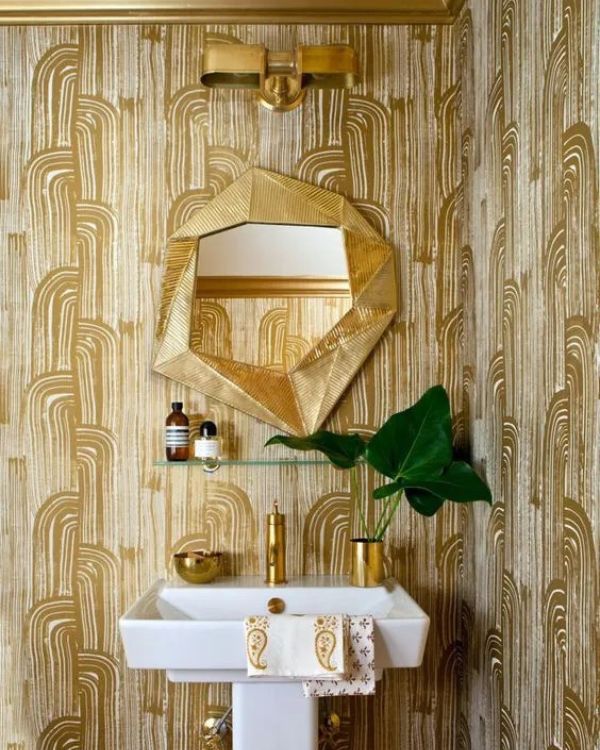 Image Source:  ChelseaLaneCo
Wallpaper can tie together the various elements of your powder room's design, such as the fixtures, hardware, and lighting.  This is a great example of how that happens.  This wallpaper is timeless and elegant, yet full of personality!  While gold may not be for everyone, it feels ultra luxe and glam when used in a powder room like this.
Wallpaper Powder Room Designs: Fun with Florals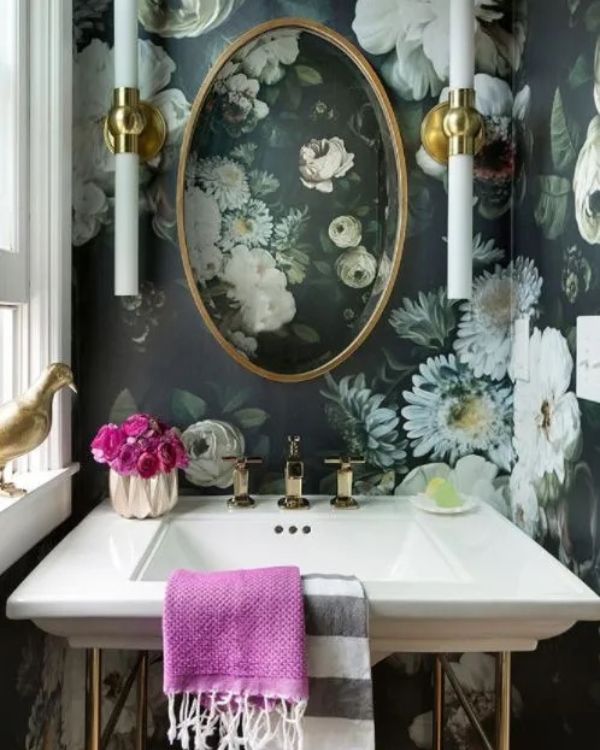 Image Source:  Lucy Interior Design
Oversized floral wallpaper has become a trend the past couple of years, and it's easy to see why.  This pretty pattern is dark and moody, but the white porcelain sink and light fixtures help it shine.  The gold fixtures add a modern touch to this contemporary powder room.
Zebra Print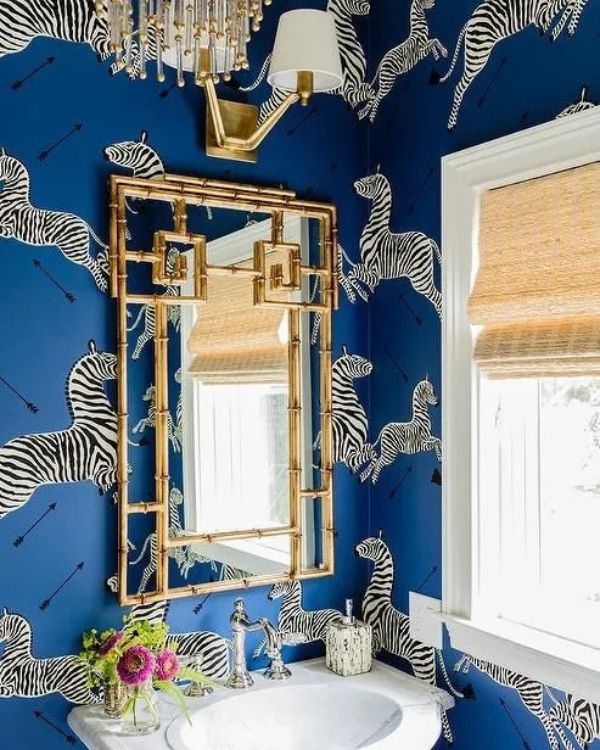 Image Source:  Katie Rosenfeld Design
This wallpaper is actually peel and stick, which makes it a great option for a powder room.  This fun print is perfect for kids or eclectic homeowners who love to infuse character into every space.  I fall somewhere in the middle!
Wallpaper Powder Room Designs: Flower Power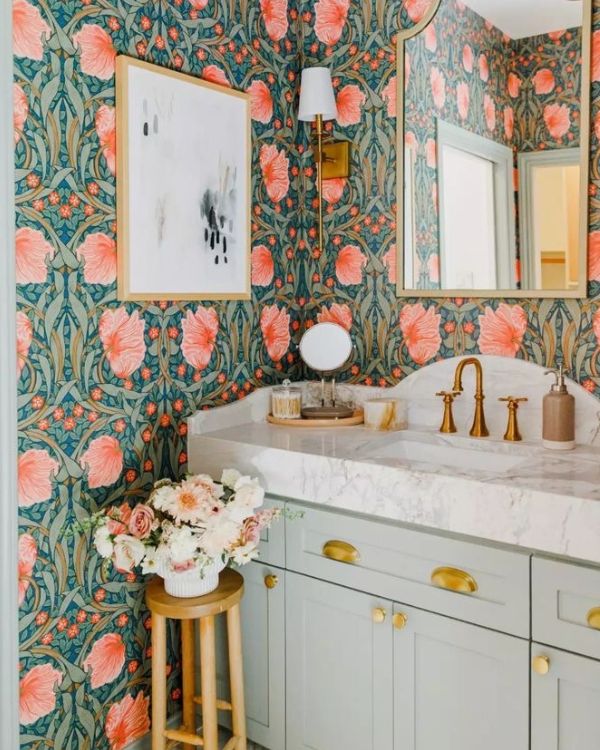 Image Source:  JoyfullyGreen
I personally love all the color in this floral patterned wallpaper.  The pinks, greens, and golds look so lovely next to the white marbled countertop and the light green vanity.  This is a stunning wallpaper design for your powder room if you're bold enough to try it!
Fabric Wallpaper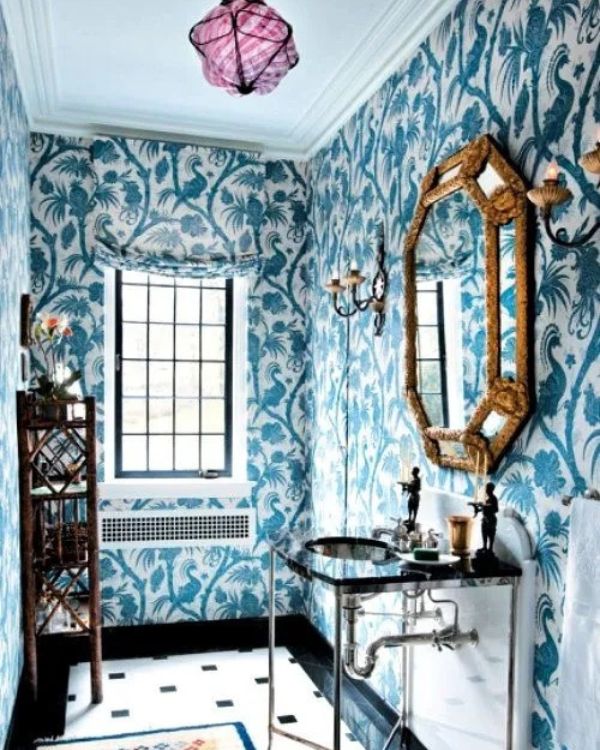 Image Source:  Bennison Fabrics
While this is technically fabric on the walls, it is applied for a wallpaper affect.  Because it's fabric, you're able to coordinate the curtains perfectly to match!  This oversize toile-style print pushes an otherwise traditional space into the modern era with big impact.
Our Farmer House Florals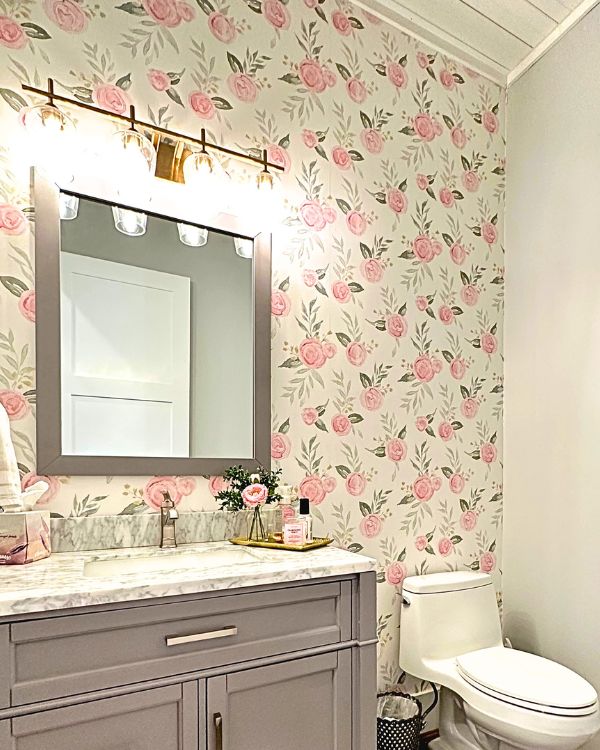 Image Source:  Our Farmer House
This is actually my powder room in my home!  Daron surprised me with this beautiful wallpaper when he built our house a few years ago.  He knows I love a little bit of glam mixed with a classic print.
Welcome to the Jungle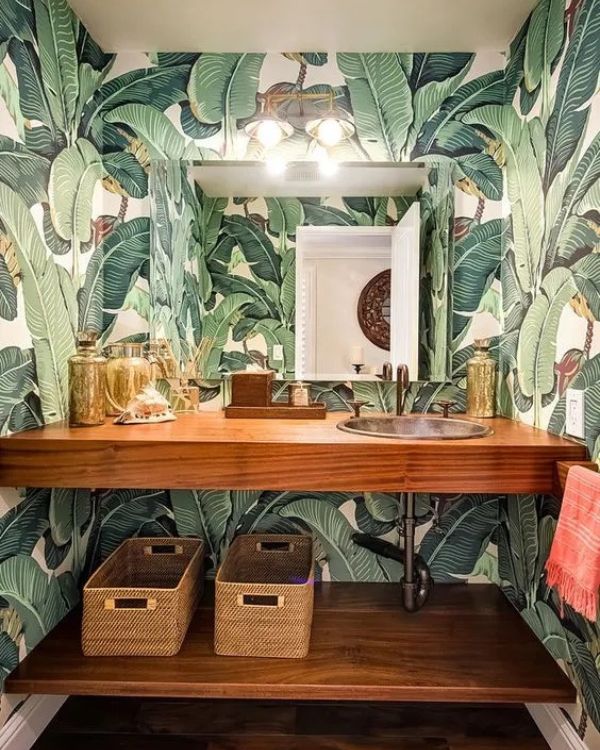 Image Source:  Ocean Home
Welcome to the jungle, indeed.  This print is BIG and tropical!  Adding a lush and exotic atmosphere to this powder room, this wallpaper speaks for itself.  The wood and gold accents help neutralize the space for a chic look.
Wallpaper Powder Room Designs: Dainty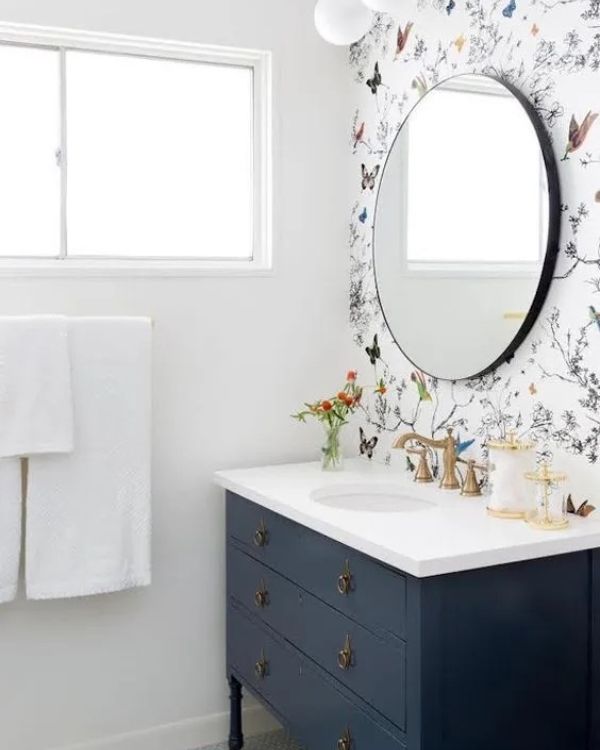 Image Source:  Shannon Eddings
Not every wallpaper design for your powder room needs to be big, bold, or loud each time.  As I mentioned above, sometimes, less truly is more which is evident in this dainty wallpaper.  Complementing the colors of the vanity, this simple and elegant look keeps it classy.
Flamingo Fun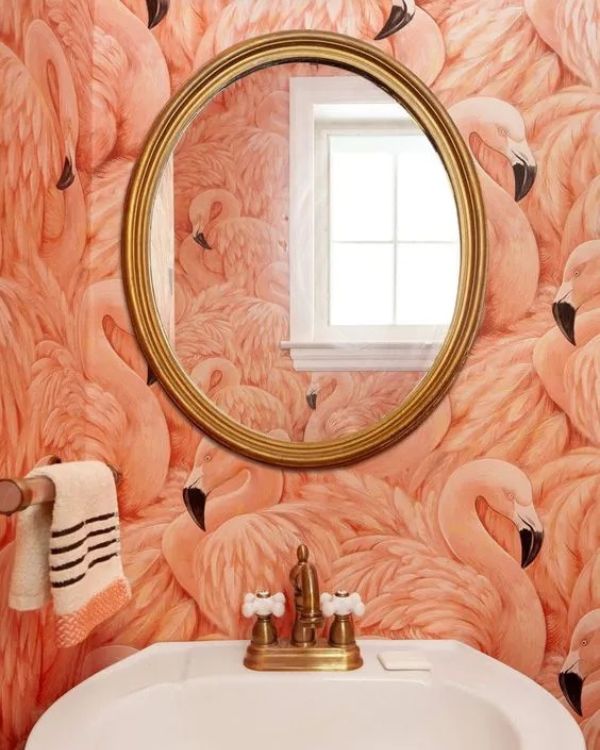 Image Source: ABeautifulMess
This is another larger print wallpaper, but I think it's super fun!  I love that the designer kept this bathroom simple beyond the walls, letting the print be the artwork and do the heavy design lifting.
Wallpaper Powder Room Designs: Overgrown Art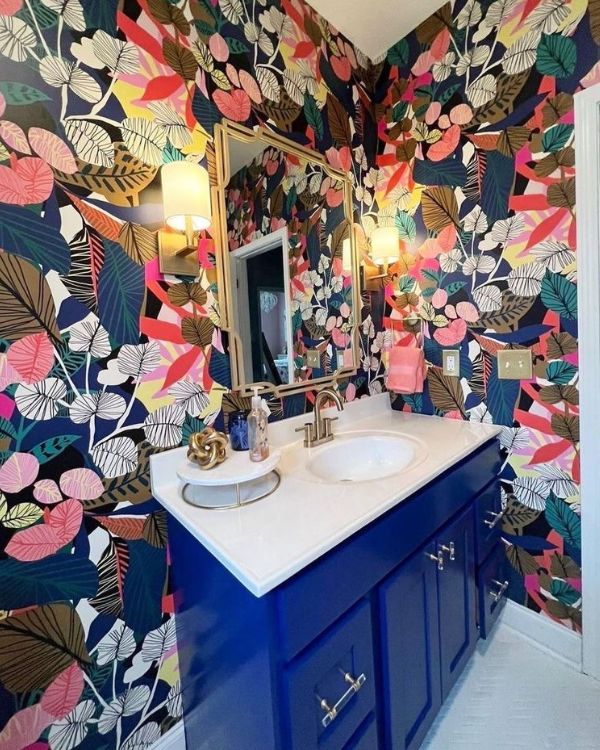 Image Source:  Milton & King
If you're loud and proud, this wallpaper might be for you!  It's a busy pattern, but the colors are interesting and playful.  This powder room definitely makes a statement that your friends and family won't forget.
Cheetah Dots
Image Source:  Rainsford Company
A modern take on animal print, this powder room wallpaper design is more subtle, but still punchy.  Black and white is always classic, but the mixing of gold and white porcelain give it a chic updated look.  I also love the cheetah towels.  You can tell this designer has a strong sense of personal style and isn't afraid to show it.
Peacock Palace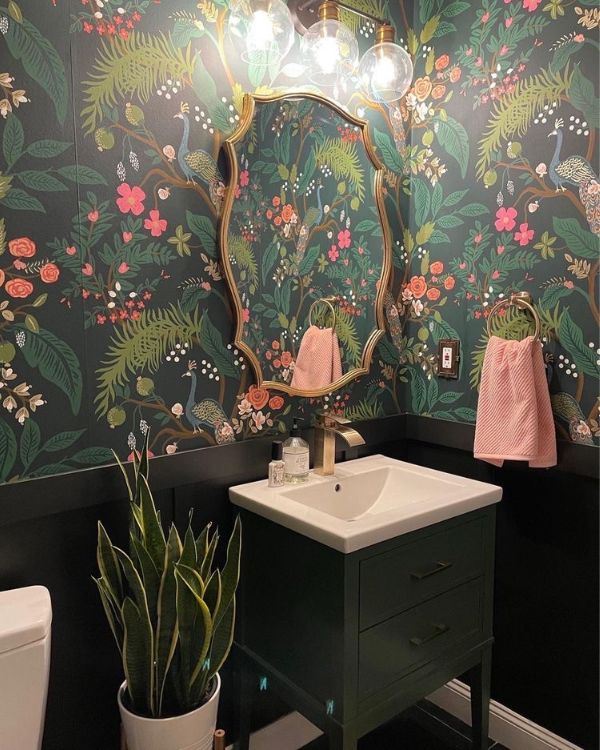 Image Source:  Casa Callahan
These perched peacocks are full of color and style.  This wallpaper is a new take on a classic, yet playful aesthetic for any powder room or small space.  Another example where the print is the art, I love that it speaks for itself in the room without additional flare.  Keeping everything else relatively simple is key to making a pattern like this work.
Wallpaper Powder Room Designs: Stripes!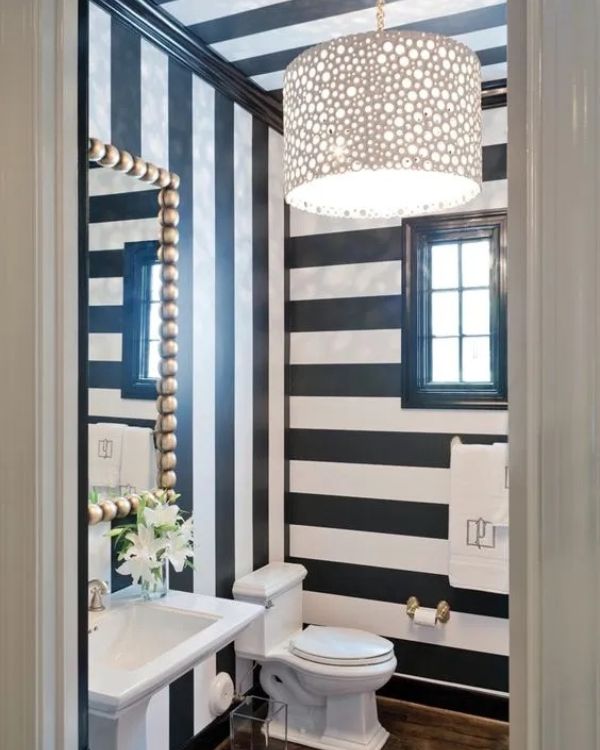 Image Source:  A&G Design
Large stripes going different directions make an unexpected pattern.  Wallpapering the ceiling is also unexpected, but it works!  Ceiling wallpaper was pretty common back the late 19th and early 20th centuries, and I can definitely see why.  The black molding helps separate the ceiling from the walls and disguise where the edges meet.  Classic meets modern once again!
Overall, wallpaper can be an affordable and impactful way to elevate the design of a powder room and make it feel more polished and inviting. If you're afraid to go as bold as some of these styles, just remember that wallpaper is easy to install and replace.  Powder rooms are also relatively small, so it can typically be completely redone in a weekend if necessary.
Would you try any of these wallpaper designs for your powder room?  Let me know in the comments, or DM on instagram @ourfarmerhouse. I'd love to hear what you think!
XOXO,