A friend recently asked for advice on tackling her first DIY home renovation project.  She had a few rooms she considered remodeling and wasn't sure where to start.  We walked around my house for inspiration, and once we got to the kitchen, her imagination went wild.  Everywhere she turned, she ran over to get a feel of the backsplash, the handles and knobs, and even the wood panel detailing on my cabinets.  She had finally found her inspiration: my kitchen!
Soon enough, we started planning simple ways to add vintage charm to her kitchen. That day, she inspired me to share my ideas with you!
Charm the Kitchen With a Classic Backsplash
One of the things my friend said she had to have was a backsplash—apparently, the white backsplashes I'd seen growing up are trending and she wanted to get in on it. So, we went to the store together, tried different patterns and textures, and even brought home samples.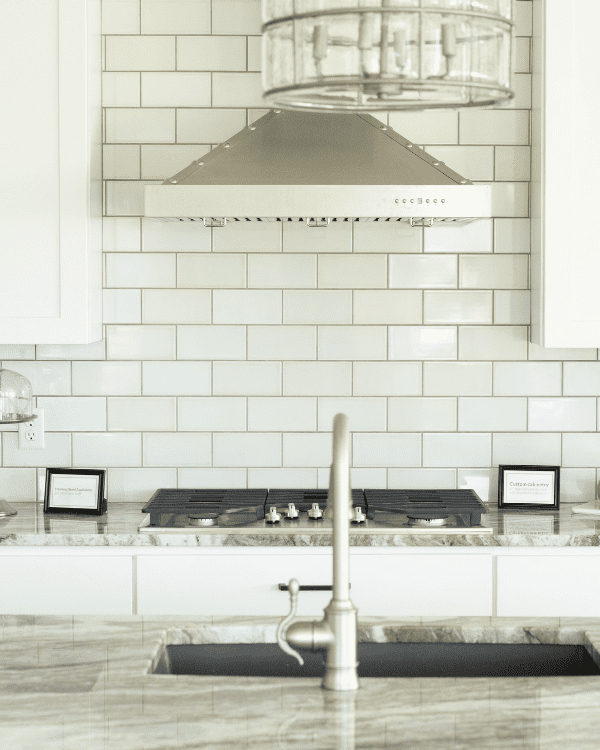 Something we talked heavily about was all of the various design options. It's pretty much endless when it comes to kitchens these days. She wanted something chic, maybe a splash of boho like mine. I recommended she speak to a professional to help coordinate the backsplash and countertops. They gave her wonderful ideas, like mixing creamy white with gray tiles.
Add Vintage Handles for a Southern Cottage Vibe
I absolutely love vintage hardware. So, I found some that I thought were super cute for her, and while they were pretty, she was unsure if it would work. It's easy to understand the hesitation on something like that, but vintage hardware can be super budget friendly and just as stunning as something new if you find the right items!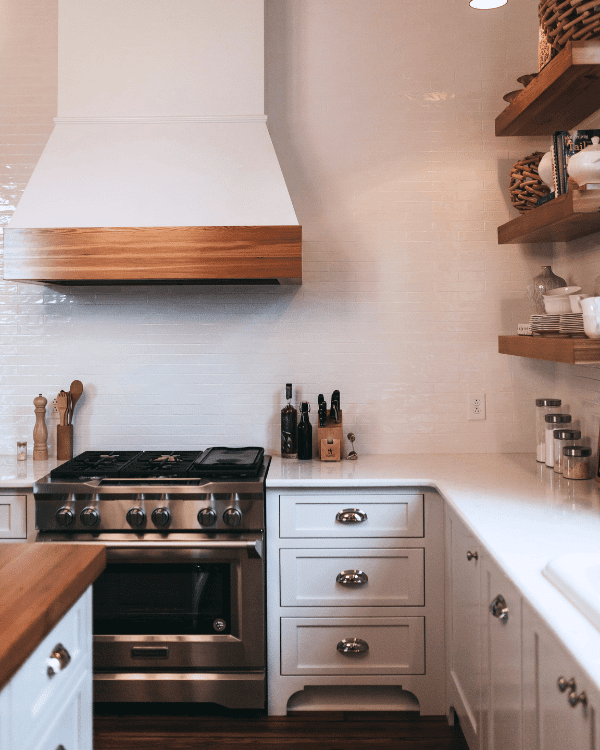 Repurposing older items can be one of the best and easiest ways to DIY a kitchen renovation. Even if you go with something new, a lot of items are currently inspired by the past. Just a simple google search with the words "farmhouse kitchen hardware" brings up a plethora of vintage inspired options!
Add Vintage Charm: Switch the Faucet for An Antique
Your faucet can be a stunning show piece if you want it to be. I personally love a vintage inspired faucet, and my friend ultimately ended up going with one in her kitchen as well. Pair it with a farmhouse sink and you've definitely got that vintage vibe whether your kitchen is new or not.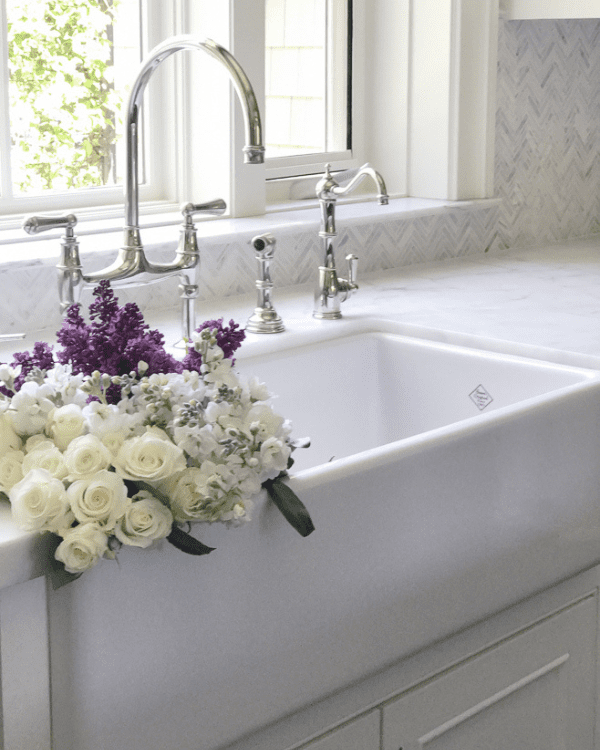 Image Source: Sanctuary Home Decor
Add Open Shelving
There's just something about open shelving that makes a space feel more homey. Whether it's an entire wall or a small corner, open shelves let you show a little more personality with personal touches and trinkets. Or, you can always go classic with dishes and stemware. Either way, rustic open shelving provides classic vintage farmhouse appeal.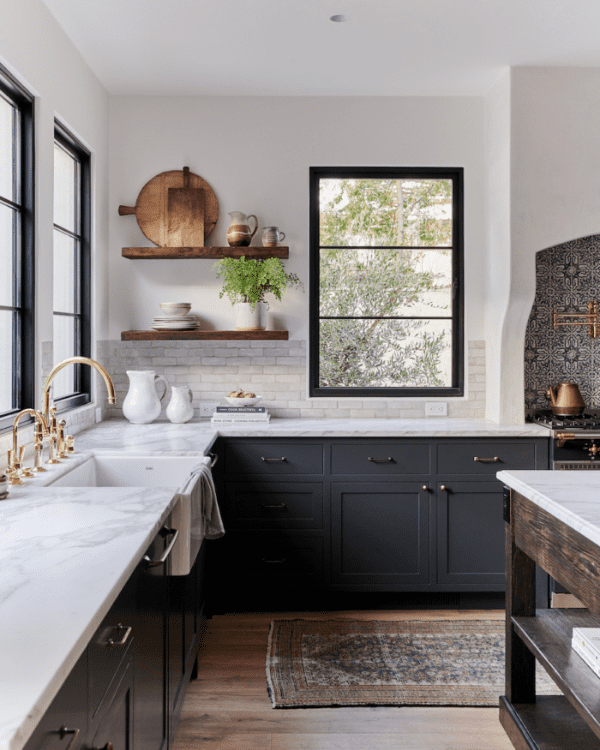 Image Source:  Amber Interior Design
Besides modern chic and boho, vintage charm is one of my favorite design accents to talk about. Vintage charm is a popular kitchen design trend in 2023, and one that I love seeing my friends and followers tackle.
Do you have any ways to add vintage charm to a new kitchen? Share it below with us, and don't forget to follow for more fun at @ourfarmerhouse.
And, if you're in need of a contractor for your kitchen reno and located in the Greater Cincinnati Area, get in touch with Farmer Contracting.  Daron and I would love to help you out!
XOXO,