First things first – what is a Barndominium? If you've never heard of one, you're in for a treat! A Barndominium is a combination of the words barn and condominium. It's a modern take on a home purposely designed as living space, but with barn-like or farmhouse inspired design, living spaces, and storage structures. They typically have vaulted ceilings and mixed materials like metal, wood, stone, and brick. The general structure of a Barndominium begins with a pole barn and then the interior walls are framed and finished. Many people like to dress up their designs with porch, loft, and garage additions to the pole barn.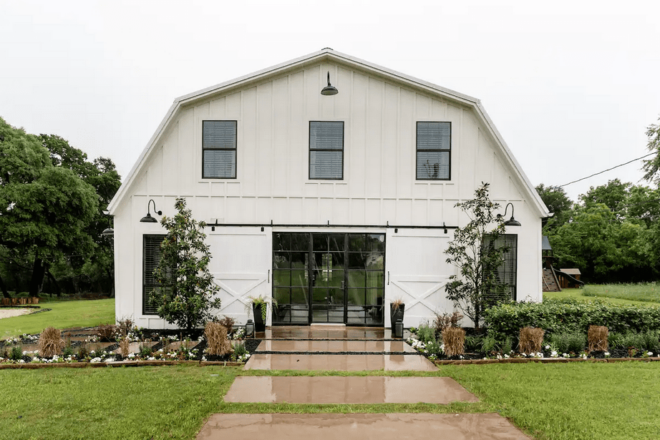 When Daron and I were thinking about building our home, we easily gravitated toward this style. It's modern, beautiful, and speaks to our Texas and Kentucky roots. We also love that it fits in seamlessly with the land and animals we have on our property. If you're dreaming about your next home, Get Inspired with These 10 Stunning Barndominium Exteriors!
10 Stunning Barndominium Exteriors: Country Classic
Image Source: Architectural Designs
The combination of wood and metal, and blue-gray and natural paint hues really set this home off for me. You still get that farmhouse feel with a touch of luxury. The large windows and garage doors really sell this as an inspiring barndominium exterior.
10 Inspiring Barndominium Exteriors: Tiny Treasure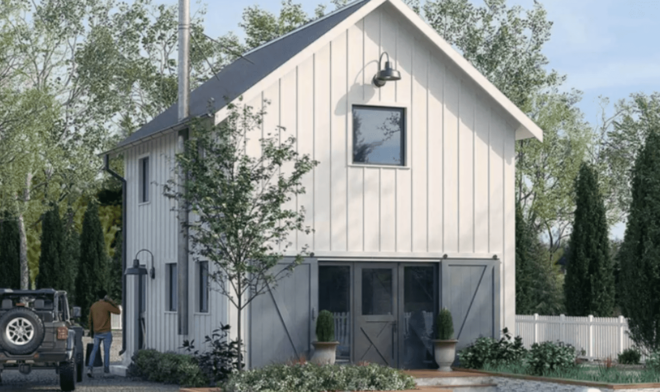 Image Source: Newsweek
This barndominium tiny house is so cute! At just under 1000 sq. feet, it looks so much bigger with the vaulted roof and high windows. Barndominiums are known for making great use of space, and it's evident in this tiny home as it has two bedrooms, one full bathroom, and a combo living and dining space.
Red Barn Americana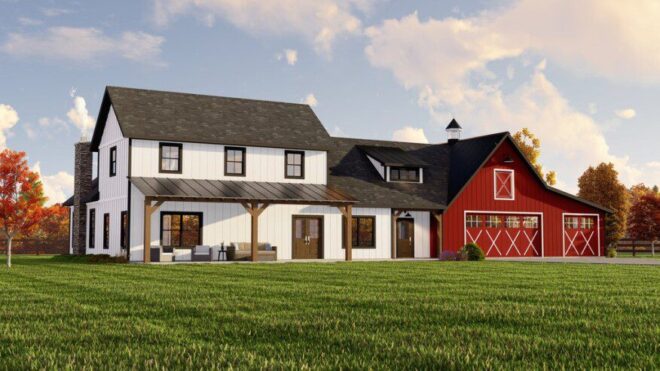 Image Source: Builder Online
This home mixes classic red barn Americana with the modern farmhouse aesthetic. Why not have both? I love the idea of combining the two! This is definitely a home that stands out from the rest. The white trim on the red barn pairs well with the white exterior of the home. Natural wood beams on the porch also complement the dark roof and trim around the windows.
Farmhouse Chic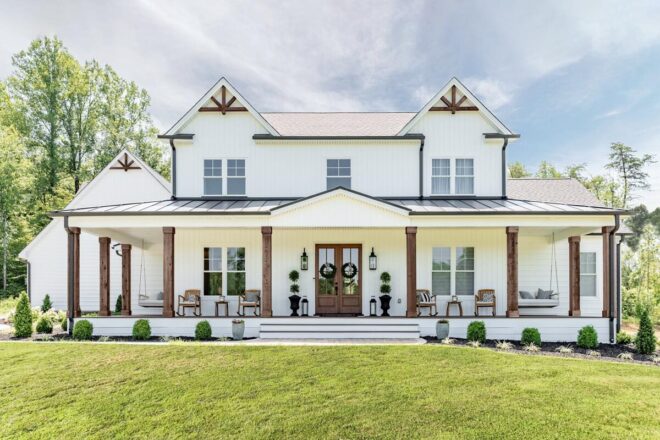 Image Source: Architectural Designs
What inspires me the most on this barndominium is the wraparound porch. Such a dream! I also love the wooden columns and architectural details that perfectly match the front door. The metal porch roof is also a great contrast to the rest of the shingled roof, making a focal point this aesthetically pleasing design. If you love this style, be sure to check out my article: 12 Beautiful White Modern Farmhouse Exteriors.
10 Inspiring Barndominium Exteriors: Barn Doors Galore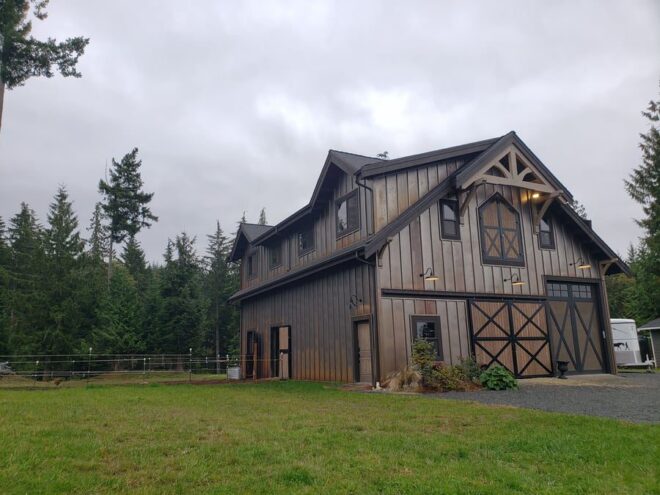 Image Source: Bridger Steel
This Barndominium definitely leans heavy on the barn aesthetic. I personally love the natural look when done well like this example. The use of multiple barn doors, but in different shapes and sizes is a fun take that I haven't seen done before. Black trim adds definition to the muted color palette, and the siding is actually metal.
10 Stunning Barndominium Exteriors: Two Toned Beauty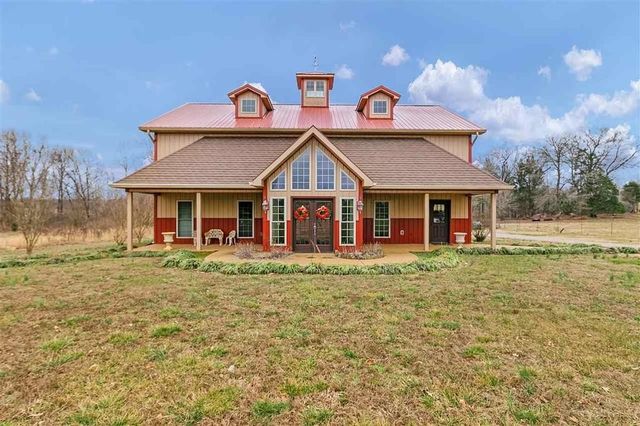 Image Source: Realtor.com
This two-toned beauty is lovely; Another mix of the classic red barn color, a neutral tan, and white trim. I love that the darker doors blend seamlessly with the exterior facade. The entry windows and large porch also take advantage of the country view.
Fixer Upper Fabulous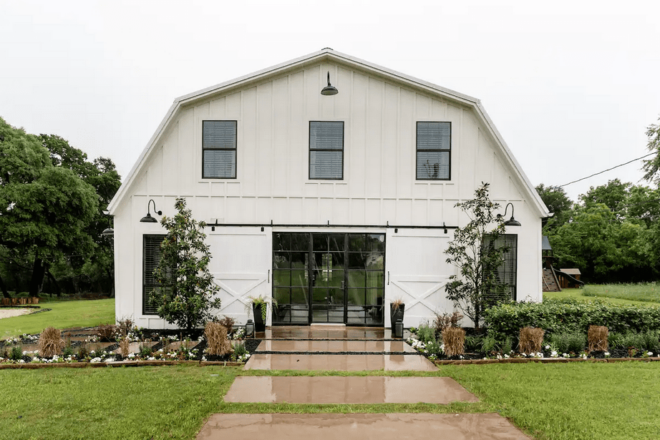 Image Source: Airbnb
This is one of the most famous Barndominiums thanks to Fixer Upper. It was an actual barn that was converted into a home, which is now a rental on airbnb. I love that they transformed the barn doors into picturesque windows. The black trim, barn door railing, and exterior lighting give this home a symmetrical, eye-catching look.
Super Siloed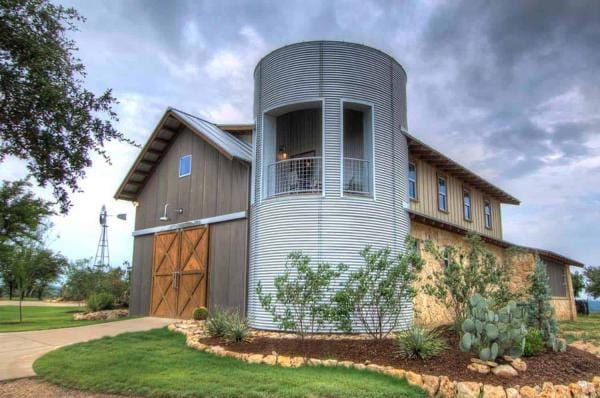 Image Source: Rhythm of the Home
This silo concept is super unique. The round balcony porch feels very one-of-a-kind and industrial, while the wooden barn door and other natural tones surrounding it make it feel more balanced and cozy. I personally love the idea of a round room in the home. To me, it creates a fun design challenge that may lend itself to a smaller, more intimate setting; A library, study, or even an office space come to mind.
10 Stunning Barndominium Exteriors: Bringing the Inside Out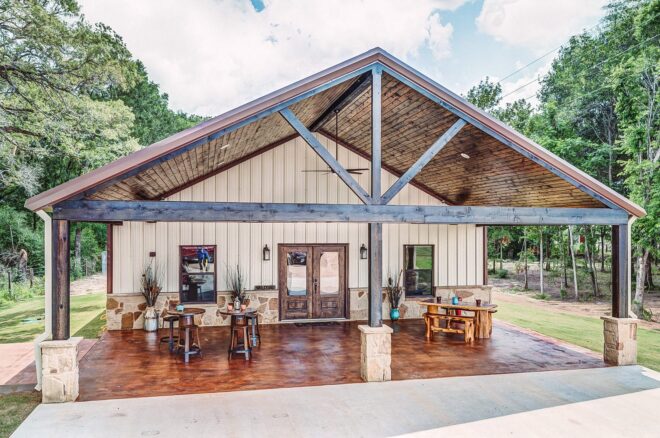 Image Source: Circle C Vacation Rentals
This is one super effective way to bring the inside out! I love that the builder chose to extend the roof well past the entry to allow for comfortable outdoor activities. Daron and I are always looking for more fun ways to spend time with the family, and this looks like a great idea! From grilling to reading, putting together a puzzle, there are endless ideas here to make family time count.
Slanted Stunner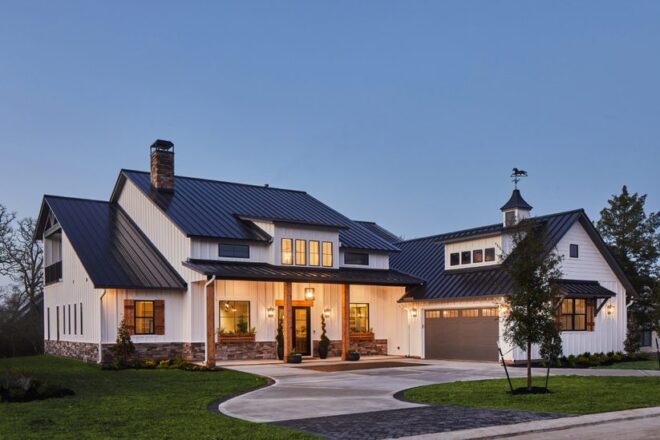 Image Source: Southern Living
The metal roof on this home is beautiful. I like that there's a mix of brick, metal, and exposed wooden beams and accents as well. The more natural tones of the wood and brick bring in needed warmth to an otherwise black and white home. Having an abundance of windows creates a more open and airy vibe that feels welcoming and inspired. If you love black and white, I also encourage you to check out my blog on Black and White Checkered Floors!
I hope I've helped inspire you by these 10 stunning barndominium exteriors! I really can't get enough of the mixed materials, open concepts, wooden beams, and farmhouse aesthetic. If you're in the Cincinnati, OH area and looking to build one for yourself, we would LOVE to help you! Daron specializes in custom home builds and barndominiums so please reach out at Farmer Contracting.  Maybe we can be neighbors 🙂
XOXO,