For an Asian inspired dinner, try my this slow cooker Cashew Chicken Recipe! While this meal tastes delicious, you will be excited to know that it only has 302 calories per serving. So yes, go ahead and get seconds.
Plus you can make this recipe in your slow cooker which is my favorite part because it's easy! After all, what's better than coming home from a busy day to a warm and tasty dinner that you can serve to your family?
Answer: nothing. So enjoy this low-calorie, high-protein dinner while you can — because it will be devoured in an instant and it's sure to become a family favorite!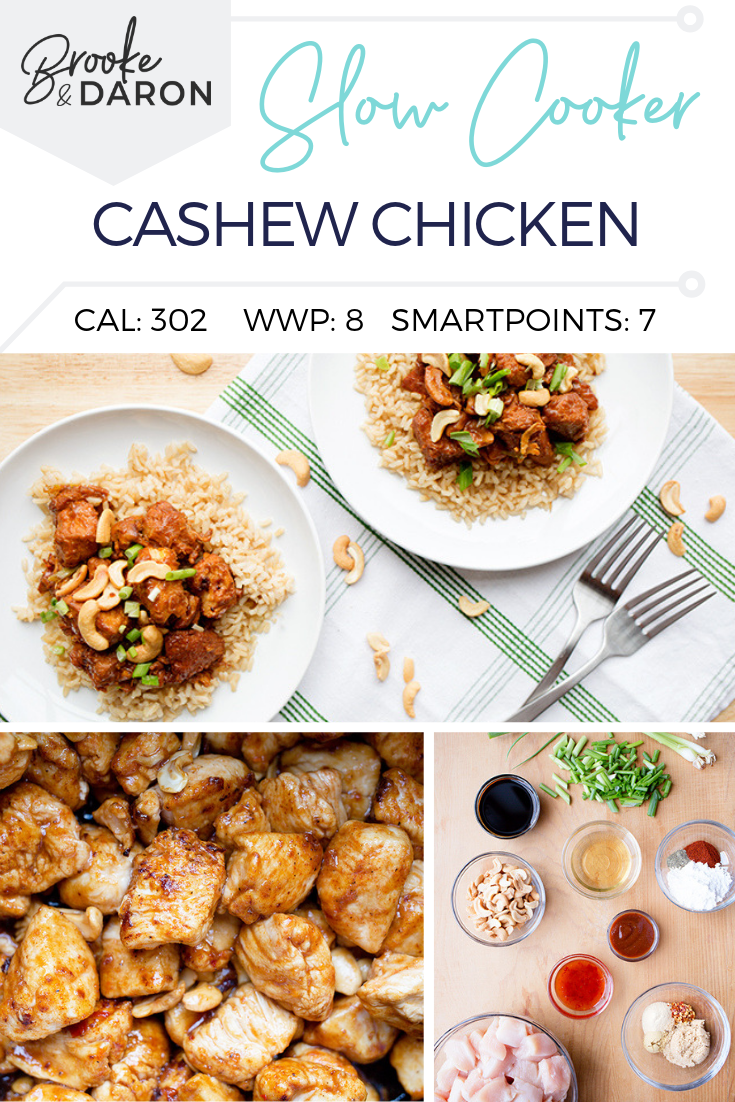 Slow Cooker Cashew Chicken Recipe
I love making easy weeknight meals in my slow cooker.  Especially when the whole family begs for the recipe.  Cashew chicken is a favorite of mine when we order takeout, but it's not really a healthy option.  This recipe is the best option you will find to satisfy your takeout Chinese craving without ruining your diet!
If you like copycat foods, then I know you'll also love this barbacoa recipe that is a lot like Chipotle.  Tons of flavor, easy to make, and perfect for tacos, quesadillas, and burrito bowls.
Can I use chicken thighs for this cashew chicken? 
Yes!  I typically use chicken breasts because it is a little lower in fat and calories, but thighs work great.  Just grab boneless skinless chicken thighs and make sure to trim any excess fat that you see.  You could even sub in some diced pork if you had it on hand and wanted variety.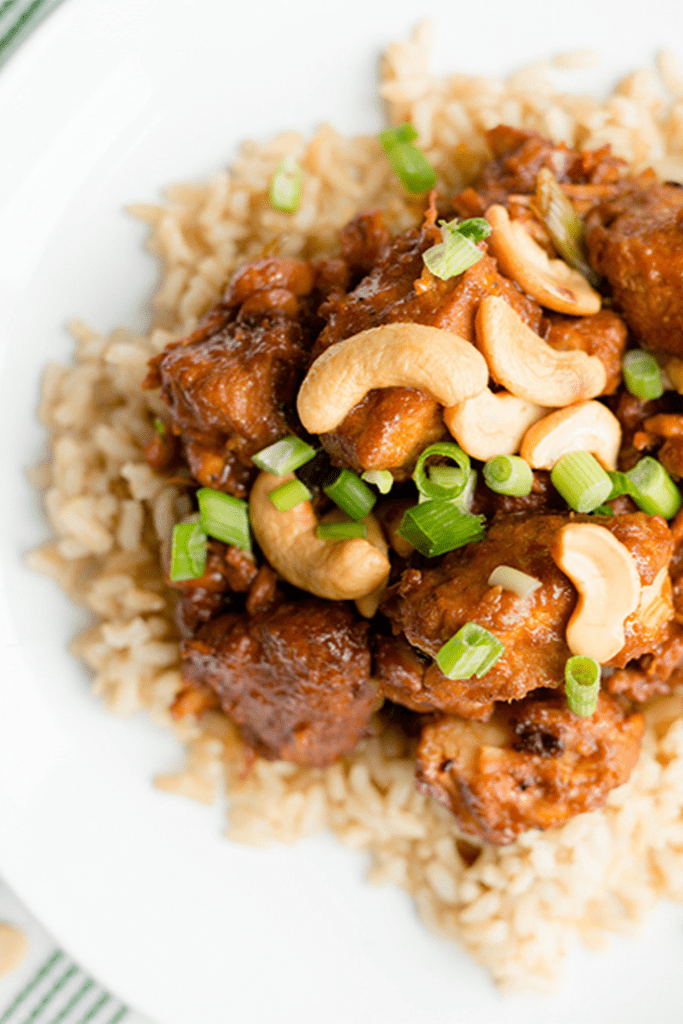 Ingredients
Boneless skinless chicken breast
Cornstarch
Black pepper
Paprika
Canola oil
Low-sodium soy sauce
Rice wine vinegar
Sweet chili sauce
Low-sugar BBQ sauce
Brown sugar
Ground ginger
Garlic powder
Red chili flakes
Raw cashews
Green onions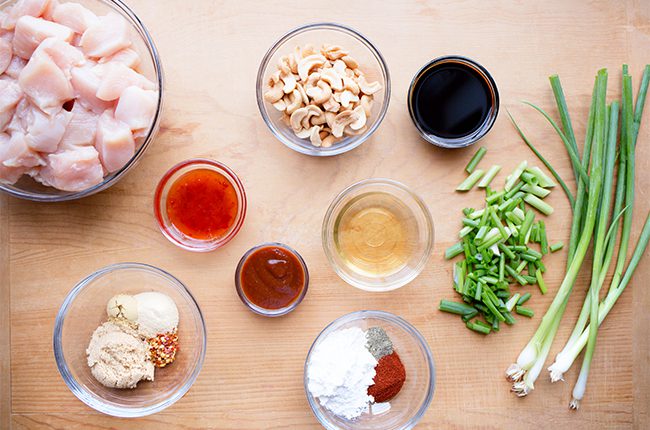 How do you make this Cashew Chicken Recipe in the Crock-Pot?
Begin by preparing your ingredients. I like to measure, chop, dice, and slice everything needed before I start cooking.  This makes sure I'm not mid-recipe and realize I need to run to the store.
Then, for this recipe, you will brown the chicken breast chunks in a skillet before adding them, the cashews, and the sauce to the slow cooker and stir until well combined.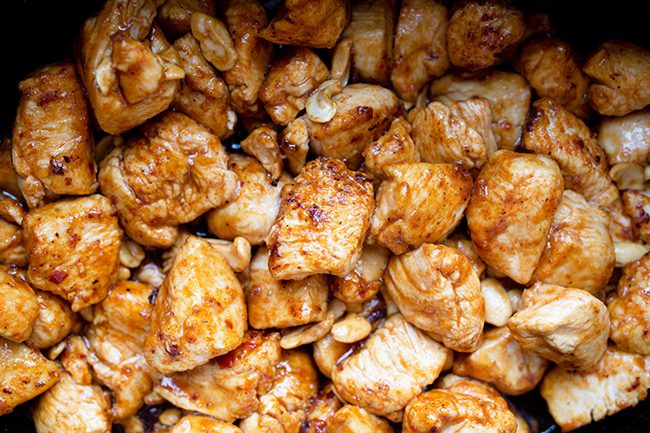 This will cook on low for 4 hours but can stay for up to 6 hours in the slow cooker if needed.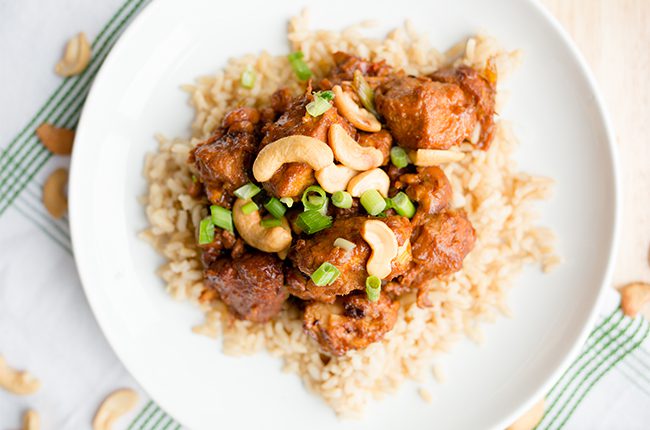 I serve this over a bowl of brown or white rice with a few diced green onions and fresh cashews on top for crunch and flavor.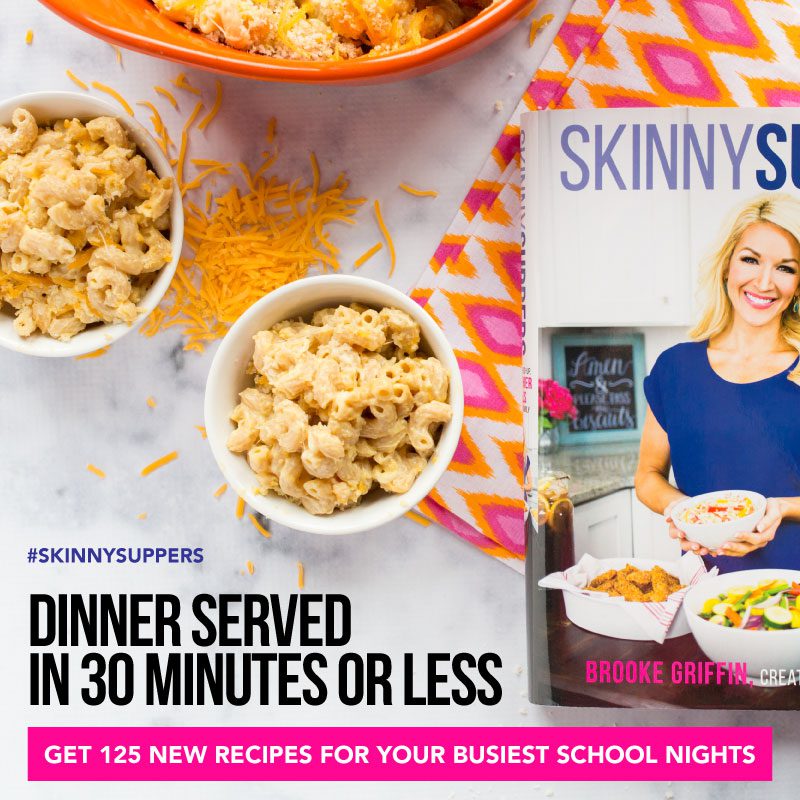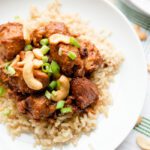 Print Recipe
Easy Slow Cooker Cashew Chicken
For an Asian inspired dinner, try my Easy Slow Cooker Cashew Chicken! While this meal tastes delicious, you will be excited to know that it only has 302 calories per serving, so yes go ahead and get seconds.
Servings: 6
Calories: 302kcal
Ingredients
2 pounds boneless skinless chicken breasts, cut into 2-inch pieces
3 tbsp cornstarch
1/4 tsp black pepper
1 tsp paprika
2 tbsp canola oil
1/4 cup less-sodium soy sauce
3 tbsp seasoned rice wine vinegar
2 tbsp sweet chili sauce
2 tbsp low-sugar BBQ sauce
2 tbsp brown sugar
1 tsp ground ginger
1 tsp garlic powder
1/4 tsp red chili flakes
1/2 cup raw, unsalted cashews
1/2 cup green onions, thinly sliced
Instructions
In a large resealable bag, combine the chicken, cornstarch, salt, black pepper, and paprika. Shake to evenly coat.

Heat a large skillet over medium-high heat and add the oil. Shake off the the excess cornstarch mixture from the chicken and cook the chicken for about 2 minutes, browning all sides. (Do this in 2 batches if the skillet is not big enough to hold all of the chicken at once, using 1 tablespoon of oil for each batch).

To make the sauce: In a small mixing bowl, whisk together the rest of the ingredients except the cashews and green onions.

Transfer the browned chicken to the slow cooker and pour the sauce over it. Add the cashews, and stir everything together to evenly coat in the slow cooker.

Cook on low for 4 hours.

In the last 30 minutes of cooking, add the green onions.
Notes
WWP+: 8 SmartPoints: 7
Nutrition
Calories: 302kcal | Carbohydrates: 16g | Protein: 34g | Fat: 13g | Saturated Fat: 2g | Cholesterol: 87mg | Fiber: 1g | Sugar: 8g