This recipe for Oatmeal Stuffed Baked Apples will become one of your favorite easy treats. You have a unique and delicious dessert using your favorite baking apple, oats, cream cheese, and orange zest.  Serve alone or with some whipped cream for a delicious apple treat.
If you love baked apples, then I know you will adore my caramel apple sweet crepe recipe.  It's a delightful option for breakfast or dessert!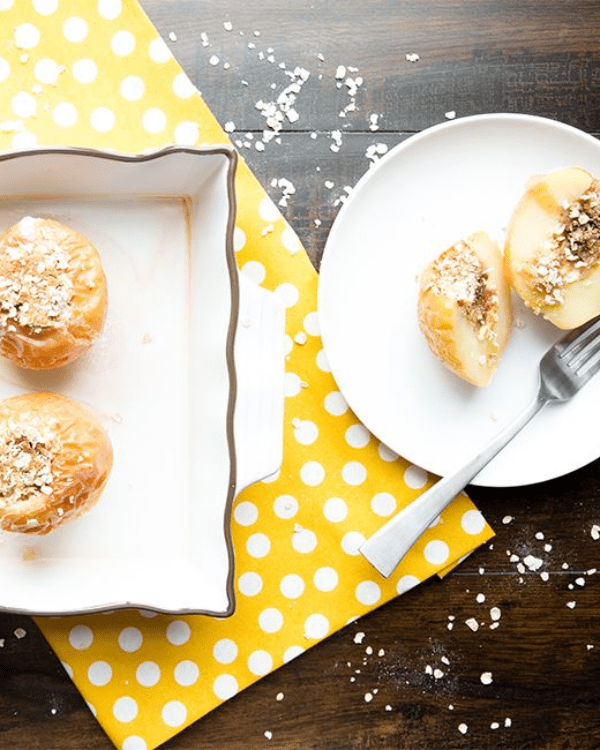 Oatmeal Stuffed Baked Apples Recipe
As soon as the Fall season comes, I am eager to fill up a basket of fresh apples to make delicious recipes like this one.  Stuffing baked apples has become one of my favorite ways to turn a simple fruit into an upscale dessert.  This combination is not just the oatmeal you expect from a crisp apple but a hint of cheesecake flavor.  It's such a perfect recipe to make and serve to guests!  Being made so that each apple is an individual portion, it serves readily and beautifully at a Fall party or holiday gathering.
My apple coleslaw with cranberry and my apple chutney with cranberries are delicious options you can also make with apples.  They serve wonderfully at holiday meals and are sure to wow guests with unique and delicious flavors.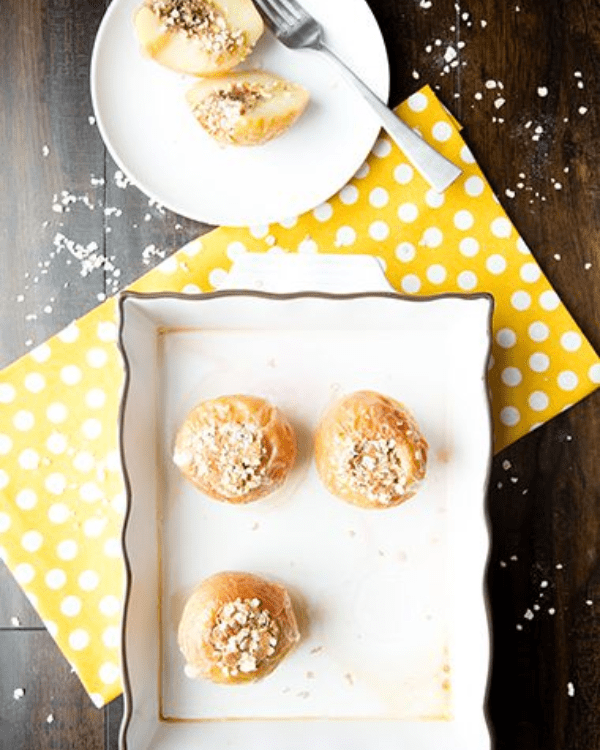 Best Apples for Baking
When I think of making a stuffed baked apple, I almost always think of Granny Smith apples.  They are, in my experience, the ultimate in baking apples. They make a great baking apple with a sturdy texture and a flesh that is both tart and sweet. I pick up bright green apples when I think of baking pies and Fall treats.
For this recipe, though, I prefer something that cooks a bit softer.  So, using Honeycrisp, Gala, Fuji, or Jonagold apples is preferred. These are all sweeter apples that don't need as much sugar added.  When coring and stuffing them, you won't have to worry about needing added sugar once they bake.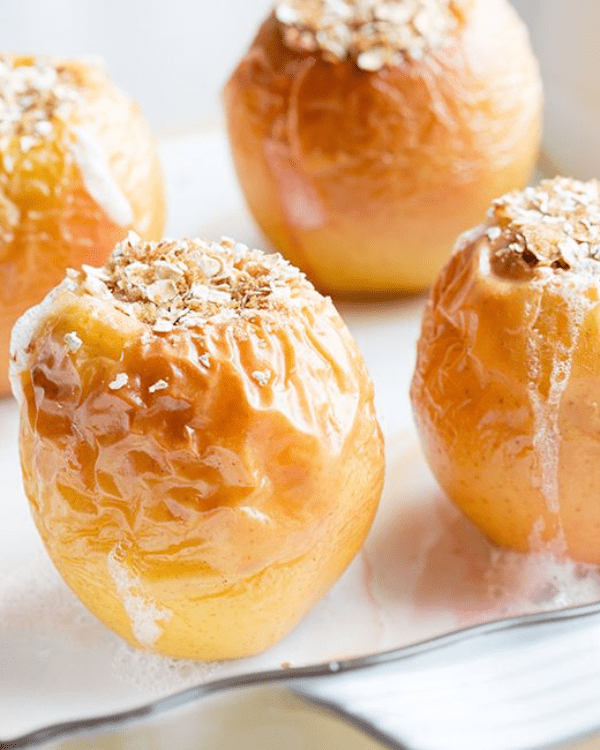 Can I Serve these Baked Cinnamon Apples with Ice Cream? 
Yes!  You already know I love adding ice cream to my dessert recipes, so this is an obvious choice.  A delicious scoop of vanilla bean ice cream is an excellent pairing with these apples.  Remember, if you are trying to cut fat and calories, you may prefer to skip this or not serve as much.
Instead of a scoop of ice cream with a whole apple, you could serve a half apple topped with 1/2 scoop of ice cream.  You still get both of the flavors you love but don't have to worry about the calories nearly as much.
These baked apples are perfect for vanilla, caramel, coffee, or butterscotch ice creams.  Caramel syrup and/or whipped cream are other delicious options.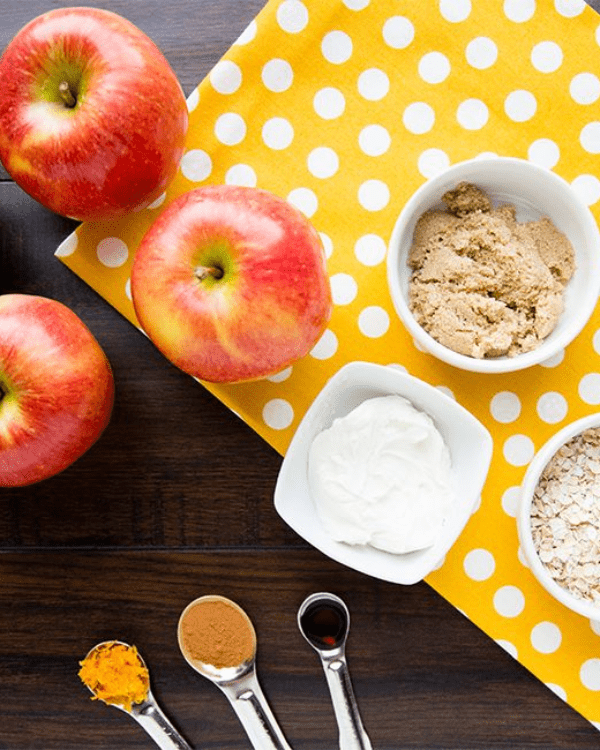 Ingredients
Apples
Quick oats
Brown sugar
Cinnamon
Cream cheese
Orange zest
Vanilla extract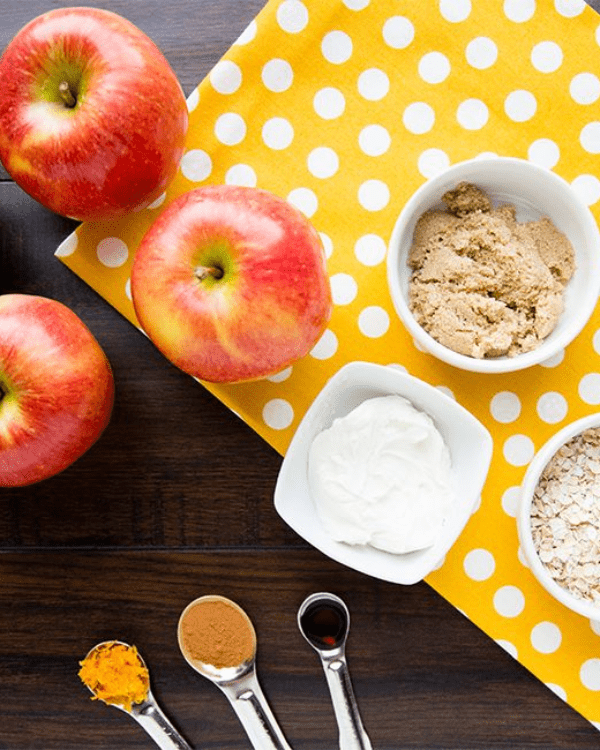 How to Make Baked Apples
Gather and prepare your ingredients.  I like to measure all wet and dry ingredients ahead of time so they mix up quickly when I am ready.  For this recipe, you will also need to core the apples.  A small kitchen apple corer is an excellent investment for recipes like this. You will scoop out part of the center of the apple, but you will not cut all the way through.
Next, you will mix up your stuffing for the apples.  These will be both dry and wet ingredients in different batches.  Oats, brown sugar, and cinnamon are mixed in one bowl, while the cream cheese, orange zest, and vanilla are combined in a separate bowl.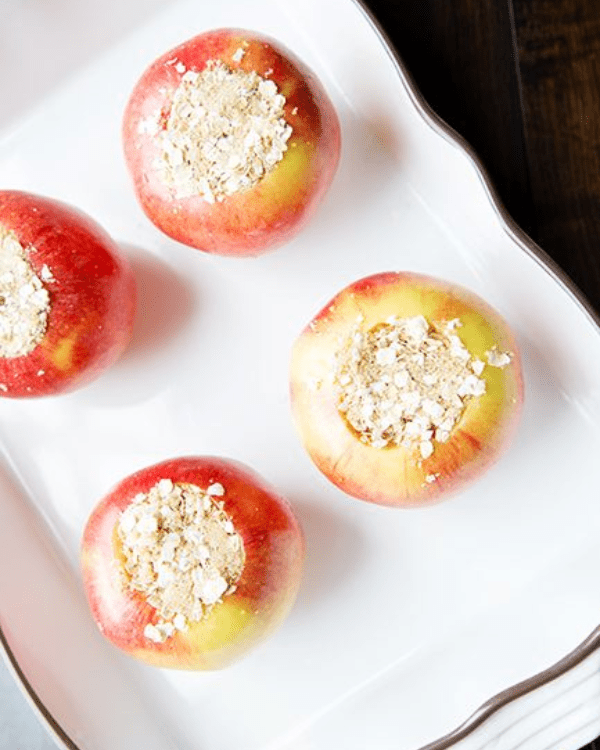 Stuff each apple with the cream cheese mixture first, then top with the oatmeal mixture before baking.
Serve alone or with a drizzle of caramel syrup or a scoop of ice cream.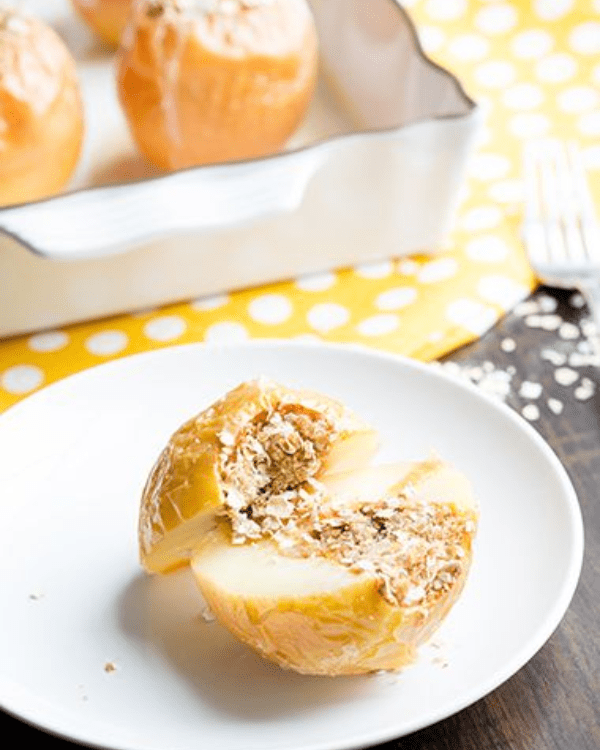 Recipe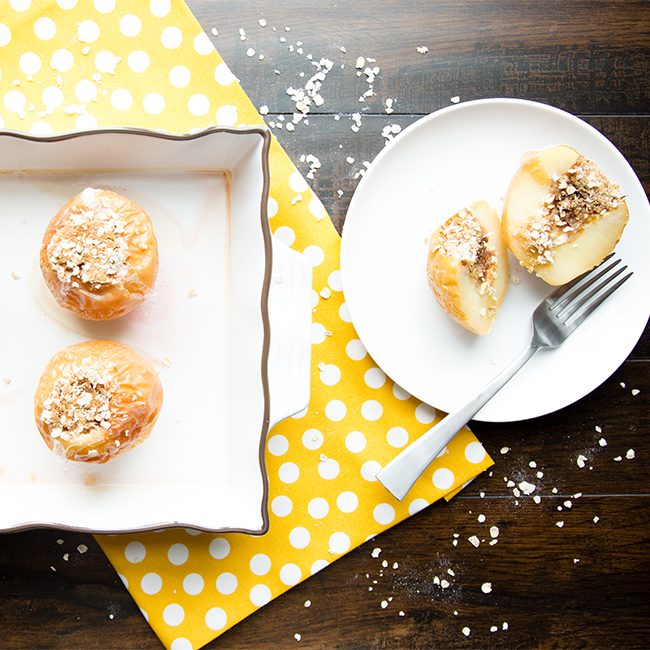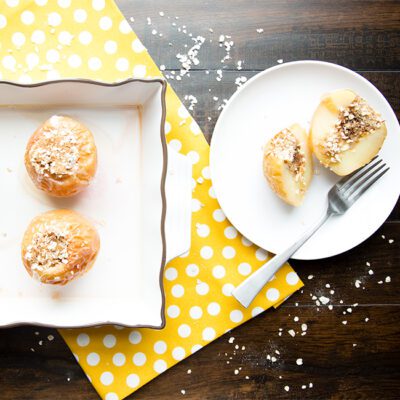 Recipe
click the stars to rate!
Oatmeal Stuffed Baked Apples Recipe
Stuffed apples are a perfect healthier dessert this fall! Filled with a delicious cream cheese mixture and topped with classic oats, this will wow any guest!
Ingredients
4

apples

1/4

cup

quick oats

4

tbsp

brown sugar

1

tsp

cinnamon

2

tbsp

cream cheese

skinny swap with reduced-fat cream cheese

1

tsp

orange zest

1/2

tsp

vanilla extract
Instructions
Core the apples and scoop out the centers, but do not cut all the way through

In a small mixing bowl, combine the oats, brown sugar, and cinnamon.

In another small mixing bowl, stir together the cream cheese, orange zest, and vanilla using a rubber spatula. (This is easy to do with a rubber spatula)

Spoon 1 tablespoon of the cream cheese mixture into each cored apple, and fill it the rest of the way with the oat mixture. Do this for all 4 apples.

Place the apples in a small baking dish and pour enough water to cover the bottom of the dish by about a centimeter.

Loosely cover with foil and bake for 20 minutes. Uncover and bake again until the apples are very soft, an additional 25-30 minutes.
Notes
Nutrition Info was calculated using Skinny Swaps
Nutrition
Serving:
1
apple
|
Calories:
155
kcal
|
Carbohydrates:
36
g
|
Protein:
2
g
|
Fat:
2
g
|
Saturated Fat:
1
g
|
Cholesterol:
4
mg
|
Sodium:
39
mg
|
Potassium:
231
mg
|
Fiber:
5
g
|
Sugar:
25
g
|
Vitamin A:
140
IU
|
Vitamin C:
9
mg
|
Calcium:
34
mg
|
Iron:
1
mg