This lightened-up version of a delicious Chicken Stroganoff Recipe is one of my favorite 30-minute meals.  If you love a nice beef stroganoff but want to lower the fat and calories, this version has a great flavor without the guilt.  You still get perfectly al dente noodles, a delightfully creamy sauce, and tender bits of chicken throughout make it a great meal with plenty of protein.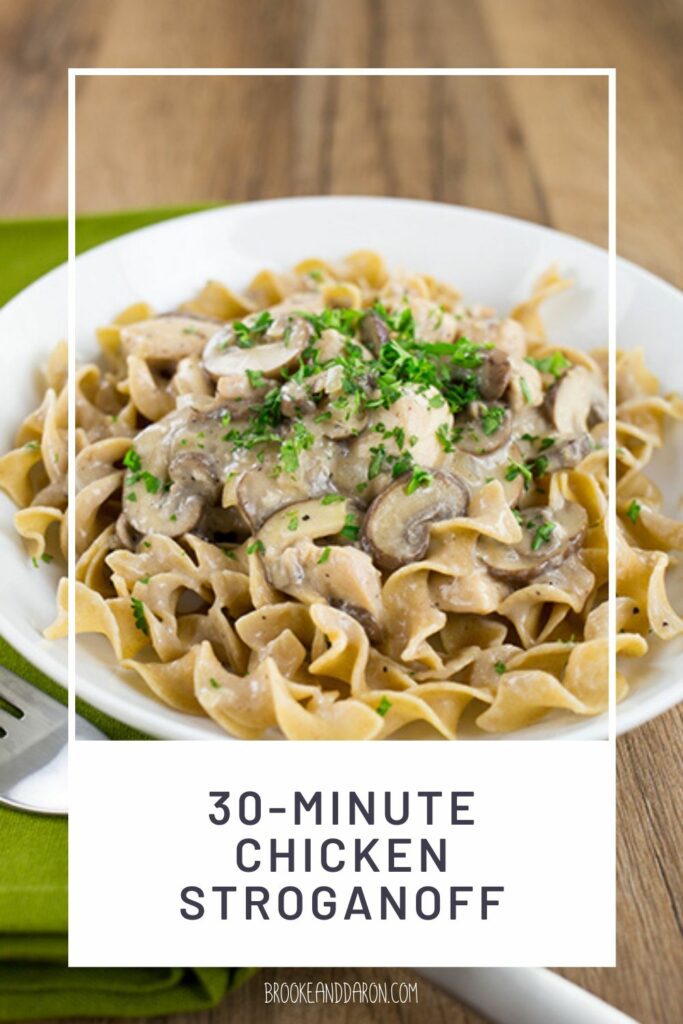 30-Minute Chicken Stroganoff Recipe
Pasta is always a go-to comfort food meal, but when you are trying to watch your food intake, it often gets a bad reputation.  I am a firm believer that the secret to overall great health is an exercise routine on a regular basis, a lot of sunshine, and a good mix of vegetables, fruits, and lean protein right alongside a strong relationship with Jesus.
The addition of flavor and texture from pasta, sauces, and herbs is a great way to enhance those items that you need to fuel your body.  In moderation, nothing is off-limits, and that includes pasta.  So, for a fast and easy comfort food meal, I reach for whole wheat pasta or a good veggie pasta as a healthier substitute that still satisfies the cravings.  For this recipe, I used a whole wheat egg noodle with a lighter sauce and created a meal that is begged for on a regular basis.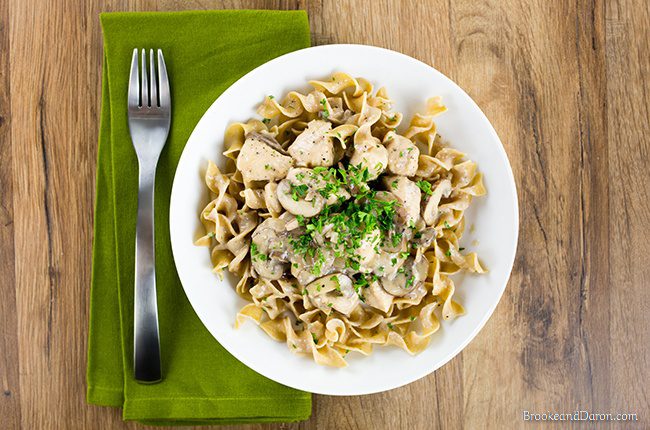 What is a Good Side Dish for Chicken Stroganoff?
Stroganoff has often been served with green peas in many suggested recipes I have seen. In fact, in the past, I have seen many that added a cup of peas right before serving as part of the sauce and pasta mixture.  While that combination is complimentary, and you already have mushrooms in the mix, I strongly believe more vegetables are never a mistake.
Serve this with a nice fresh green vegetable of your choice or a nice large side salad.  Below are a few of my favorite vegetable dishes that pair well with chicken stroganoff.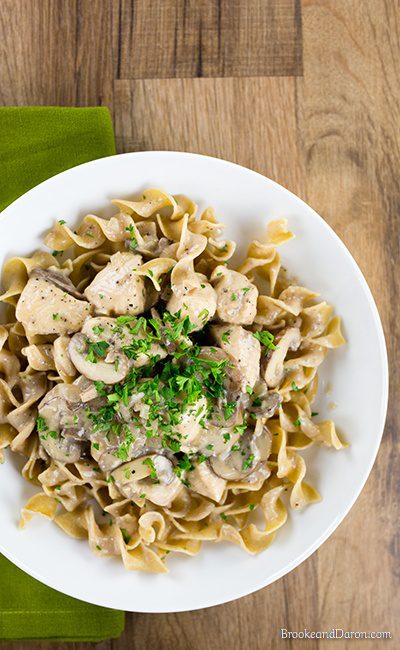 What is Stroganoff Sauce Made of? 
A traditional stroganoff is typically made with a roux (flour/butter mixture).  This roux combined with beef broth, seasonings, and sour cream or cream of mushroom soup creates the rich sauce that is combined with meat and noodles.  Since a roux can be pretty heavy in calories, and full-fat cream or sour cream can be high in fats as well, I chose some lighter options.
For my version, the use of light sour cream and some nonfat plain Greek yogurt give the same creamy texture you imagine, without the full amounts of fat and calories of the original version.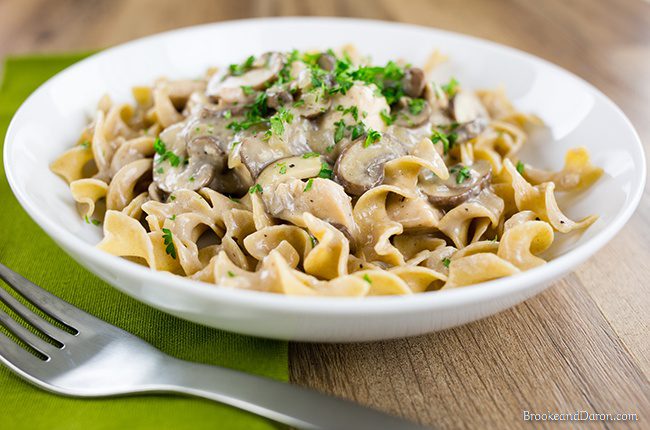 Can I Make This Ground Chicken Stroganoff Recipe Instead? 
If you prefer to have a different texture, go with ground chicken for sure!  Just cook the chicken with seasonings until no longer pink and at a safe temperature, and follow the directions as you would with regular chicken breasts.  This is a great substitute that is just as tasty!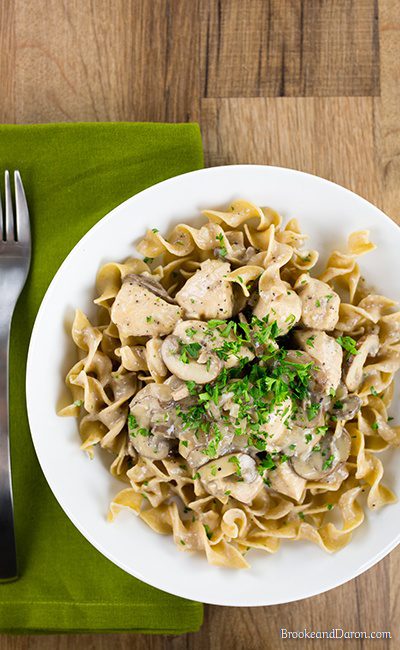 Ingredients
Olive oil
Chicken breasts, boneless skinless
Salt
Pepper
Garlic
Onion
Mushrooms
Whole wheat flour
White cooking wine
Whole wheat egg noodles
Light sour cream
Skim milk
Nonfat plain Greek yogurt
Fresh Parsley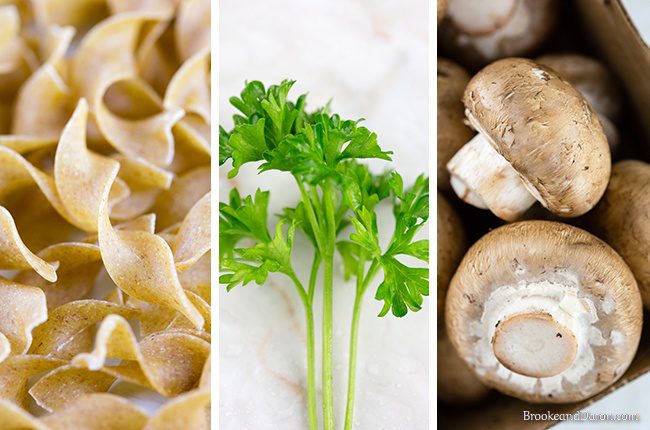 How to Make 30-Minute Chicken Stroganoff Recipe
Start by heating your skillet with olive oil and cooking the chicken on all sides for a few minutes.  It doesn't have to cook all the way, so don't worry, it will finish cooking later.  Remove from the pan and set aside on a plate.
Now, you will add additional oil, onions, mushrooms, and garlic back to the skillet and cook for about 12-15 minutes.  You want to cook until the mushrooms are cooked down and onions are tender and have a little color.
Next, sprinkle the flour over the vegetables and stir to coat.
Now, remove the skillet from the heat and deglaze it by pouring in the cooking wine and scraping the bottom with a wooden spoon to remove any stuck-on food particles and mix them in with the veggies.  Let this cook for another 2 minutes.
Now, add the chicken back to the skillet along with the sour cream, yogurt, and milk.  Cook this on medium heat until the sauce is thickened and the chicken has cooked through.  This takes about 5 minutes.
While that is cooking, you will prepare the egg noodles according to package directions.
Serve 1 1/2 cup noodles with 3/4 cup chicken mixture and top with some parsley.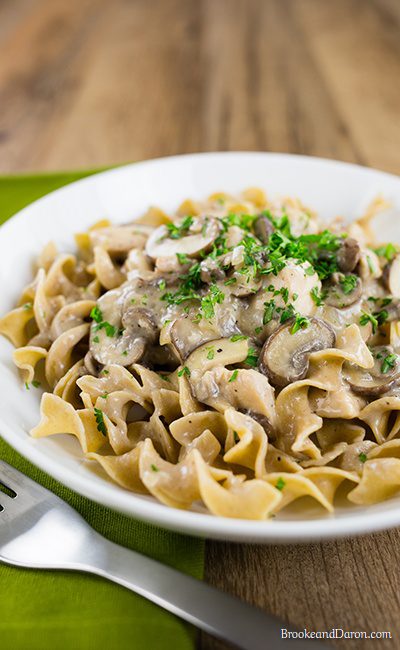 MyWW Plan Points:
Serving size: 1 1/2 cup noodles and 3/4 cup chicken and sauce mixture
Blue: 7 SP
Green: 9 SP
Purple: 3 SP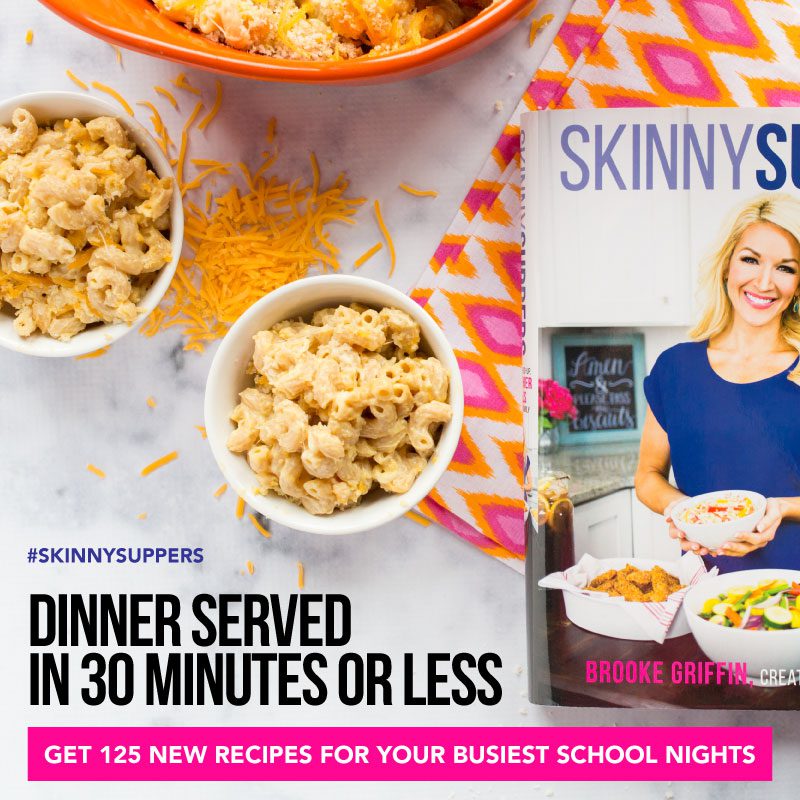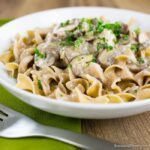 Print Recipe
30 Minute Chicken Stroganoff
Servings: 4 servings
Calories: 359kcal
Ingredients
1 tablespoon extra virgin olive oil
1 pound boneless skinless chicken breasts, cut into 1-inch cubes
½ teaspoon salt
¼ teaspoon black pepper
2 teaspoons minced garlic
1 small onion diced
1 8-ounce package baby bella mushrooms, sliced
1 tablespoon white whole wheat flour
½ cup white cooking wine
2 tablespoons light sour cream
2 tablespoons plain nonfat Greek yogurt
1 cup skim milk
6 ounces whole wheat egg noodles dry
4 teaspoons chopped fresh parsley
Instructions
Heat ½ tablespoon of olive oil in a large skillet over medium-high heat. Season the chicken with ¼ teaspoon of the salt and a pinch of black pepper.

When the oil is heated, brown the chicken on all sides for about 2-3 minutes. (It does not need to be fully cooked at this point.) Remove the chicken and set it aside on a plate.

Add the remaining oil to the skillet and cook the garlic, onions, and mushrooms. Reduce the heat to low and cook until the mushrooms are very soft and cooked down, 12-15 minutes, stirring frequently.

Sprinkle the flour over the vegetables and stir to coat evenly.

Remove the skillet from the heat and deglaze it with the cooking wine, scraping the bottom of the skillet with a wooden spoon. Allow the wine to cook for about 2 minutes.

Return the previously set-aside chicken to the skillet. Stir in the sour cream, yogurt and milk. Cook until the sauce thickens and the chicken is cooked through, 5 minutes.

While the stroganoff is cooking, cook the pasta in a large pot of salted water, according to package directions for al dente. Drain.

To serve, spoon 1½ cups of egg noodles with ¾ cup of the chicken and sauce. Garnish with the parsley.
Nutrition
Serving: 11/2 cups noodles and 3/4 cup chicken mixture | Calories: 359kcal | Carbohydrates: 42g | Protein: 34g | Fat: 8g | Saturated Fat: 2g | Cholesterol: 70mg | Sodium: 530mg | Fiber: 6g | Sugar: 7g