Taco Stuffed Peppers are one of my favorite satisfying meals to make for my family.  I love the taco flavors, but mostly, the fact that it is a meal loaded with vitamins and nutrients.  Bell peppers are a great source of vitamin C, and the yummy chicken taco filling gives them a nice punch of protein.  This makes a flavor-packed meal that any mom can feel good about serving her family!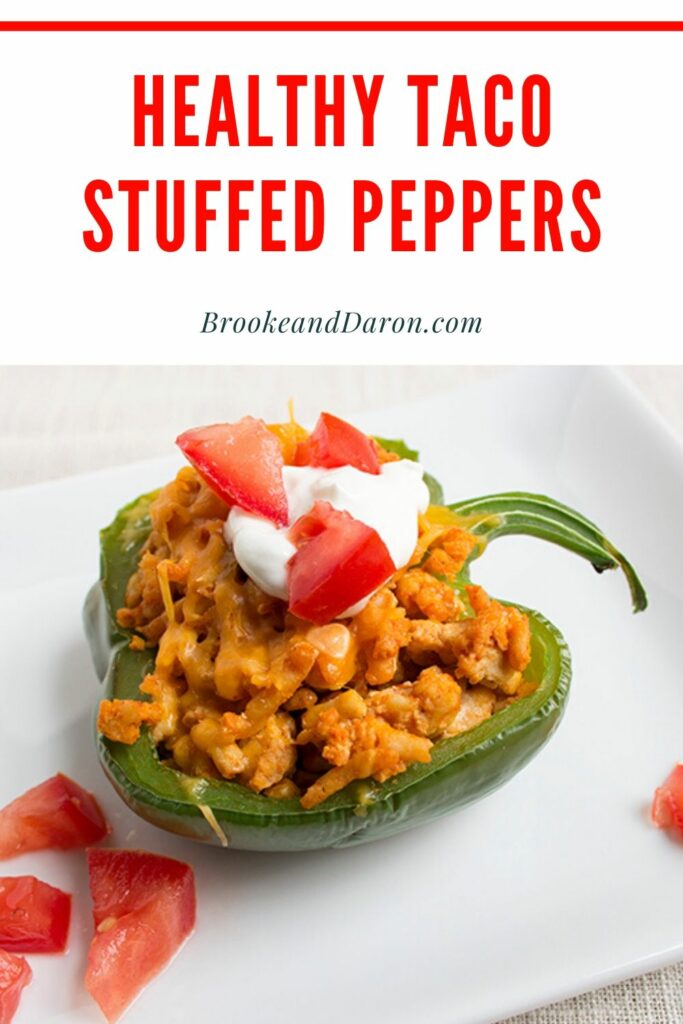 Taco Stuffed Peppers
Sometimes having tacos can be just a bit too messy.  It's also nice to mix things up a bit and get rid of the added carbs from chips or tortillas.  Using bell peppers is a favorite method for me to add a taco night to our menu that is healthier.  With the great flavors of the stuffing, my kids readily eat the bell peppers with no complaint about it being an added "veggie" to their meal.
I like that this can feel really satisfying without being a lot of extra food.  Since they are just meat and vegetable, you are getting a lot of protein in one serving.  That's great for those who need to keep their protein up but don't want to sacrifice flavor or have shakes at every meal.
For this recipe, I only cooked 2 peppers and cut each into half for 4 portions.  This may seem like a small portion, but if you add a nice large side salad, some rice on the side, or the added toppings to the peppers, you've easily had a full plate of food with great nutrients and protein.  So, don't let the smaller portion fool you!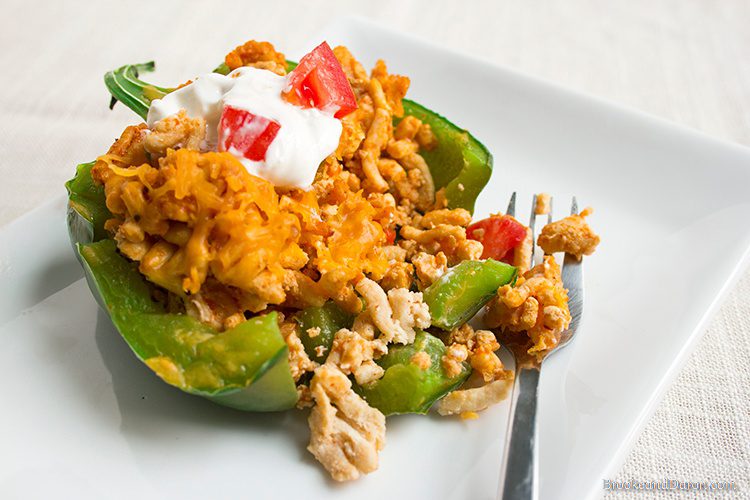 What is the Best Meat to Use in Stuffed Peppers? 
If you are following one of the latest WW plans, using 99% fat-free ground turkey or 99% fat-free ground chicken is a great choice.  Both are low or no points on those plans.  For my family, ground turkey and lean ground beef are both common, so it really depends upon what I have on hand what I will use in this recipe.
I find no difference in flavor for these taco stuffed peppers when using ground turkey as I use plenty of flavors and spices.  If you really just don't care for ground chicken or ground turkey, then don't stress about this decision.  Use ground beef instead, just choose a leaner version.
If you prefer to have a meatless option, could stuff with refried beans and rice instead.  It's really a pretty versatile recipe that is easy for you to adapt to your family food preferences.
If you want something even better to add flavor, stuff your bell peppers with my copycat Chipotle barbacoa recipe. It is so delicious!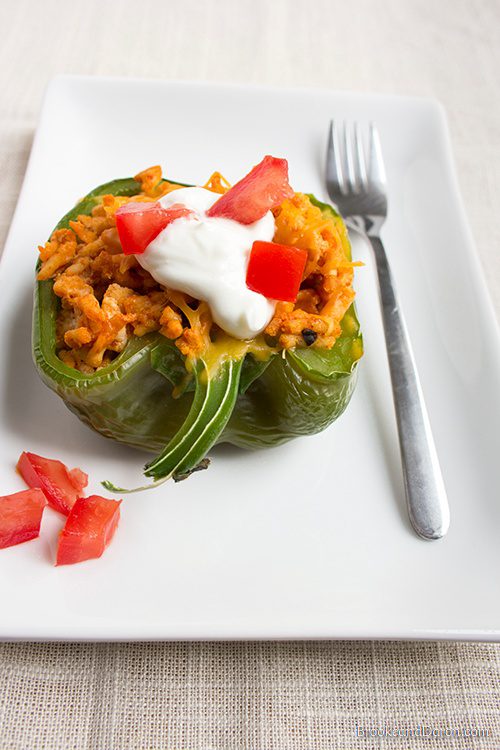 Do You Have to Cook The Meat Before Stuffing Peppers? 
Yes. While some recipes will tell you to stuff the peppers with a raw meat mixture, I am on the side of the fence that prefers to cook the meat first, then just stuff and bake.  Since this only bake for 25-30 minutes to soften the peppers, for many types of meat that wouldn't be long enough to reach a temperature at the center for food safety.
If you decided to cook these in your slow cooker all day rather than in the oven, you could easily get away with stuffing with a raw meat mixture since it will have a longer time to reach temperature and cook through without burning the outside of the pepper.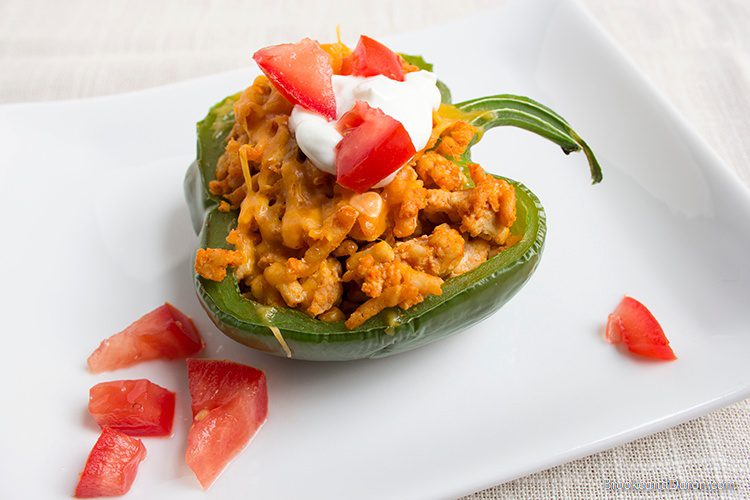 Do You Need to Blanch The Peppers Before Stuffing Them? 
This is totally a personal choice. I don't blanch my bell peppers before making these taco stuffed peppers.  Of course, we don't mind a bit of crunch still on our peppers. If you prefer your peppers to be super tender and soft, then you may want to blanch them before stuffing to bake.
If you want another few easy ideas to add to your menu, make sure you add this Mexican lasagna and my Southwest vegetarian burrito skillet recipe to your list. Both are delicious and healthy!  We also really love this Tex Mex casserole with beef and pasta for dinner.  Super comforting and packed with flavor.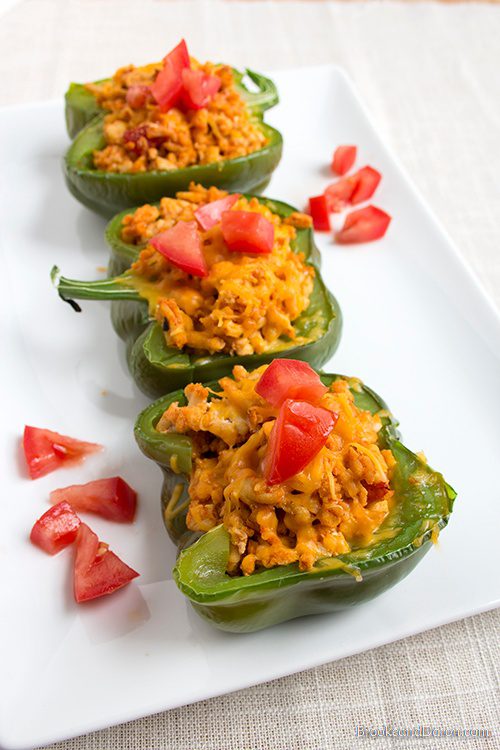 Ingredients
Green Bell Peppers
Ground Turkey
Taco Seasoning
Salsa
Shredded Cheddar Cheese
Optional Toppings: 
Lettuce
Tomato
Hot Sauce or Salsa
Avocado or Authentic Guacamole
Sour Cream
Olives
Jalapeno's
Rice
How to Make Taco Stuffed Peppers
Preheat your oven and prepare a baking dish with a bit of nonstick cooking spray.
Brown the ground turkey in a skillet, then add in the taco seasoning with some water and stir to combine.
Cook for a few more minutes to combine the flavors, then mix in your salsa.
Scoop the meat mixture into the prepared bell pepper halves, then top with shredded cheese.
Pop them into the oven for 25-30 minutes or until the peppers are getting tender and the cheese is melted.
Serve with the optional toppings listed above.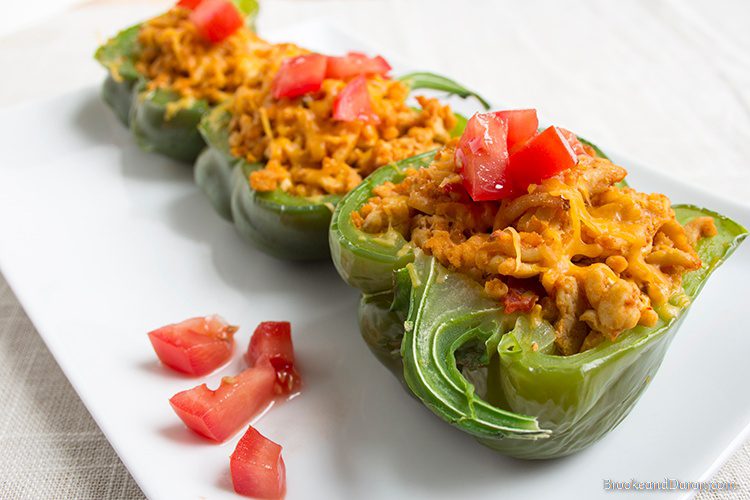 MyWW Plan Points
Points are for 1/2 pepper without optional toppings and using 99% fat-free ground turkey
Blue: 1 SP
Green: 3 SP
Purple: 1 SP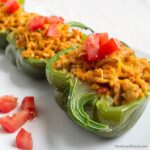 Print Recipe
Taco Stuffed Peppers
Ingredients
2

large green peppers

halved lengthwise + seeded

1

pound

lean ground turkey

1

tablespoon

less sodium taco seasoning

¼

cup

tomato salsa

¼

cup

Sargento® Reduced Fat Sharp Cheddar Shredded Cheese

Optional toppings:

reduced fat sour cream

diced tomatoes

diced avocado

hot sauce

Uncle Ben's® Ready Rice Whole Grain Brown Rice

*Optional toppings are not included in nutrition calculations.
Instructions
Preheat oven to 350º F.

Brown ground turkey in a large skillet on medium heat.

Add 1 tablespoon of water and the seasoning to the turkey and stir.

Add salsa. If meat seems too dry, add a little more. Turn heat to low when turkey is heated thoroughly.

Add cheese and mix well.

Cut green peppers in half, top to bottom. Cut a semi-circle around the stem and remove the stem and seeds in one cut. Or leave the stems on like in the photo, up to you!

Repeat until you have four halves.

Place halves two at a time in boiling water for 3-5 minutes. The "skin" will lose a little brightness after the cook. (Beware, the peppers are slippery- tongs are helpful!)

Place peppers in a baking dish open side up and fill with your meat mixture.

Bake in the oven for 20-25 minutes.

Place on plates and sprinkle with the toppings of your choice.