Have you ever had Roasted Pumpkin Seeds?  These are one of my favorite healthy fall snacks.  Roasting them is easy, and with my three simple but flavor-packed recipes, you can have a variety of options to grab and go this fall.  Sweet, spicy, or savory – you have a choice to fit your personal taste preferences below!
If you need more snack ideas, check out this healthy oatmeal bars recipe for your menu plan!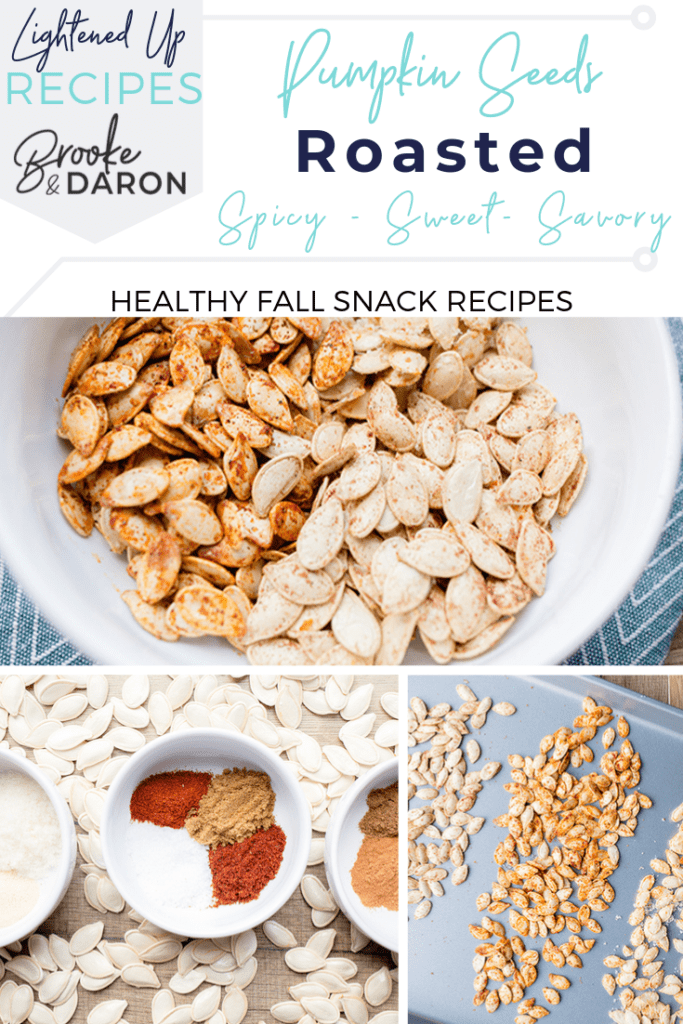 Roasted Pumpkin Seeds
One of my all-time favorite snacks has always been seeds or nuts.  I love the added protein in most nuts and the fiber from seeds.  They are so satisfying as a snack, both as a filling option, but also as that crunch I crave.  Pumpkin seeds are a favorite as they are so yummy and unique compared to other seed options.
Some of my other favorite healthy snacks are these oven-roasted zucchini chips and my delicious spicy deviled eggs recipe.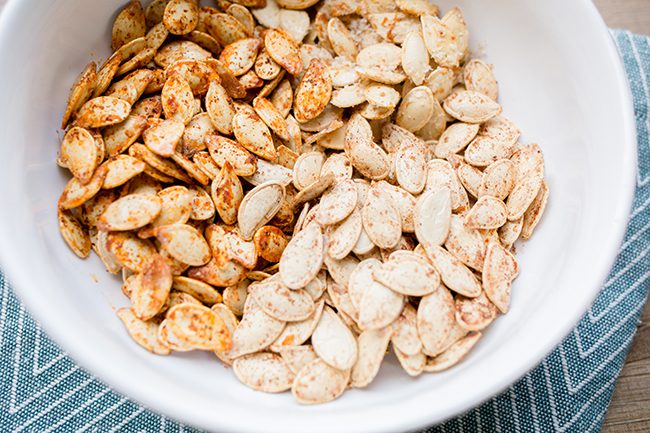 What are the Benefits of Pumpkin Seeds? 
Pumpkin seeds are one of the best healthy snacks because they have so many benefits for your health!  Being high in fiber and magnesium make them my favorites.  I need both of these in my diet on a regular basis, so why not get it from a tasty snack that I love?  One of the other well-known benefits is the antioxidants that have been known to help prevent cancer in some individuals.  Fight cancer while snacking?  I'm in!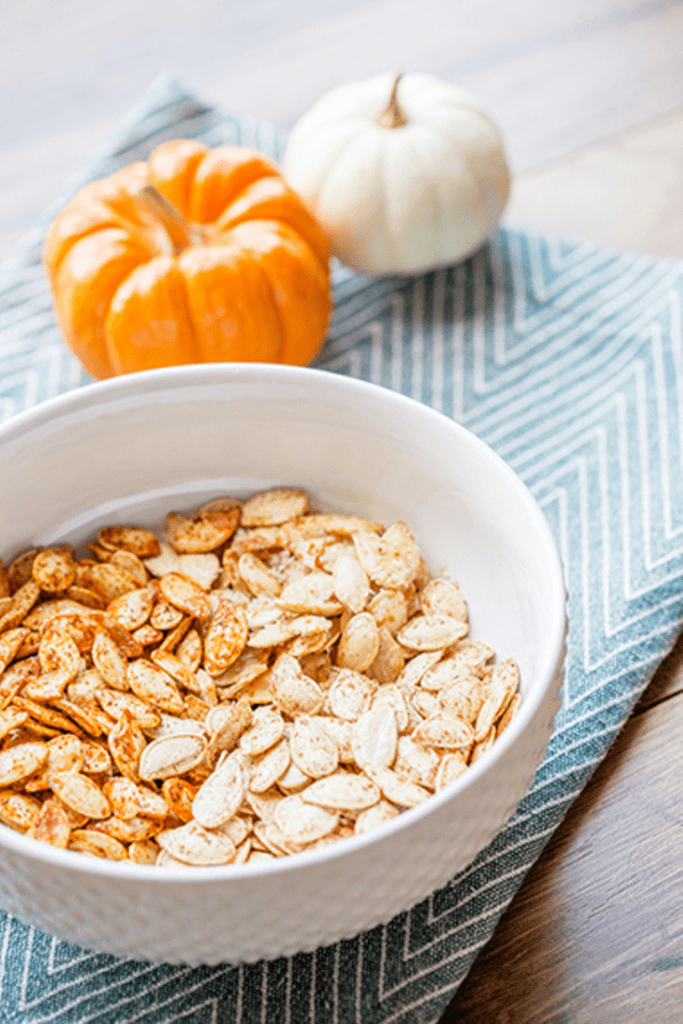 How do I Store Roasted Pumpkin Seeds? 
These do not have to be refrigerated after roasting, so I just drop them into plastic storage baggies or a small airtight container.  They usually don't last more than a week in my house.  If you plan to make larger batches, you may want to use a food storage system that removes excess air from the package.  I love my Food Saver vacuum sealer for things like this.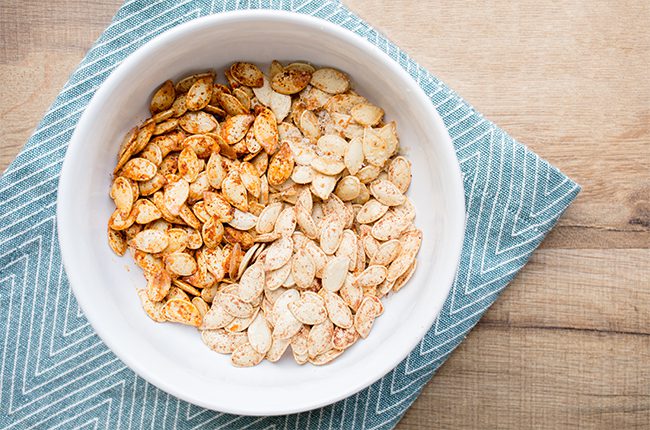 Where do I get pumpkin seeds to roast? 
Obviously the first place is to scrape them from the inside of your pumpkins.  Since we do jack o lanterns around Halloween, I often have a ton of seeds on hand to roast.  If you don't want to scrape them from the pumpkins, you may prefer to just grab them in bulk at the grocery store.  Many bulk bins have raw pumpkin seeds you can use for roasting with the spices listed below.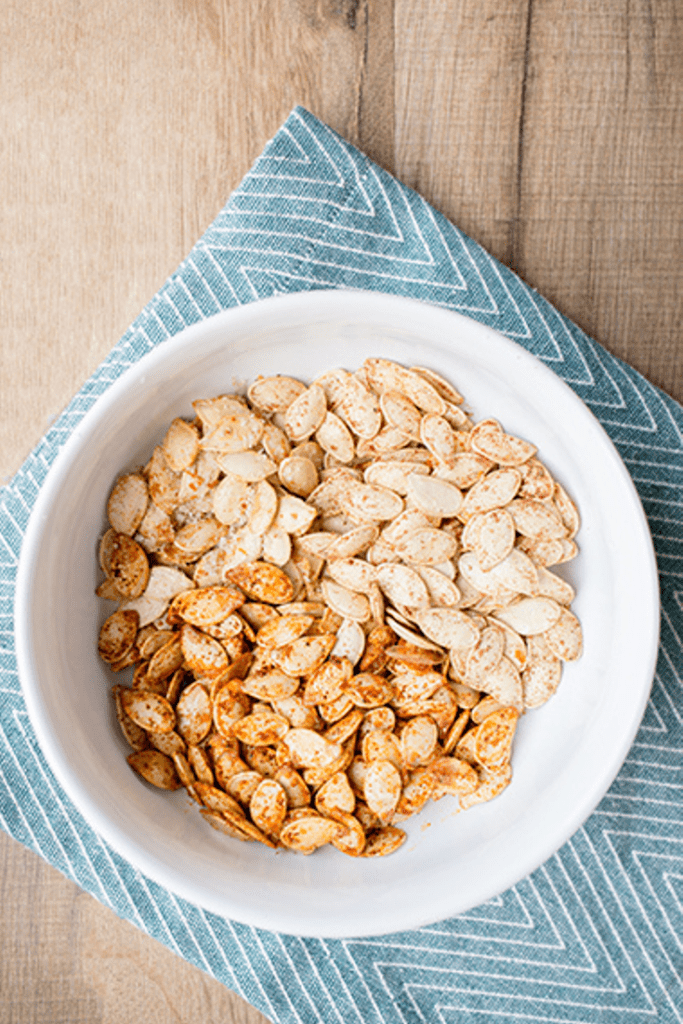 Ingredients
Savory Pumpkin Seeds
Pumpkin seeds
Canola oil
Garlic powder
Onion powder
Salt
Parmesan cheese
Sweet Pumpkin Seeds
Pumpkin seeds
Canola oil
Brown sugar
Cinnamon
Nutmeg
Allspice
Spicy Pumpkin Seeds
Pumpkin seeds
Canola oil
Cumin
Paprika
Chili powder
Salt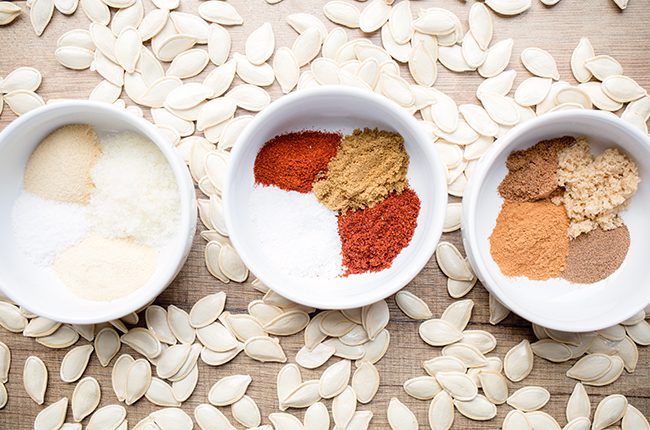 How to Make Roasted Pumpkin Seeds
Begin by preparing your pumpkin seeds.  If you are using pumpkin seeds from your actual pumpkin, you'll need to rinse them well and remove all of the flesh and strings that are on them from scooping out of the pumpkin.
Once they are dried, you will mix them with the oil and seasonings of choice.
Spread them in a single layer on your baking sheet, and cook as directed.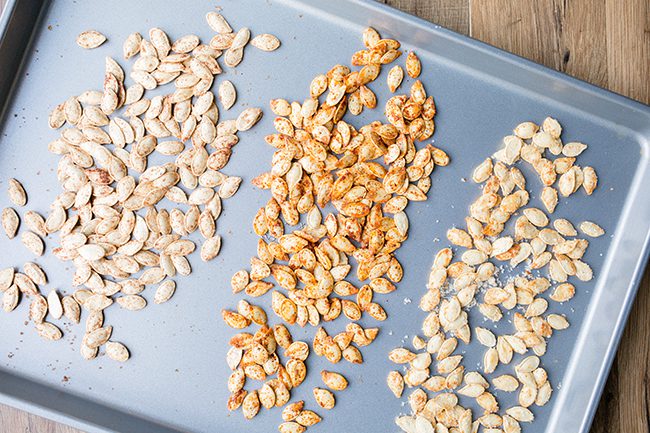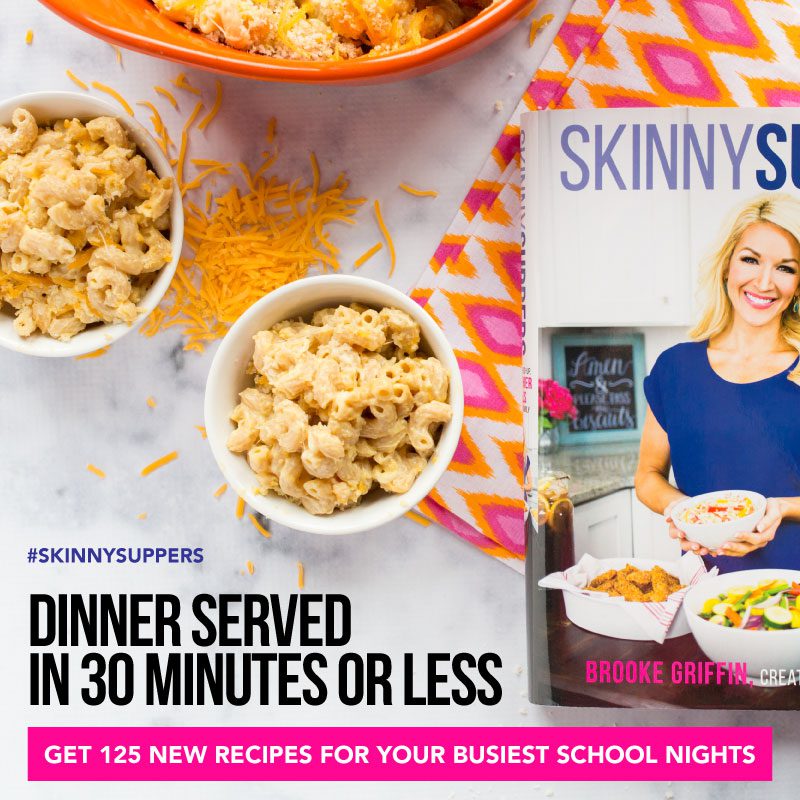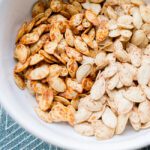 Print Recipe
Roasted Pumpkin Seeds - 3 Flavor Options
Savory, sweet, and spicy roasted pumpkin seeds are a super easy healthy snack you can make in under 30-minutes!
Servings: 6
Calories: 313kcal
Ingredients
Savory Roasted Pumpkin Seeds
1.5 cups pumpkin seeds
2 tsp canola oil
1/4 tsp garlic powder
1/4 tsp onion powder
1/8 tsp salt
2 tsp Parmesan cheese grated
Sweet Roasted Pumpkin Seeds
1.5 cups pumpkin seeds
2 tsp canola oil
1/2 tsp brown sugar
1/4 tsp cinnamon
1/8 tsp nutmeg
1/8 tsp allspice
Spicy Roasted Pumpkin Seeds
1.5 cups pumpkin seeds
2 tsp canola oil
1/4 tsp cumin
1/4 tsp paprika
1/8 tsp chili powder
1/8 tsp salt
Instructions
Preheat the oven to 300° F.

Remove the large pieces and strings of pumpkin flesh, then place the seeds in a colander and run them under cool water to wash off remaining pumpkin flesh.

Pat dry on a paper towel lined plate.

Mix the seasoning mixture in a small mixing bowl to combine. Add the dried pumpkin seeds and 2 teaspoons of oil.

Toss to combine and evenly coat the seeds. Transfer to a baking sheet in a single layer and bake for 20-25 minutes, stirring occasionally.

Allow to cool before eating.

Nutrition
Calories: 313kcal | Carbohydrates: 6g | Protein: 15g | Fat: 28g | Saturated Fat: 5g | Cholesterol: 1mg | Sodium: 107mg | Potassium: 388mg | Fiber: 3g | Sugar: 1g | Vitamin A: 64IU | Vitamin C: 1mg | Calcium: 26mg | Iron: 4mg