My Slow Cooker Ham is the perfect brown sugar spiral ham recipe for your holiday gatherings.  The combination of brown sugar against the salty ham is a perfect entree.  Cooking this in your slow cooker saves you the valuable time you can spend with your family instead!
Make my slow cooker mashed sweet potatoes and my best green beans recipe to serve alongside the ham for a perfect meal.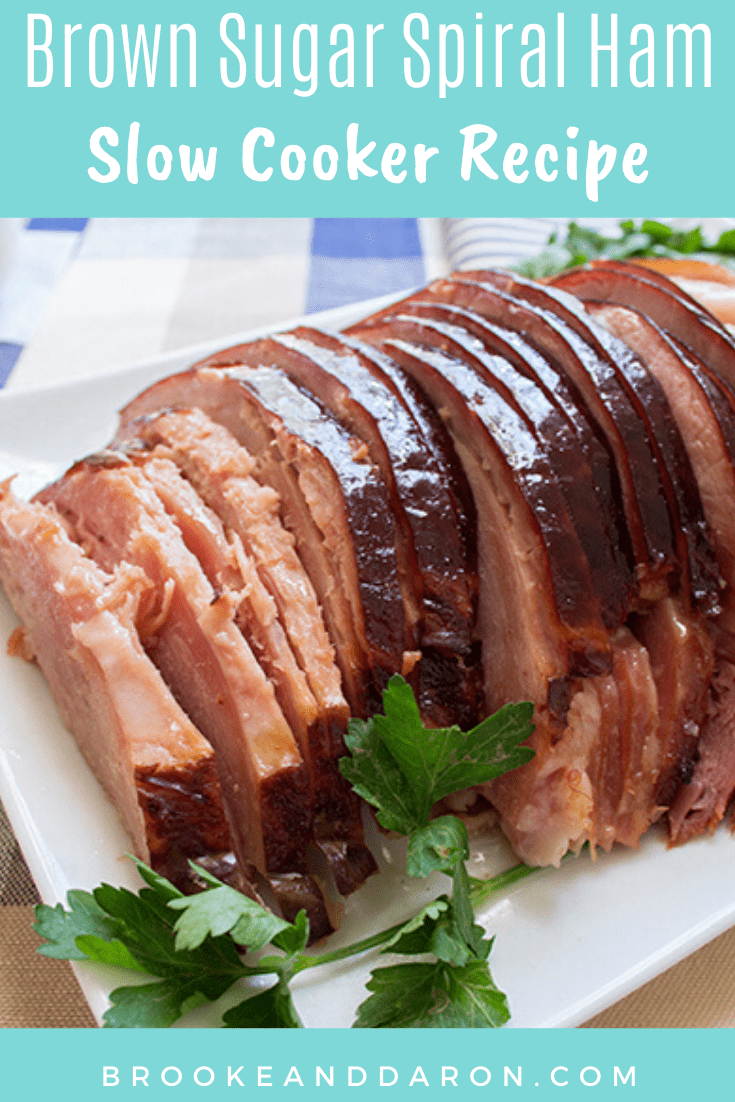 Slow Cooker Ham
In my family, ham is usually made only around Christmas or Easter.  While I love it year-round, this bigger portion is made perfect for sharing at the holiday table, and of course, tends to be a lot cheaper around holidays.  You can use this recipe any time you want a delicious sweet and salty piece of ham and know that it freezes beautifully for later meals if it makes too much.
What is a Spiral Ham? 
A spiral ham is just a bone-in ham that has been processed and cut in a spiral manner around the bone so that slicing is easier once cooked.  Typically, the meat is cut down to within 1″ of the bone in the center, so all you have to do is slide the knife across the edges and you will have perfect slices of ham to serve in an instant.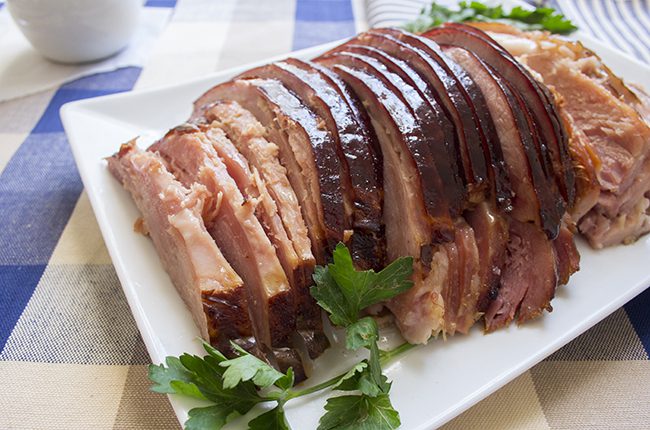 Do I Have to Use a Spiral Ham? 
You do not have to use a spiral ham for this slow cooker ham recipe.  Any bone-in ham or even bone-out chunk of ham can work with this tasty brown sugar glaze.  I chose a spiral ham as I know it is easier to tuck those spices into the crevices and to slice it up fast once done cooking.  No matter what type of ham you use, make sure to pack down the brown sugar mixture into any at least a few sliced areas across the top to really get that flavor deep within the meat.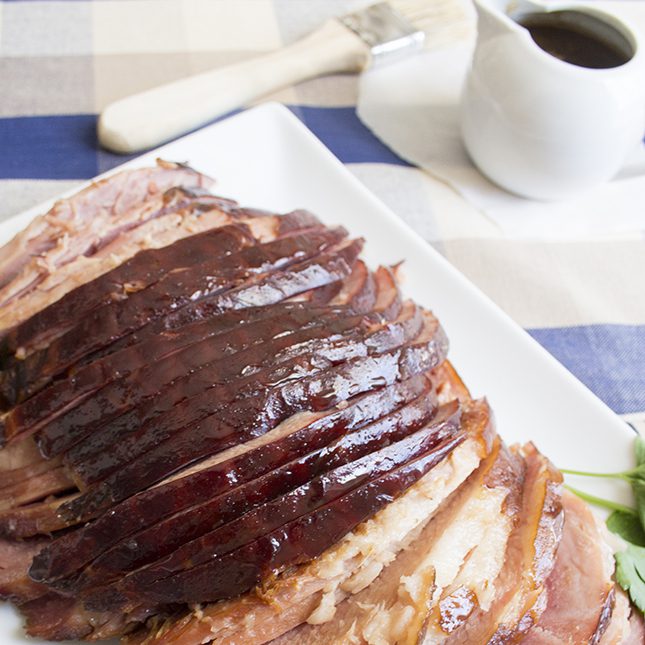 How to Use Leftover Slow Cooker Ham
Leftovers are my favorite part of cooking a big ham in my slow cooker.  For this recipe, since it is a bit sweeter, it may not be as popular in recipes as others, but I still like using it for a variety of future meals.  Below are just a few of the many ways you can use leftover slow cooker ham.
In my Southwest breakfast casserole with ham recipe in place of the deli ham.
A slice in the middle of a hot roll as a mini slider sandwich.
On toasted bread with cheese for a "hot ham and cheese".
Chopped up and mixed in with potatoes and cheese for a casserole.
Cubed and thrown into the slow cooker with 1 pound black beans, garlic, cumin, and water for a delicious bean soup.
Added into your favorite homemade split pea soup.
Served alongside eggs and hashbrowns for breakfast.
Add the ham bone to a pot of pinto beans to add rich flavor.
Ingredients
Spiral Ham
Apple cider vinegar
Brown sugar
Ground mustard
Cloves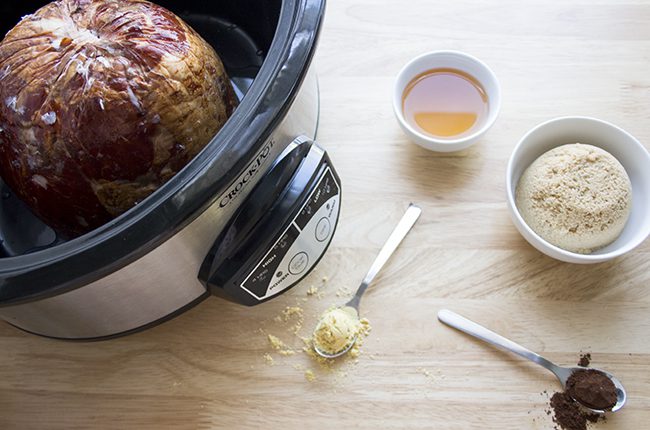 How to Make Brown Sugar Slow Cooker Ham
Spray or line your slow cooker before placing the ham into the cooker.  You will make sure you place the ham cut side down.
In a small bowl, whisk together the brown sugar, apple cider vinegar, ground mustard, and cloves until well-blended.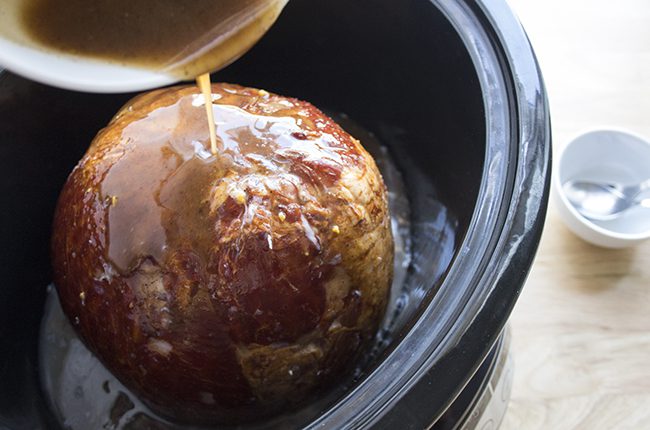 Pour the sauce over the ham, and cover with the slow cooker lid.
Set your cook time and heat level, then cook until ready to serve.  You can occasionally baste the ham or even turn it and baste mid-way through the cooking time.
Allow the ham to rest before slicing to serve.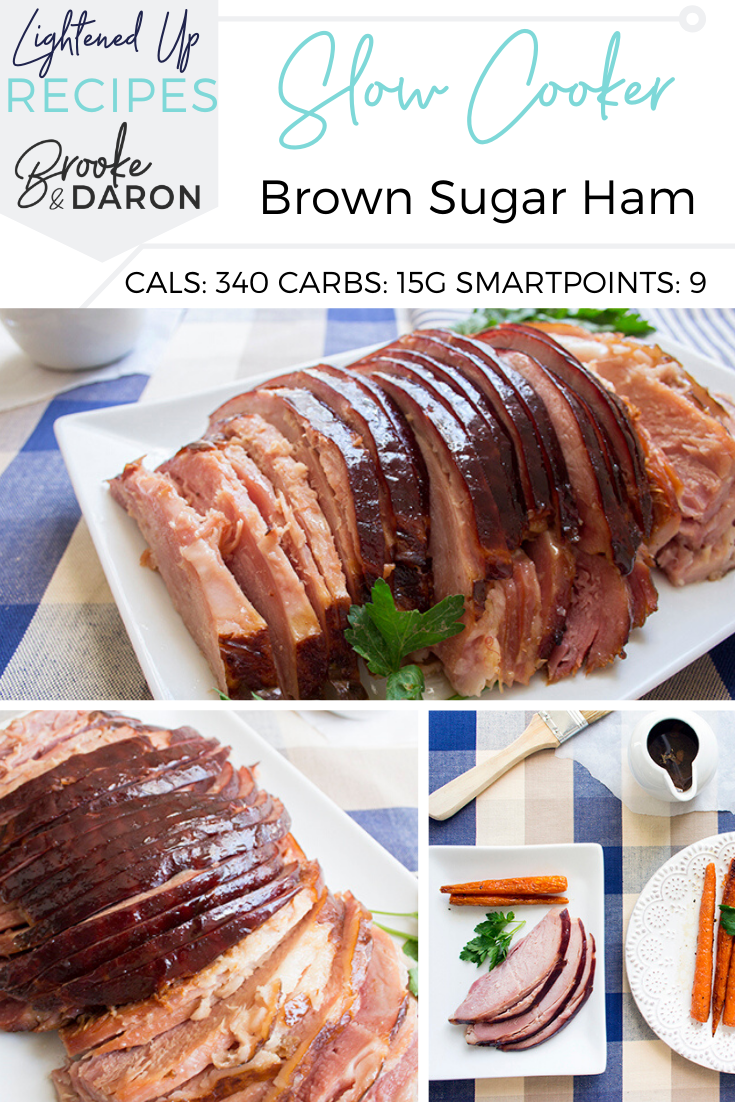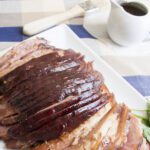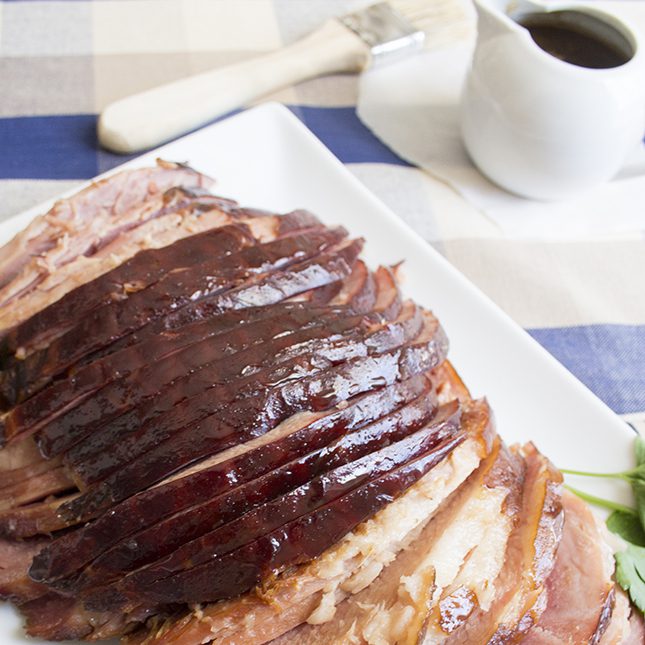 Print Recipe
Spiral Slow Cooker Ham with Brown Sugar
This Slow Cooker Ham is the perfect main dish for your next family gathering! Loaded with flavor and the perfect combination of sweet and salty, it is a favorite easy main dish.
Ingredients
8

pound

spiral ham

1

cup

brown sugar

1

tsp

ground mustard

1

tsp

ground cloves

1/4

cup

apple cider vinegar
Instructions
Spray the bottom and sides of a slow cooker with nonstick cooking spray.

Unwrap the ham and discard the glaze packet. Place the ham cut-side down in the slow cooker.

In a small mixing bowl, whisk together the brown sugar, apple cider vinegar, ground mustard, and ground cloves. Pour this sauce over the ham.

Cover with the slow cooker lid, and cook on low for 4-6 hours, basting with the sauce occasionally as it cooks.

When done, allow the ham to rest for 15 minutes before slicing.
Nutrition
Serving:
3
oz
|
Calories:
54.01
kcal
|
Carbohydrates:
13.64
g
|
Protein:
0.06
g
|
Fat:
0.06
g
|
Saturated Fat:
0.01
g
|
Sodium:
4.4
mg
|
Potassium:
21.01
mg
|
Fiber:
0.04
g
|
Sugar:
13.37
g
|
Calcium:
12.2
mg
|
Iron:
0.12
mg