Apple cinnamon muffins are one of the quintessential fall treats I have to have on the menu on a regular basis.  As soon as that first bit of fall air flows, I grab my apples and start mixing up this simple and delicious batter.  So much healthier than others, this apple muffin recipe has tons of little pieces of apple and added Greek yogurt to ensure these are moist and fluffy!
Want another fall muffin?  Check out my pumpkin spice muffins with only four ingredients!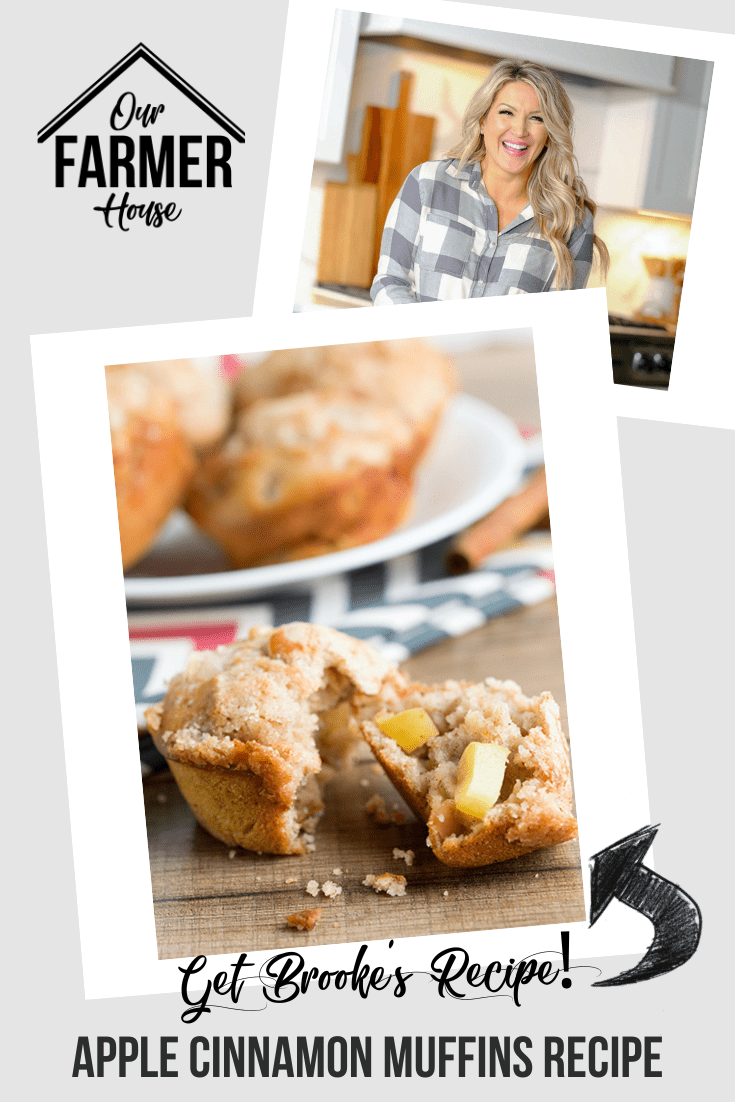 Apple Cinnamon Muffins
I love muffins since they are such a portable and easy snack or breakfast.  In the past, making healthy muffins has been a struggle.  They almost always ended up bland or dry.  When I realized I could use Greek yogurt in this recipe as both a binder and for added moisture, I knew I had found a winner.  Whip up a batch of these apple cinnamon muffins as the perfect "from scratch" recipe that takes little effort.  Seriously, these are super easy to make, and I just love how I know I'm feeding my family something healthier that didn't take a ton of extra time for me to prepare.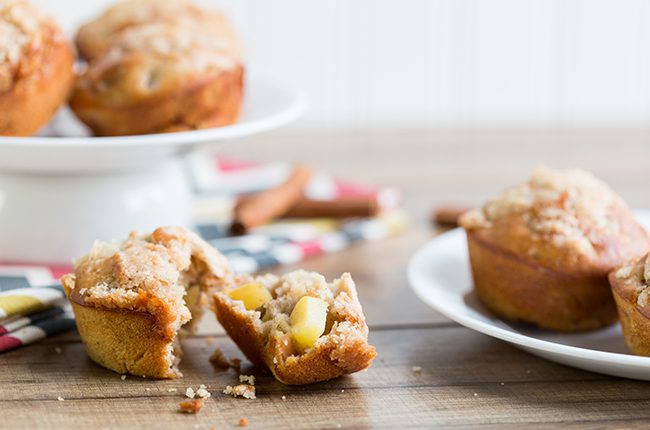 You will love my cinnamon coffee cake recipe, and my oatmeal stuffed baked apples as other yummy fall treats!
What type of apple should I use for this recipe? 
For this apple cinnamon muffins recipe, I used Braeburn because it was what I had on hand.  Sweet muffins like this do well with a sweeter apple. This is especially true since they won't be cooking as long as other apple recipes.  A sweeter apple like Honeycrisp, Gala, Fuji, Jonagold, or Braeburn are my favorites, but you can truly use any type of apple in the recipe.  Just know some will add more sweetness than others.
I would not recommend Granny Smith or a tart apple for this recipe.  They just don't have long enough time to cook and allow for sweetness to develop.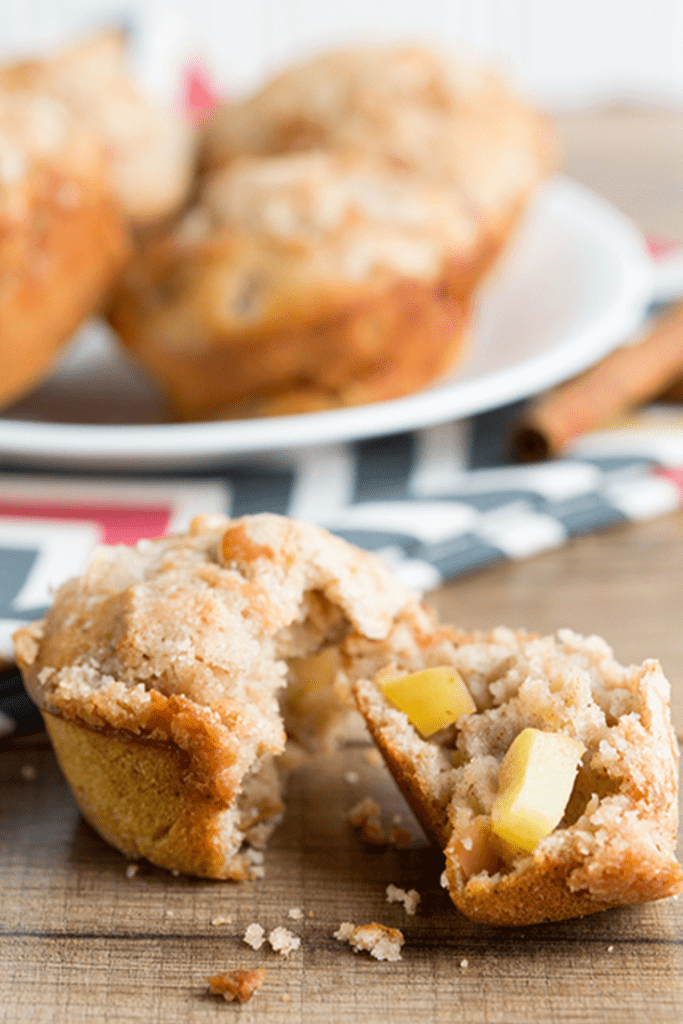 Can I freeze apple cinnamon muffins for later?
Yes!  You already know that I love making recipes that can be doubled or tripled and frozen for later.  These muffins are no exception.  You can easily make these as directed, then allow them to cool completely before you drop into a freezer storage bag.  Just make sure when you are freezing these apple cinnamon muffins that you allow them to cool completely before bagging.  Warm muffins create condensation in the bag which results in yucky freezer burn.
As with all freezer recipes, make sure that your freezer container is labeled with the recipe name, the date it was created, and any reheating directions that apply.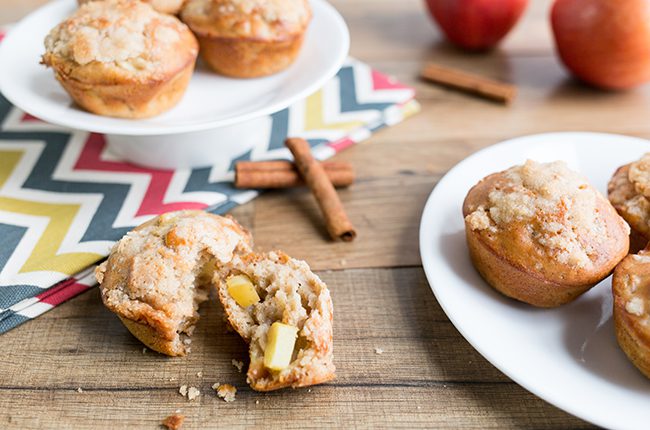 Can I use regular yogurt instead of Greek yogurt? 
While I have not personally tried using regular yogurt in this recipe, I believe it would give you the same results.  The biggest difference would be in the added protein that Greek yogurt gives you.  As more protein helps you stay full longer, it is a preferred option in cooking for me.  I also find that the plain nonfat Greek yogurt has less of a tartness than regular plain yogurt.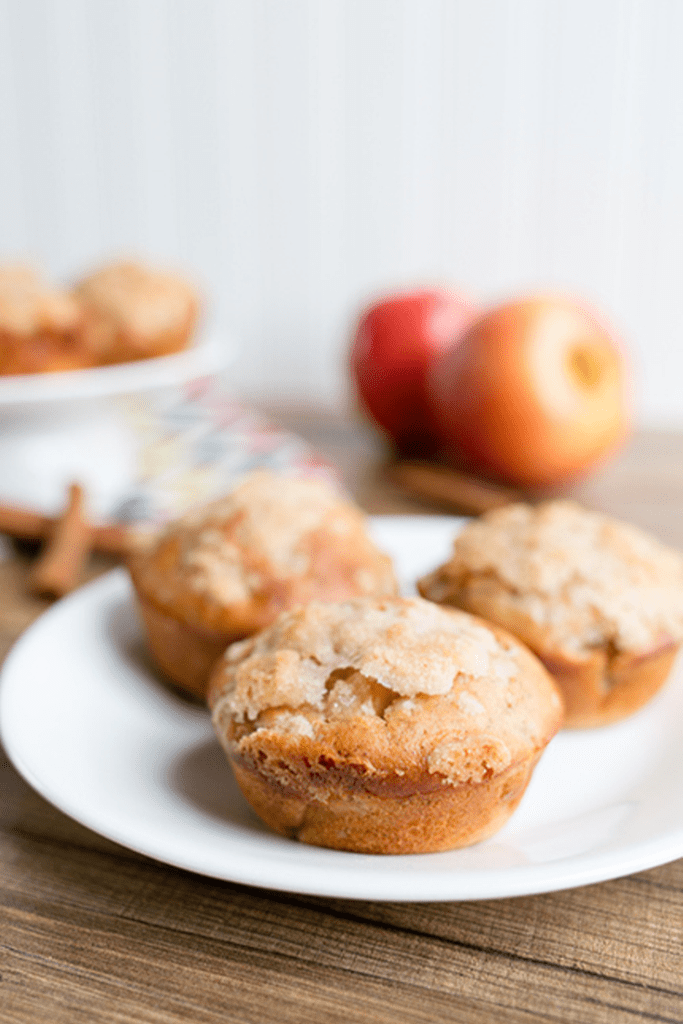 Ingredients Needed for Apple Cinnamon Muffins Recipe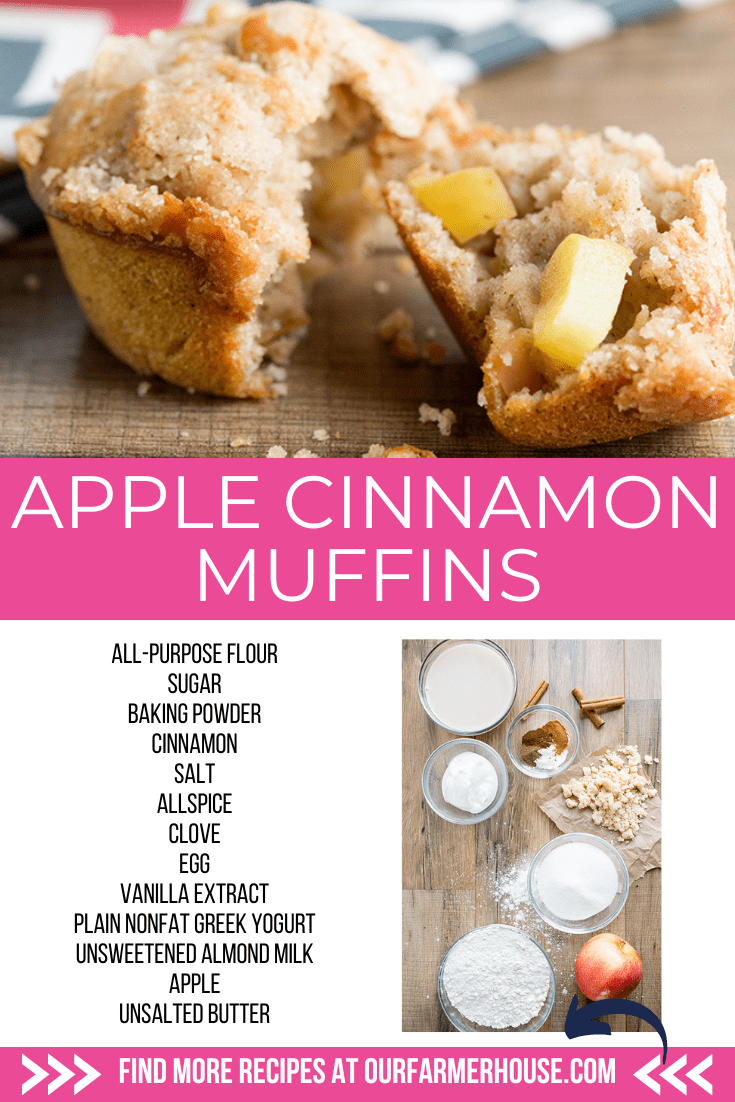 All-purpose flour
Sugar
Baking powder
Cinnamon
Salt
Allspice
Clove
Egg
Vanilla extract
Plain nonfat Greek yogurt
Unsweetened Almond milk
Apple
Unsalted butter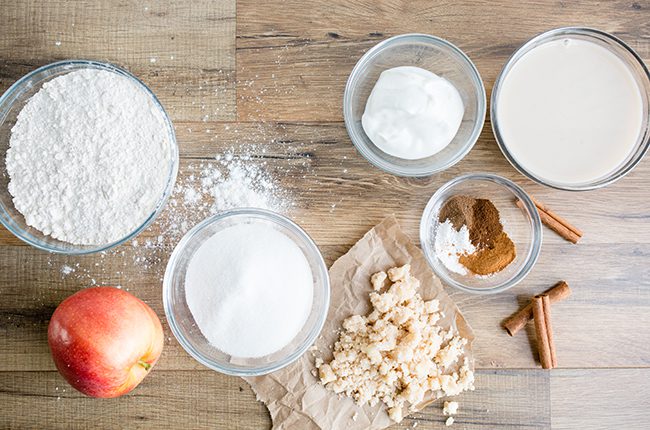 How to Make Apple Cinnamon Muffins
To begin, you will gather, measure, and prepare all of your ingredients so you have everything within easy reach as you mix up this muffin batter.
Next, you will preheat your oven and prepare your muffin tins with liners or non-stick cooking spray.  I also love using silicone baking molds for these as they are so easy to pop out with no need to prepare the pan.
You will mix your dry ingredients in one bowl, and all wet ingredients in a second bowl.  Once both are blended well, you will pour the liquid into the dry and stir until just combined.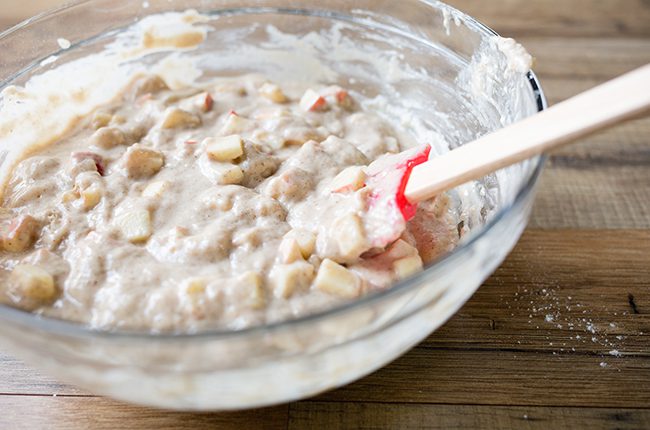 The last step before baking is to fold in the apple you diced.  Be gentle and don't overmix the batter.
Once you have the batter ready, you will quickly mix together the streusel topping in a small bowl.
Scoop spoons of batter into a muffin tin before dropping a bit of the streusel topping over each muffin before you pop into the oven.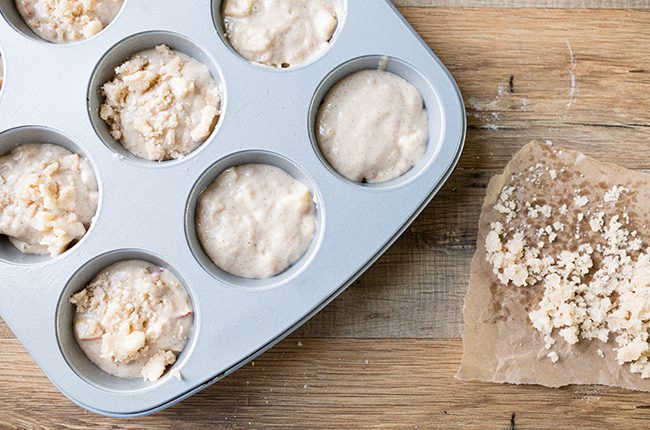 These take around 20-25 minutes to bake and then need to cool for a few minutes before serving.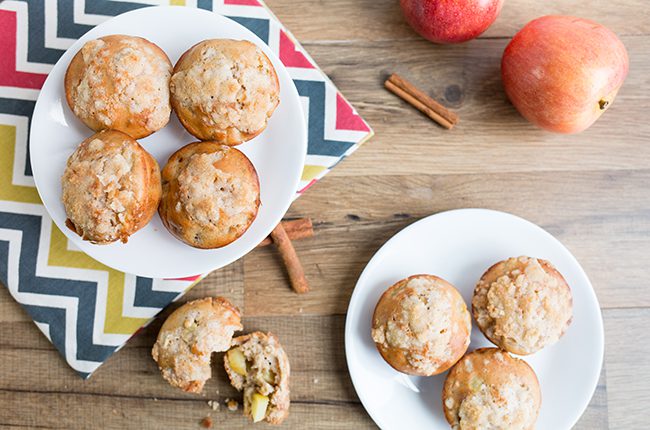 More Delicious Apple Recipes to Try: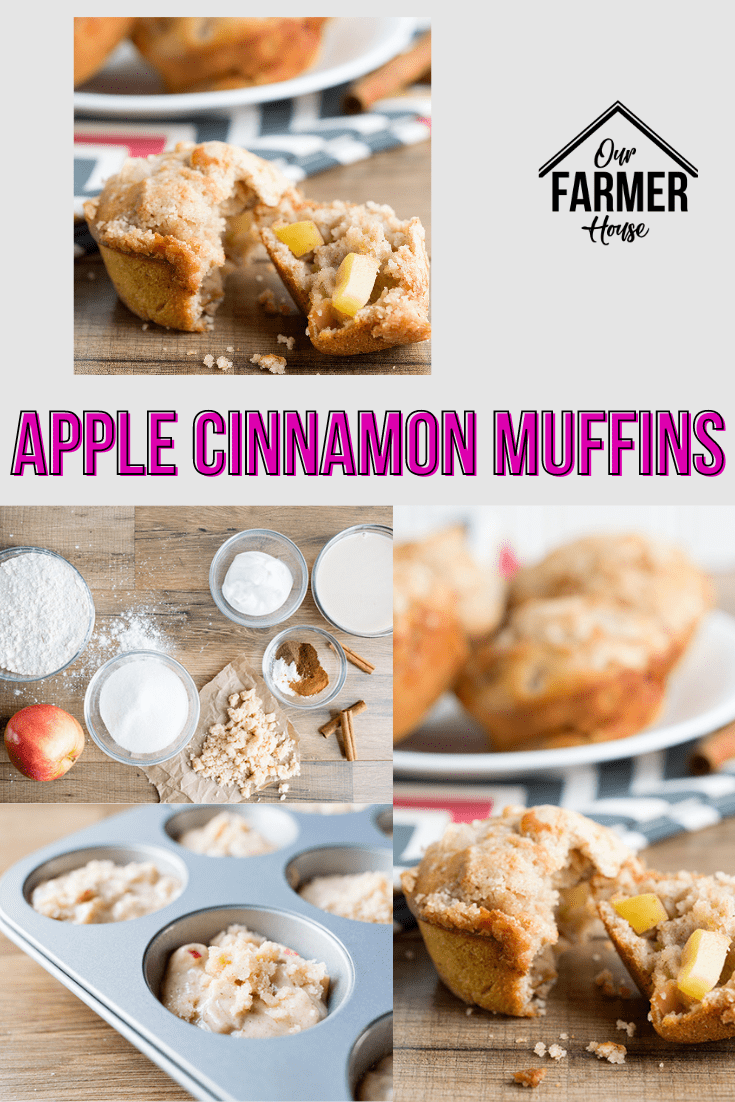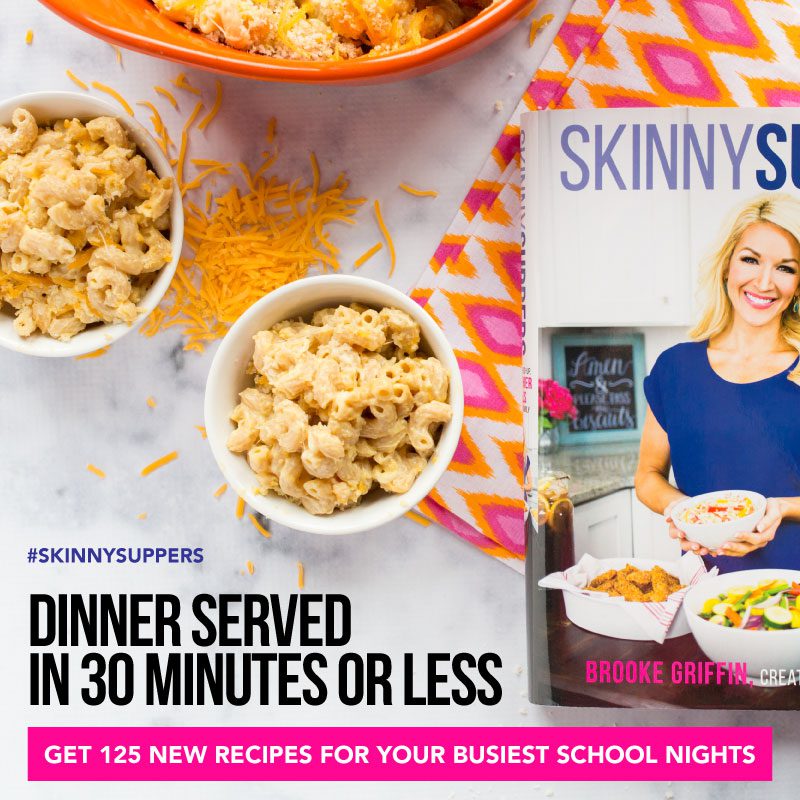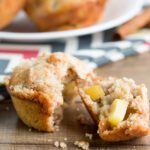 Print Recipe
Apple Cinnamon Muffins
Deliciously moist and flavorful apple cinnamon muffins whip up in minutes and are out of the oven in less than 30-minutes for a perfect healthy sweet treat for breakfast!
Servings: 12 muffins
Calories: 129kcal
Ingredients
For the Muffins:
1½ cups all purpose flour
½ cup sugar
2 teaspoons baking powder
1 teaspoon cinnamon
¼ teaspoon salt
¼ teaspoon allspice
¼ teaspoon clove
1 egg beaten
1 teaspoon vanilla
⅓ cup plain nonfat Greek yogurt
⅔ cup unsweetened almond milk
1 sweet apple diced (such as a Braeburn)
For the Streusel Topping:
2 tablespoons sugar
1 tablespoon all purpose flour
1 tablespoons unsalted butter cold
½ teaspoon cinnamon
Instructions
Preheat the oven to 350° F and line 12 muffin tins with paper liners, or spray generously with nonstick cooking spray, and set aside.

In a large mixing bowl, whisk together the dry ingredients.

In a small mixing bowl, whisk together the egg, vanilla, yogurt and almondmilk.

Pour the liquid mix into the dry mix and stir to combine with a wooden spoon or rubber spatula.

Fold in the diced apples and spoon the batter into the prepared muffin tins.

In a small mixing bowl, add the streusel topping ingredients, and break up the butter with your fingers. Evenly sprinkle the topping over the unbaked muffins.

Bake for 20-25 minutes, or until a toothpick or cake tester comes out clean when inserted in the center.

Allow to rest in the muffin tins for 5 minutes, then transfer to a cooling rack for at least 15 minutes before serving.
Notes
Tip: When chopping the apple, keep the peel on; it adds texture, color and most importantly, fiber, to the muffins! Tip: These will be very large "pop-over" style muffins, so don't be alarmed by filling the muffin tins much higher than you are accustomed to. WWP+: 4 SmartPoints: 5
Nutrition
Serving: 1muffin | Calories: 129kcal | Carbohydrates: 26g | Protein: 3g | Fat: 2g | Saturated Fat: 1g | Cholesterol: 17mg | Sodium: 153mg | Fiber: 1g | Sugar: 13g