Today I'm sharing some pics of our recent Fun Family Night along with easy Christmas baking ideas to help you plan your very own baking night with your kids and family.
Why we Started a Christmas Baking Night Tradition:
Four years ago, as a family, we decided to make an annual tradition of getting together at my mom's house, wear our Holiday PJs, and have a Christmas Baking Night. When the tradition began, it was around the same time the doctor scheduled my mom to the first of what would become many doctor appointments, including chemo and radiation for a rare cancer diagnosis.  Read more about her story here, My Mom's Cancer Journey.
It's been two years of celebrating my mom being cancer-free, yay!  I share this because like our family, many of you reading this post, have and will have experience hard and discouraging seasons like the one my mom our family walked through.  But if there's anything that we've learned going through that difficult time, it's that "the memories we make with our family is everything." Because of this, we try to plan family get-togethers like this baking night as often as possible.
DIY Ornament Making:
We usually start the evening by letting the kids come together at my mom's dining room table and make their very own Christmas ornaments. Not only is this a fun activity for them, but they love the creativity of creating an original decoration.  It's also a great keepsake as we mark and label the ornaments with their names and the date to keep for memories.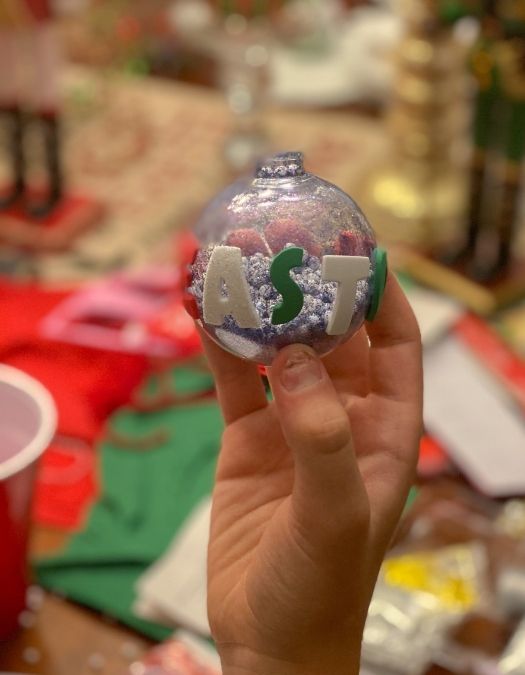 This year, we made clear globes for our Christmas ornaments.  We filled the ornaments with white balls that looked like snow and gave the kids options to add glitter, pom poms, confetti, and beads. To decorate the outside of the ornament, the kids could either use paint or add felt sticker letters to spell their names around the clear globes.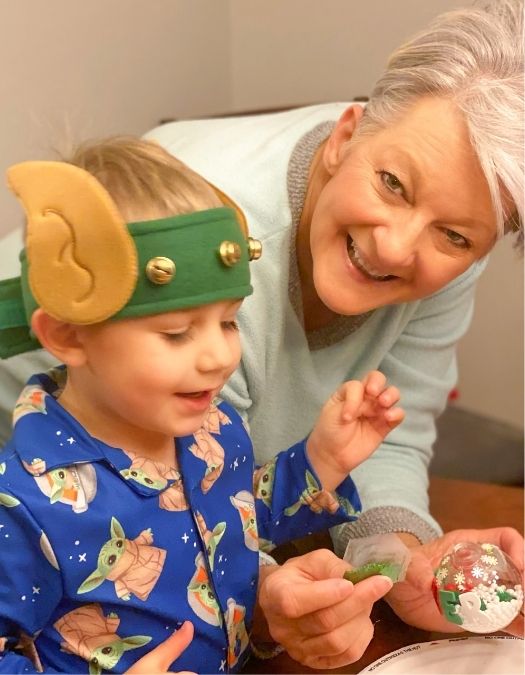 My sister Amanda also found a simple felt ornament kit shaped like a stocking.  The kids had fun threading the two sides of the felt stocking and decorating the pieces of felt with glitter, paint, sequins, and colored felt to make their stocking ornament special.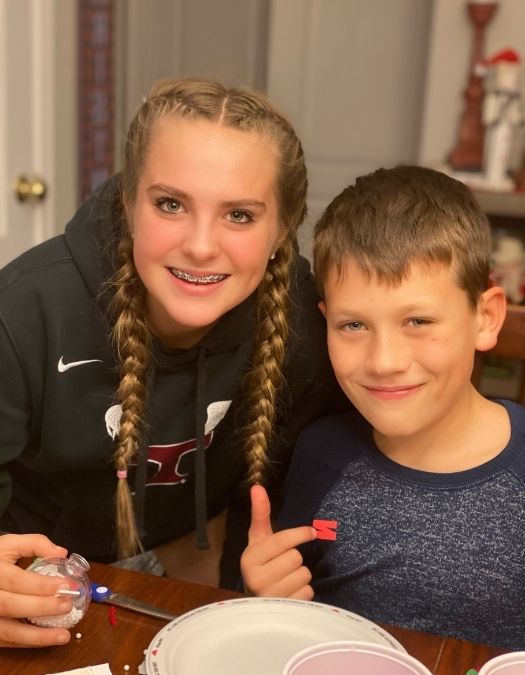 While taking pictures of the kids baking and decorating, I made sure to snap a pic of a few of my mom's nutcracker dolls. Side note, she loves nutcracker dolls and has been collecting them for years.  I love going to her house and seeing all of the nutcracker dolls on display.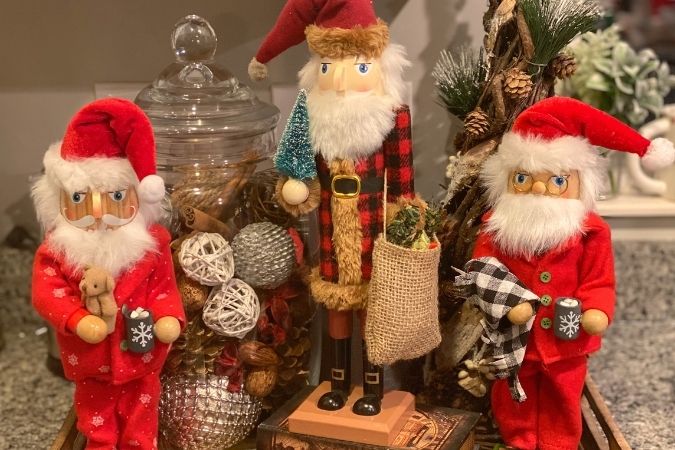 Cookies, Candy, and Sweet Treats:
Of course, the main event for the evening was decorating the Christmas sugar cookies! A few tips when preparing your sugar cookie dough; I would recommend using a pre-packaged mix of sugar cookies, making the dough in advance, and then letting it sit overnight or in the fridge a few hours before. You can also make the sugar cookie mix with a great recipe like this Best Sugar Cookie Recipe or  Easy and Light Sugar Cookies.
Other Christmas Cookie Recipes:
No-Bake Chocolate Protein Cookies 
Lightened-Up Gingerbread Cookies 
When rolling out your sugar cookie dough, make sure to flour the surface and use clean hands sprinkled with flour. It's also essential that your cookie dough isn't too thick; make sure to roll out the dough to about 1/4 inch thickness. I like using large metal cookie cutters as I have found that they are easier to cut and decorate larger cookies. The cookies will expand during the bake time, so be sure to separate the cookies from 1.5 to 2 inches apart. Let the cookies cool completely before decorating. I like to have the cookies baking while we are making our Christmas ornaments.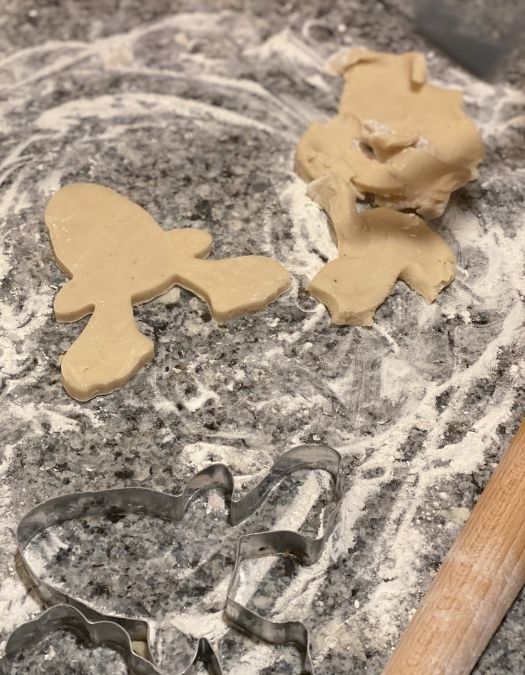 Making Candy and Sweet Treats:
My mom had the idea of making homemade Christmas candy this year at our annual baking night. She was kind enough to premake all of the candy ahead of time.  I would recommend doing this as it saved a lot of time. Once we got finished with the cookies, we then only had to dip the candies in chocolate.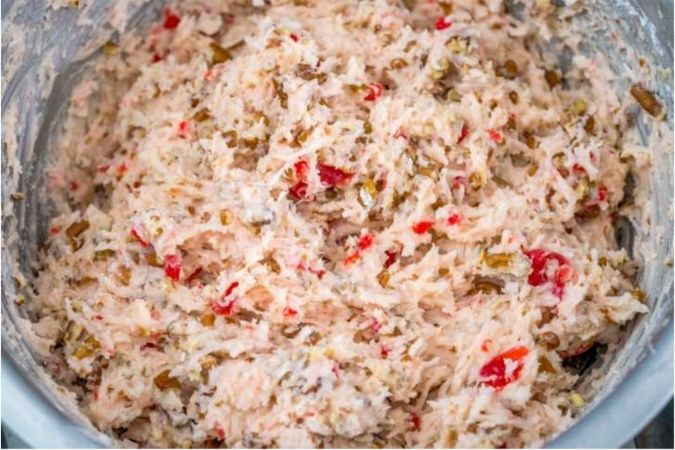 For the candy recipes, we made Martha Washingtons, Chocolate Covered Cherries, Chocolate Covered Peanut Butter Balls, and Maple Cream Bon Bons. We used melted milk chocolate, dark chocolate, and green and red-colored candy melts to cover the outside of the candies.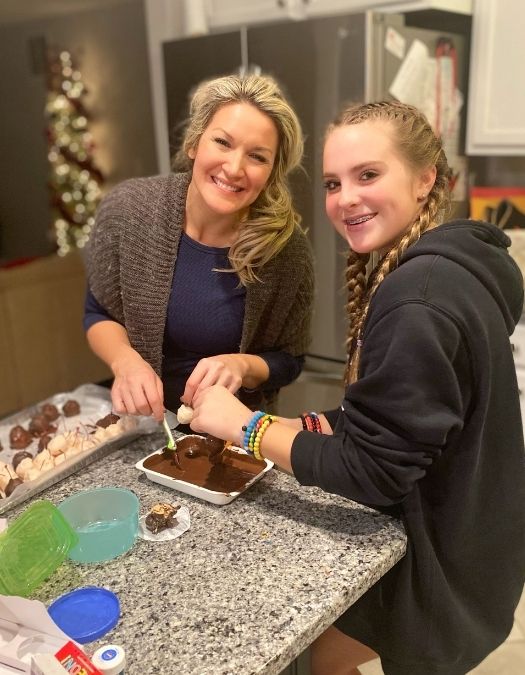 We definitely aren't the best candy decorators, but we had fun, and most importantly, the candies tasted delicious! After letting the candies harden and chill in the refrigerator, we separated all of the cookies and candies into cute Christmas decorated tins and bags for each of us to take home.  I would suggest buying tins and goodie bags at a discount store like Hobby Lobby or the Dollar Tree to save money.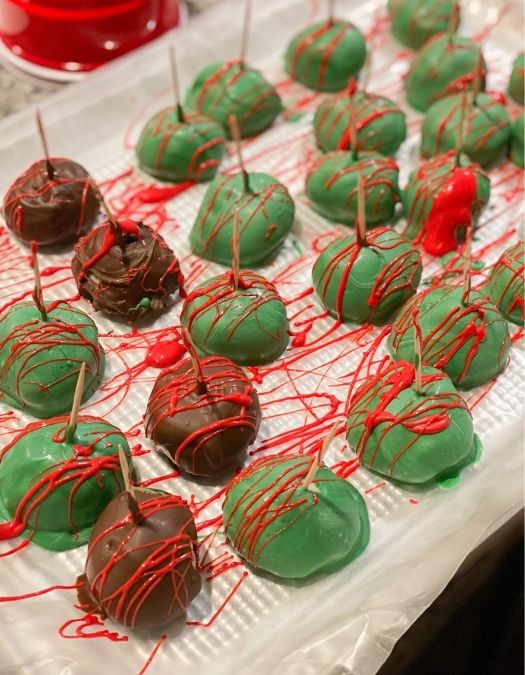 Do you have a Christmas Baking Night or other Holiday Tradition that you enjoy doing with your family?  Also, what are your favorite Christmas candies to make during this time of year?  Comment, tag us @ourfarmerhouse, and share a pic!  Sending love and Christmas wishes.
XOXO,