It's almost December 25, and here at Our Farmer House, we are in full swing, Christmas mode! Some of our traditions may look a little different with everything going on but there are still so many fun things to do this month.  Since we don't want to miss a thing, and we don't want you or your family to miss out on any fun, we created a Christmas Bucket List to make sure we all can enjoy this special time of year.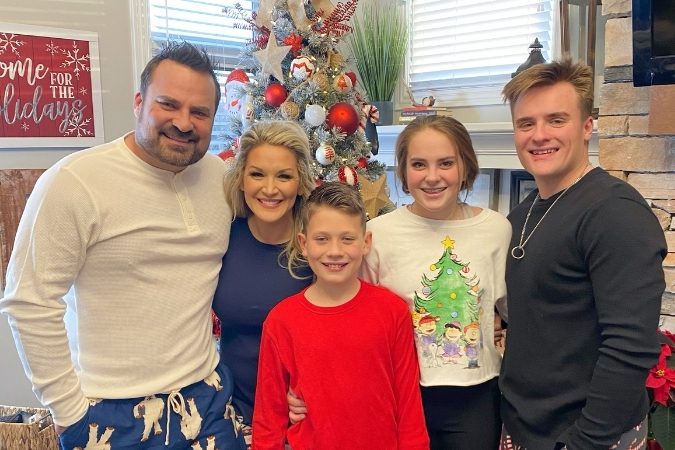 Even with all of the changes and limited gathering, we are trying to make the most of this special season and we want to encourage you to do the same.  After all, this is still the most wonderful time of the year!
Our Farmer House Christmas Bucket List:
1.  Put up the Christmas tree and hang the stockings. In our case, I decided to put up two Christmas trees at our house, and instead of stockings this year, I'm surprising the kids with Christmas bags.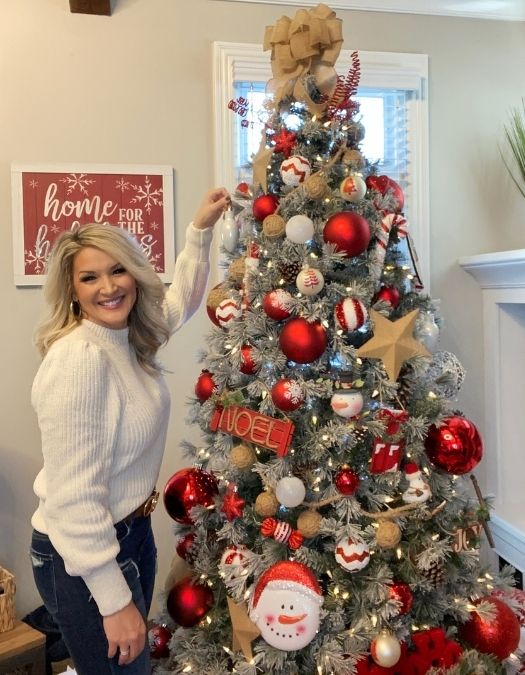 2.  Decorate a gingerbread house. We decided this year to take it a step further and host a gingerbread decorating competition! I purchased a decorating kit with four houses, and we are competing on teams as a family. Bring it on! I'll let you know who wins the challenge:).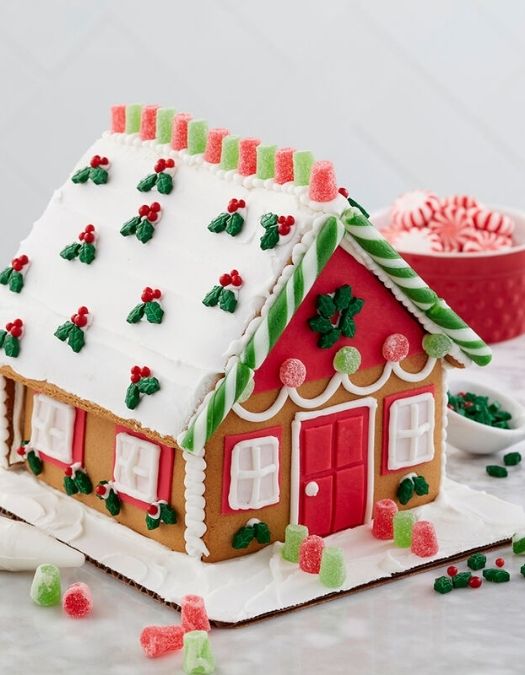 Image: wilton.com
3.  Host a family baking night. Gather your family and friends and bake cookies and candies together. You can even make ornaments or wrap gifts together. Read all about our recent family baking night here.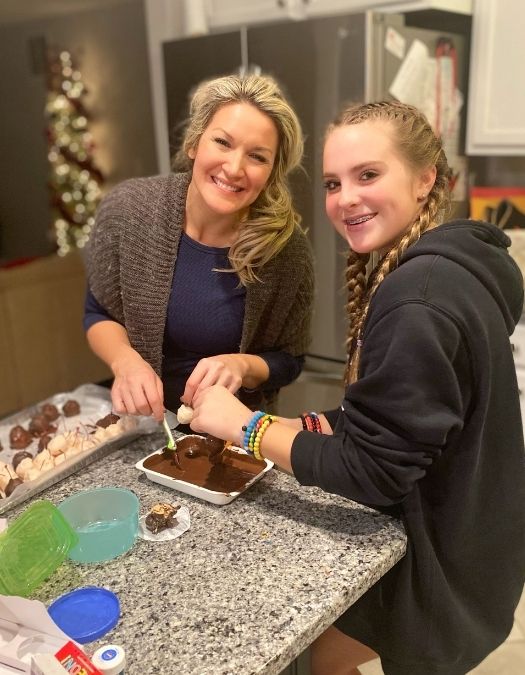 4.  Bake lots of cookies. Here are a few cookies that we make every year: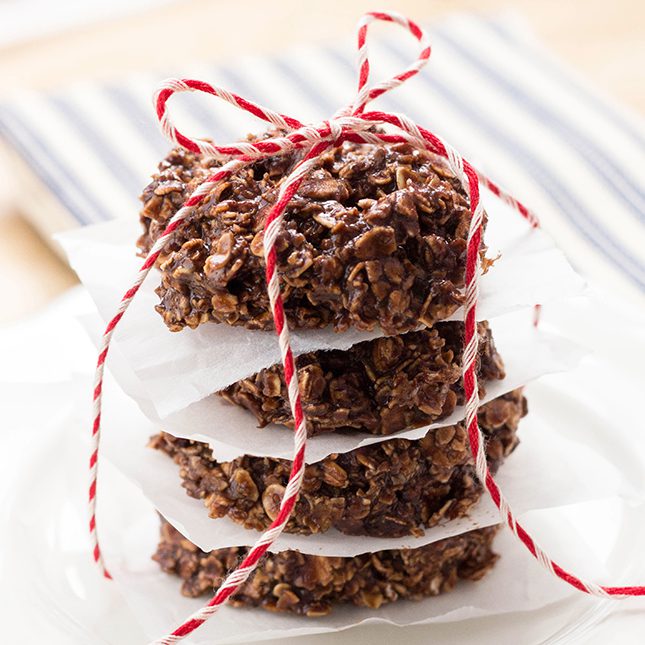 5.  Give Back! Adopt a secret Santa family or put together gift bags for the homeless.  This season is all about spreading love and showing kindness.  Get the kids and the whole family involved in giving back this Christmas season.  From giving gifts to sending handwritten cards and care packages, make this season special for someone in need.
6.  Watch Christmas movies. Check out Our Farmer House Christmas Movie list with 18 of our favorites to watch this season.  Make time to unplug and relax as a family.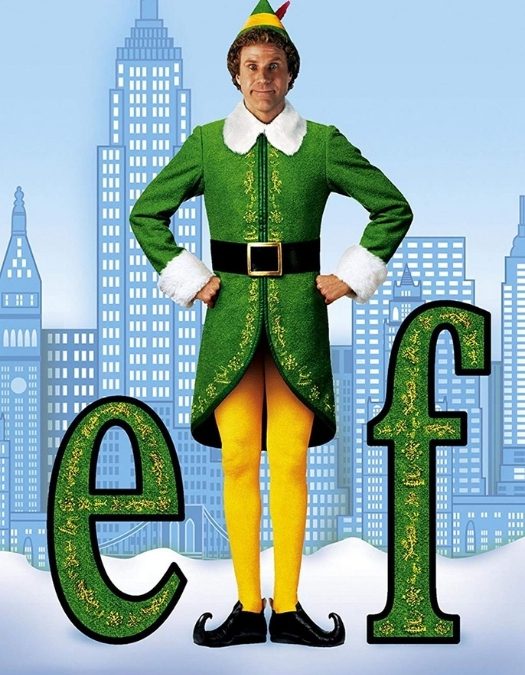 7.  Look at Christmas Lights.  Load up the car, pack snacks, and go for a drive to look at Christmas lights and turn up the Christmas tunes. We love going to Coney Island and looking at the incredible light display.
8.  Make an awesome Christmas Charcuterie board and have a Family Game Night! Get creative with snacks, and festively display them on a white or wood board while playing your favorite board games. We love playing Pictionary, Family Feud, and Trivial Pursuit.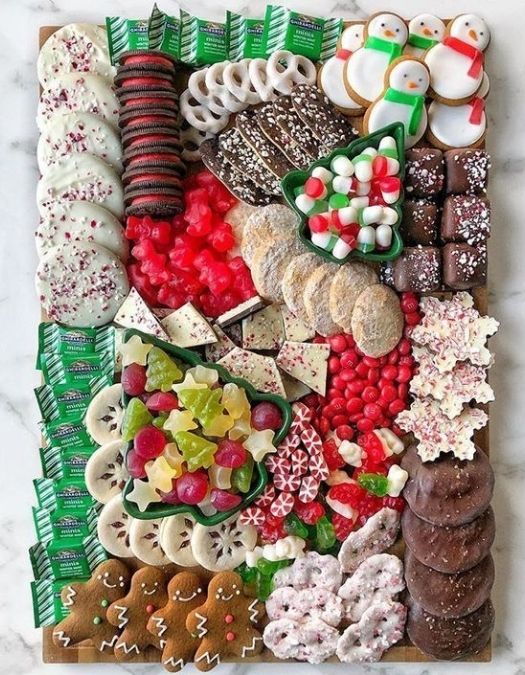 Image: Pinterest
9.  Donate food items to a local food bank.  Our church and the kid's school were part of a community food drive that we gathered items for.  Take it one step further by volunteering at the local food bank and help put together holiday boxes.
10.  View the Christmas lights in your city.  If you live close to Cincinnati, get tickets to visit the Festival of Lights at the Cincinnati Zoo or the lights on display at the Ark.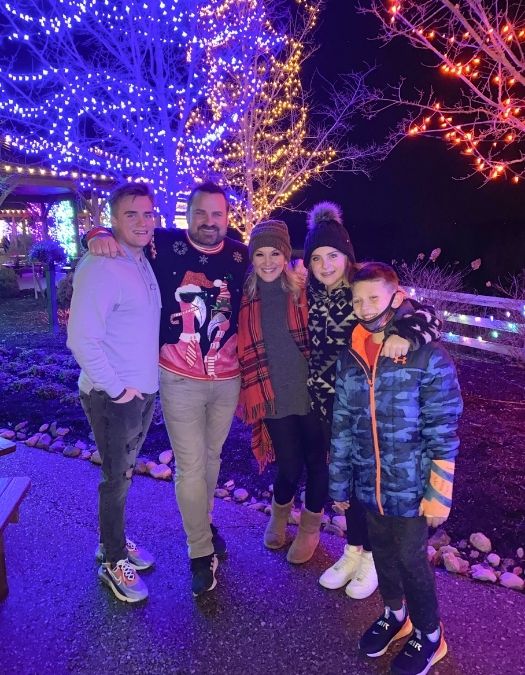 11.  Host a Christmas Party! I love hosting my family and friends this time of year. Mix things up with a Mexican Fiesta themed holiday party like the one we recently had a few weeks ago. So much fun!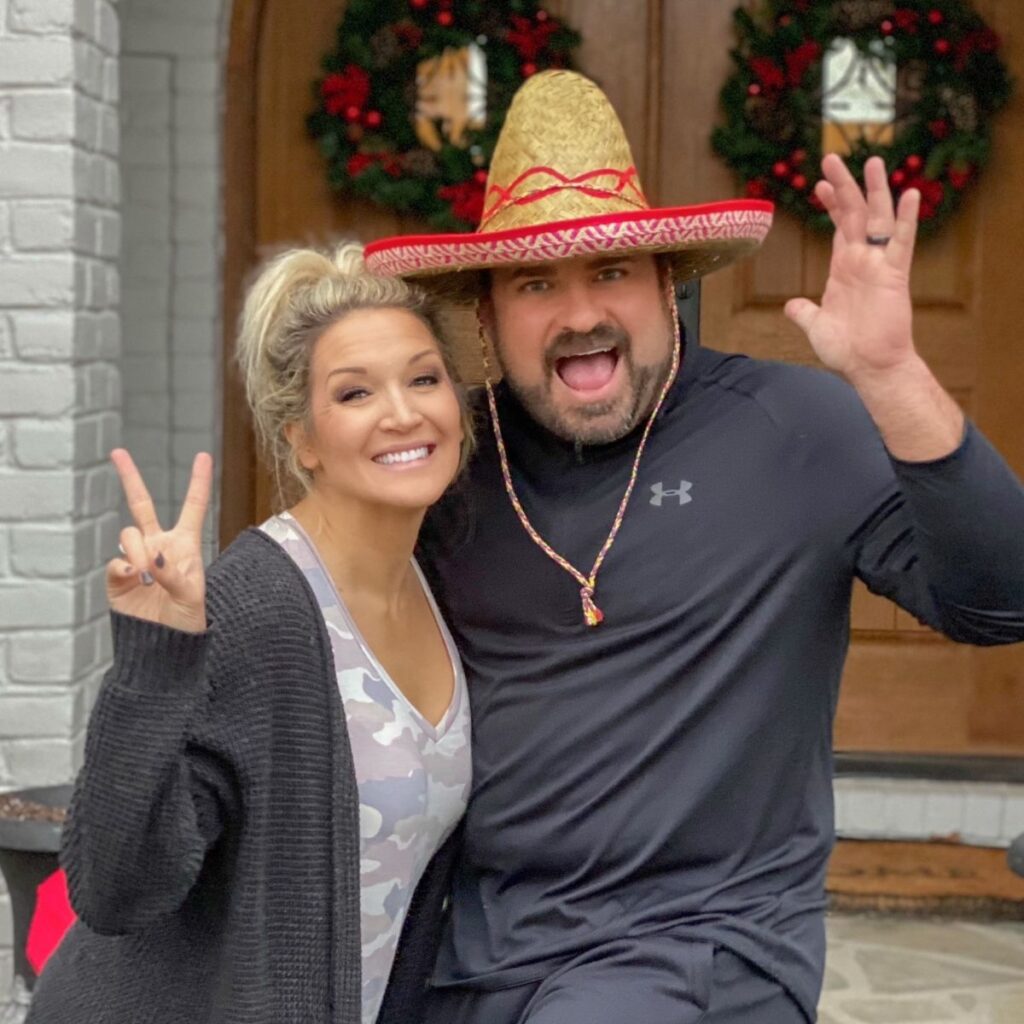 12.  Have a family worship night.  Get together for a night of family worship, prayer, and reading the Christmas story of the birth of Jesus.
13.  Sit around the fireplace and read Christmas stories.  We love drinking hot chocolate around the fireplace and reading our favorite classic, "Twas the Night Before Christmas."
14. Put together a DIY hot chocolate bar.  With just a few simple items you can make your very own hot chocolate bar and make homemade hot chocolate to drink while you take a walk in your neighborhood to look at the lights.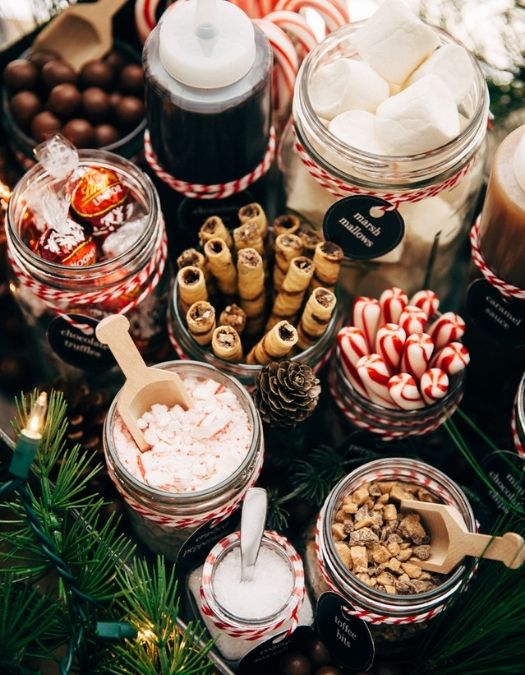 Image: Little Spice Jar
15.  Kiss your special someone under the mistletoe! This is Daron's favorite;)…if you can't find mistletoe, you can make or order a festive mistletoe ball like this one shown.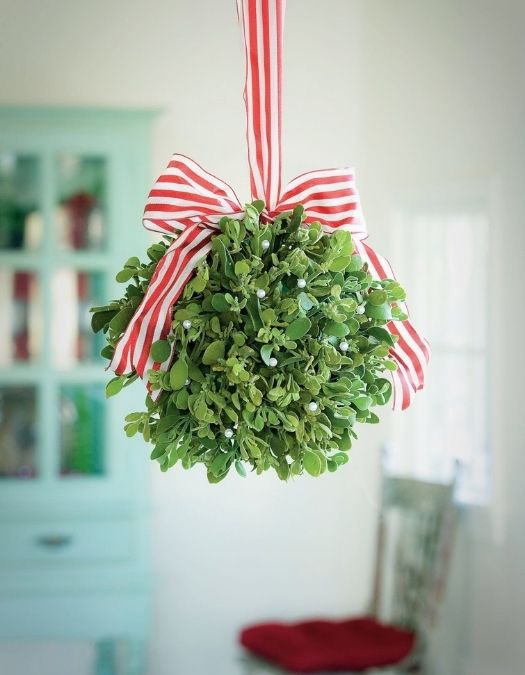 Image: Southern Living
16.  Go Christmas caroling.  Rehearse 2-3 Christmas songs and go out in your neighborhood and spread the holiday cheer.
17.  Wear an ugly Christmas sweater for a party or just for fun:). We like to host a holiday party during this time of year and ask everyone to wear their favorite ugly or stylish Christmas sweater!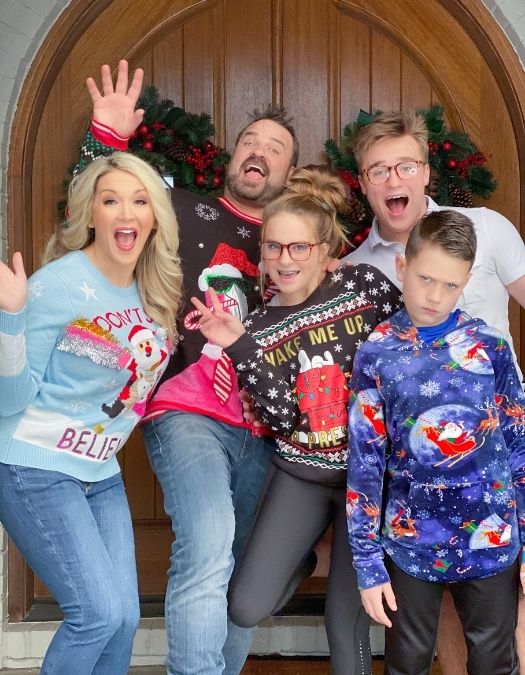 18.  Wrap Christmas gifts.  Have a wrapping day and set aside time to wrap presents and make pretty bows. Here's an excellent tutorial for beautiful bow making.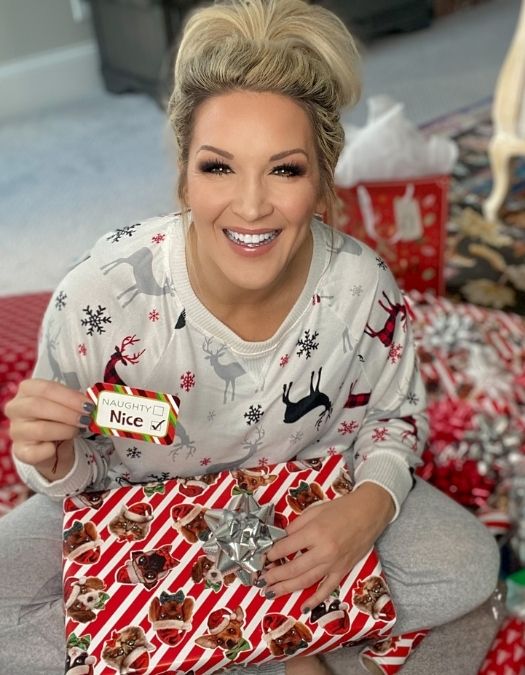 19.  Make homemade cinnamon rolls for Christmas morning.  Here's a great recipe that I like to use that only takes one hour!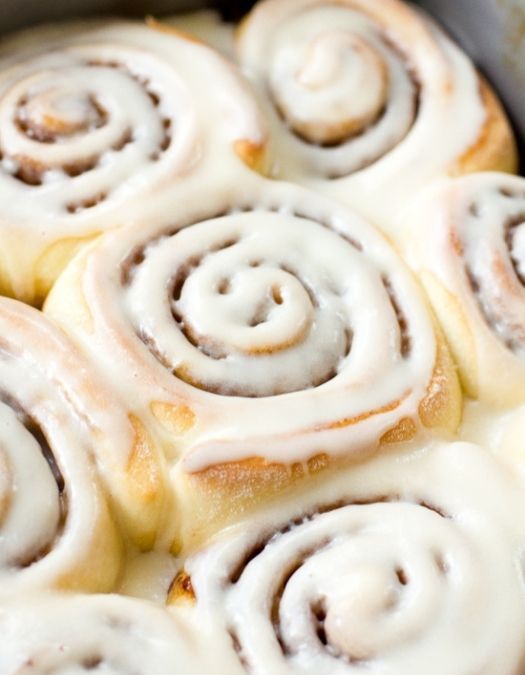 Image: Life Made Simple Bakes
I would love to hear what is on your Christmas Bucket List this year? Comment or tag us in a picture @ourfarmerhouse
I hope you have a wonderful Christmas and enjoy as much time as you can with the ones you love the most.
XOXO,