Easter is by far one of my favorite times of the year.  The weather is getting warmer, the flowers are starting to bloom, and everything is becoming more colorful and fun by the day.  To get ahead of the Easter holiday hustle, I've put together a list of The 12 Cutest Easter Desserts I could find and what I absolutely love about each of them.  These recipes are so cute and colorful you might have trouble eating them!  They will surely stand out at any Easter event.
Cadbury Mini Eggs Cheesecake Bites: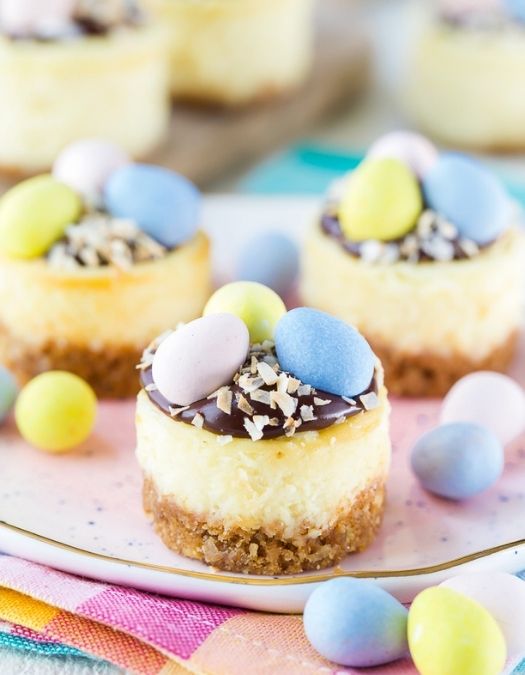 Recipe Source: A Pumpkin and a Princess
If these cheesecake bites are anywhere near as delicious as they are beautiful, sign me up!  The colorful Cadbury eggs give the perfect pop of color against the chocolate top and cream cheese filling.  The toasted coconut adds to the nest detail, but could be left off easily for anyone who's allergic.  Using a mini-cheesecake or mini-muffin pan, they seem relatively easy to make and can be put together in advance to eliminate any last minute concerns. Display them on a simple plate and watch everyone devour.
The 12 Cutest Easter Egg Pretzel Bark: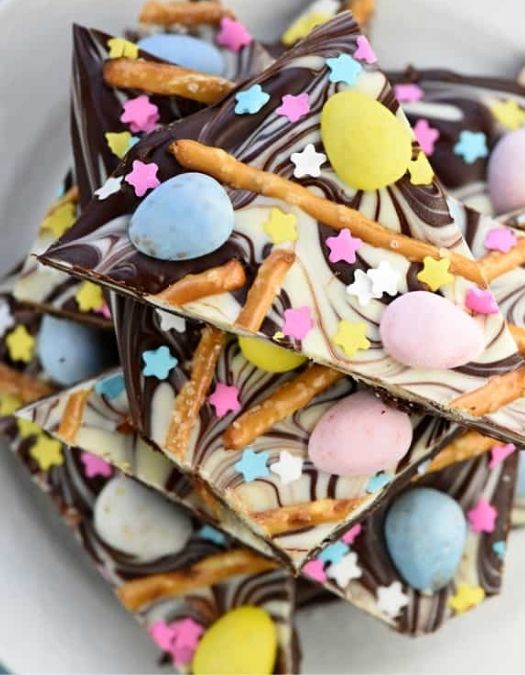 Recipe Source: Five Heart Home
How stunning are the colors in this pretzel bark?  The sprinkles, pastel eggs, and bare pretzel sticks on top of the swirled chocolate base really send this one over the edge.  Sweet and salty, I can't help but think this dessert will keep you coming back for more!  Another make-in-advance recipe, you just gather the ingredients, melt and swirl the chocolates, decorate, and let it set up before slicing. Be sure to store it in the refrigerator before serving – it is susceptible to melt!
Swimming Peeps: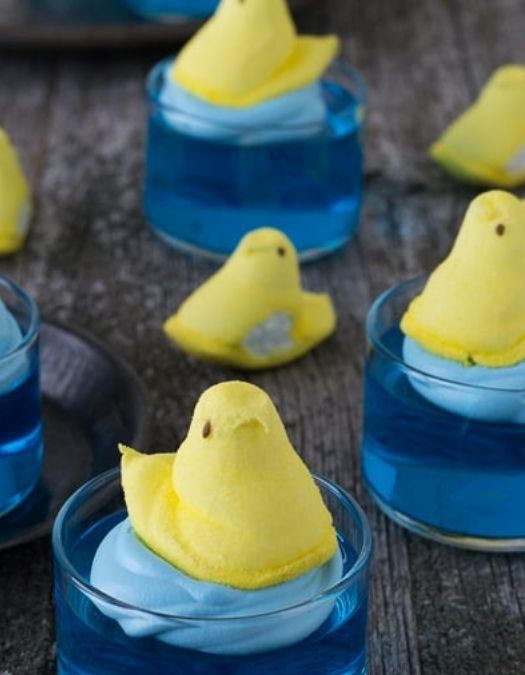 Recipe Source: The First Year Blog
This is by far one of the most creative and cutest Easter desserts I've seen.  I would never think to submerge peeps into a sea of cool whip and jello until now!  Because it does contain fully set jello, you will need to prep this dessert in advance no matter what.  Jello can take 4-5 hours to set properly, so be sure you allow yourself enough time before serving.  Using a clear glass is a must as well to get the full water effect of the design.  This would be a great easy dessert for anyone who love jello.
Easter Bunny Chow: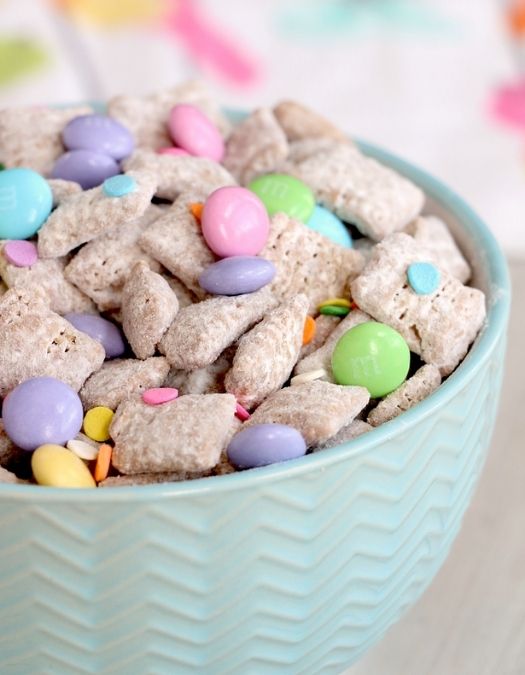 Image Source: Crafty Morning
I adore "Puppy Chow" or "Muddy Buddies" for any holiday dessert, but this Easter version is so pretty. The pastel colors and the coated chex cereal play so well together!  This cute dessert could be used for any Spring occasion, from Bridal or Baby Showers to Kid's birthday celebrations alike.  The peanut butter and chocolate flavors are always a favorite at any event.
The 12 Cutest Easter Desserts: Cream Cheese Mints: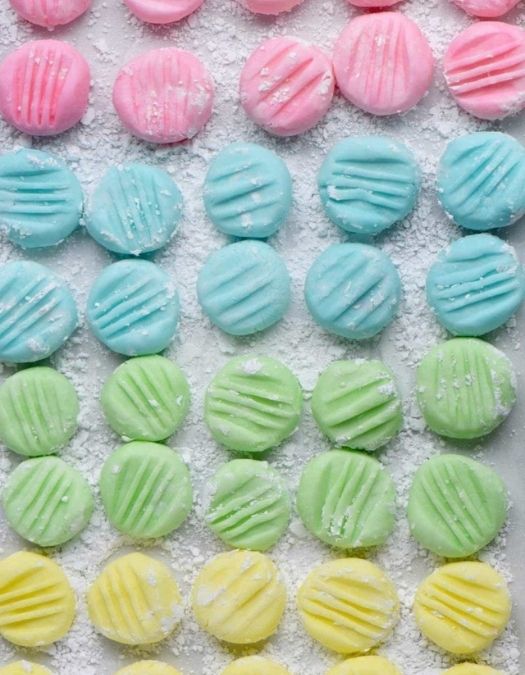 Recipe: Mom On Time Out
These little beauties are an Easter take on the classic butter mint.  With just a few simple ingredients you likely already have around the house, this recipe takes a whopping 10 minutes to whip up.  It does need 2 hours to set in the fridge, but they're going to be worth the wait!  Buttery, minty, and small, they're a light after dinner treat that will also keep your breath in good standing.
Easter Dessert Kabobs:
Recipe Source:  Inspired by Charm
If you have trouble deciding what dessert to make with all of the options out there, look no further than this Easter Dessert Kabob.  A mixture of peeps, carrot cake truffles, Rice Krispies Treats, peanut butter eggs, and homemade coconut cupcakes, you can literally have it all.  The assortment of flavors, bright colors, and fun shapes easily makes this one of my 12 cutest Easter desserts.
Our Farmer House Chocolate Chip Easter Cookies: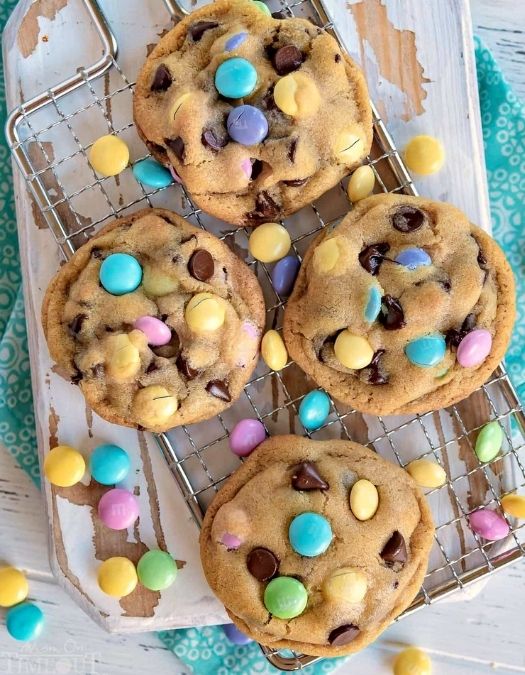 Image Source:  Our Farmer House
I couldn't miss the opportunity to add one of my own to my list of 12 cutest Easter desserts… These are simple, delicious, festive, and can be made just a few hours before any event, or with the kids as an Easter activity.  Using a mixture of regular chocolate chips and colorful candy coated chocolates, these cookies stand out for Springtime and will not disappoint on flavor. Their buttery texture is divine, but if you love an extra crunch, add chopped walnuts or almonds!
White Chocolate Easter Cupcakes: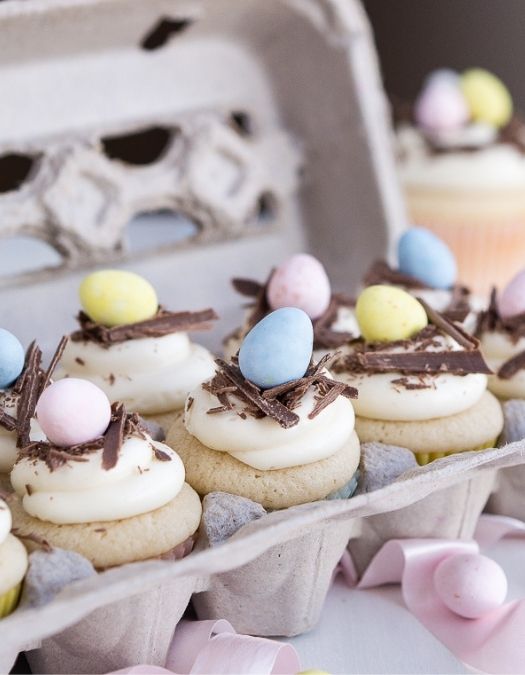 Image Source: Garnish & Glaze
The elegant chocolate shavings on top of these vanilla and white chocolate cupcakes make for a beautiful display. The use of pastel chocolate eggs again gives just the right pop of color for the Easter season.  Serving them up in an egg carton (for mini-cupcakes) is a nice touch, but obviously not necessary for these to have the table-top wow factor you may be going for.  They are stand-alone stunning.
The 12 Cutest Easter Desserts: Bunny Tail Treats: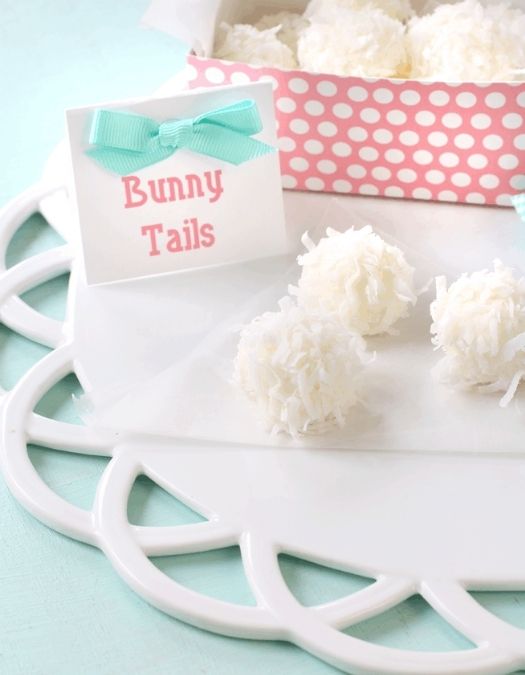 Recipe Source: Pizzazzerie
Is this not one of the cutest Easter dessert ideas you've ever seen?  These no-bake truffles are just 4 simple ingredients!  Another recipe that's perfect to make with the kids on Easter Sunday, or just minutes before an event since they require no baking what-so-ever.  These could also be repurposed in the winter as snowballs or snowmen with the additional of little faces and buttons.
For savory Easter Recipes, check out my favorites below:
Easter Peeps Milkshake: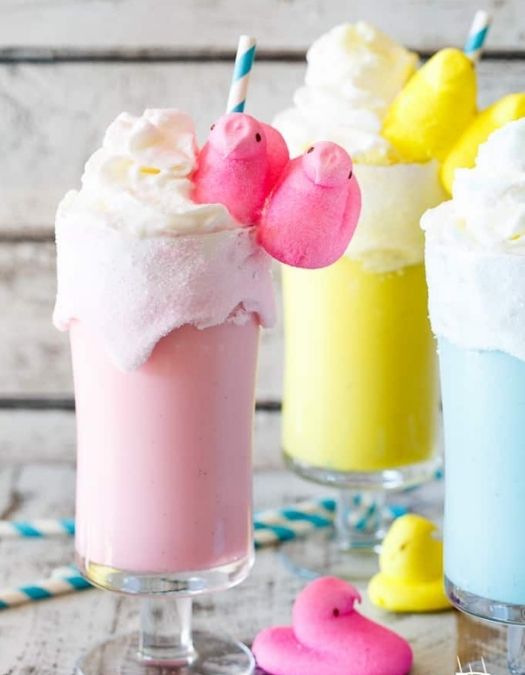 Recipe Source: Shared Appetite
These pastel milkshakes are the stuff my childhood dreams are made of.  The flavor of this milkshake is toasted marshmallow – that alone has piqued my interest and makes me want to try it!  The top of the glass is also covered in marshmallow fluff that's then dusted in sprinkles the same color as each shake.  The Peeps topper makes this an extra cute Easter dessert.
Chocolate Cheesecake Cheese Ball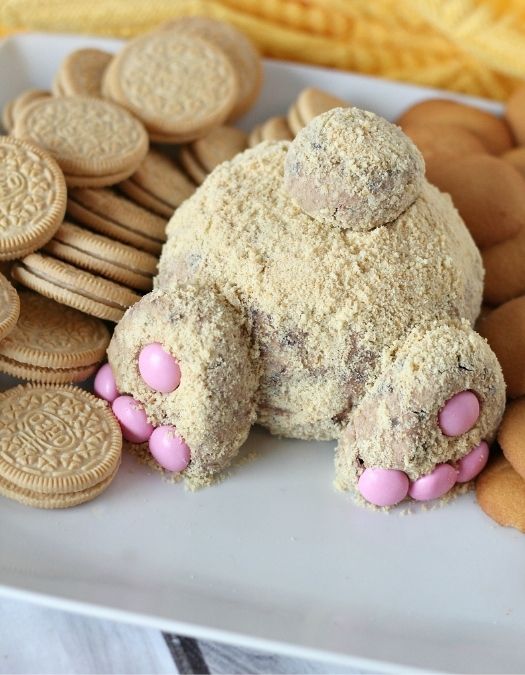 Recipe Source: 4Sonrus
This is a double-chocolate cheesecake cheese ball.  Say that 5 times fast!  For some reason, it's hard to believe anything is cuter in the dessert world than a fluffy little bunny butt.  But, it's cute little bunny feet are probably a close second.  This recipe takes about 10 minutes to prepare, and it's pretty easy to get the bunny shapes right since they're simple shapes.  If you're an Oreo lover, this is a must try.
Peeps S'mores Skillet: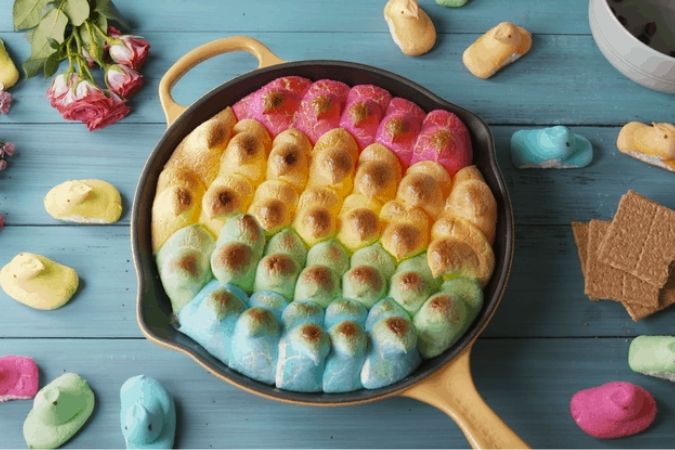 Recipe Source: Country Living
Nothing says Easter more than pastel rainbow colors. This S'mores Peeps Skillet is so simple and bright.  It's basically a regular S'mores skillet recipe using chocolate, heavy cream, and graham crackers, but then topped with signature Easter Peeps.  Another quick dessert that's ready in 10-15 minutes, it's perfect for any S'mores or Peeps fan and easy to throw together on the spot.
Will any of these 12 Cutest Easter Desserts end up on your Sunday dinner menu?  Let me know your favorite ones in the comment!
XO,