When we found this property for our first AirBnb in Milford, we were encouraged by our realtor and the seller of the property to tear it down and start over. And, I might have agreed with them as it was in terrible shape! I honestly have never been inside a property that looked as bad as it did. I wasn't even allowed in one portion of the upstairs because Daron knew that I wouldn't be able to handle seeing the shape it was in.
Daron on the other hand, saw the potential. He walked in the space and said "We can make this look really cute and a great place to stay with some clean up and changes." With his confidence and direction, I trusted him and we both went to work together.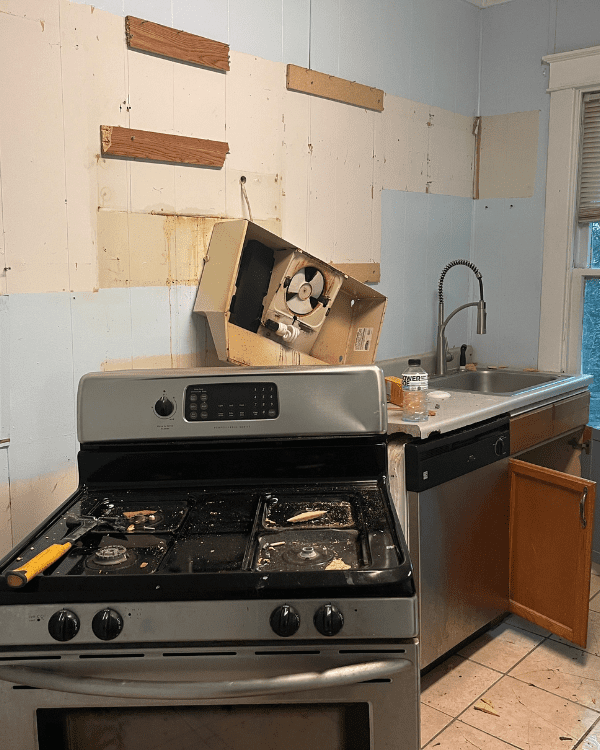 AirBnB Demo & Design
Daron and his team started demoing both sides of the duplex, and basically took the property down to the studs. It was a complete overhaul, even replacing some of the framing. We also redid the roof and waterproofed the basement.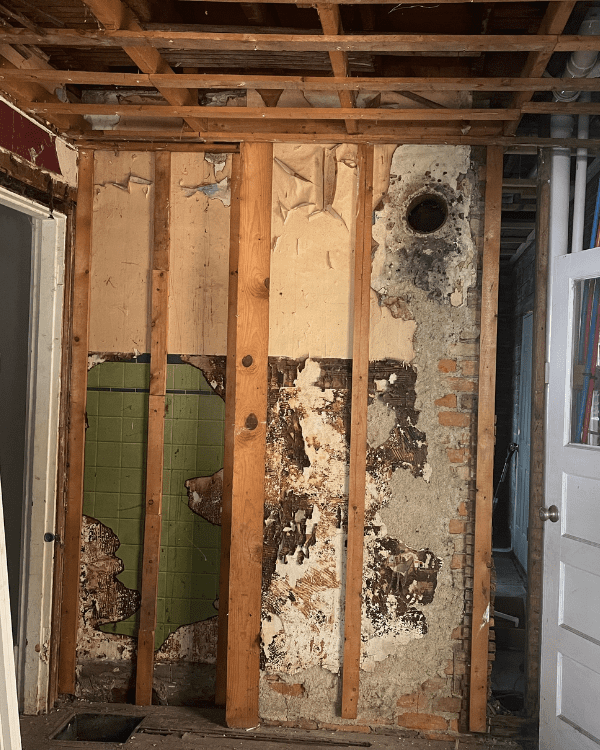 While he was on demo duty, I got busy picking interior finishes, from the cabinets to the flooring to the light fixtures and appliances. Then, I finished up with buying all the furniture and decor that we needed to turn it into an AirBnB rental. I really love the sofas that we chose. If you need help picking a sofa for your living room, check out these tips I used!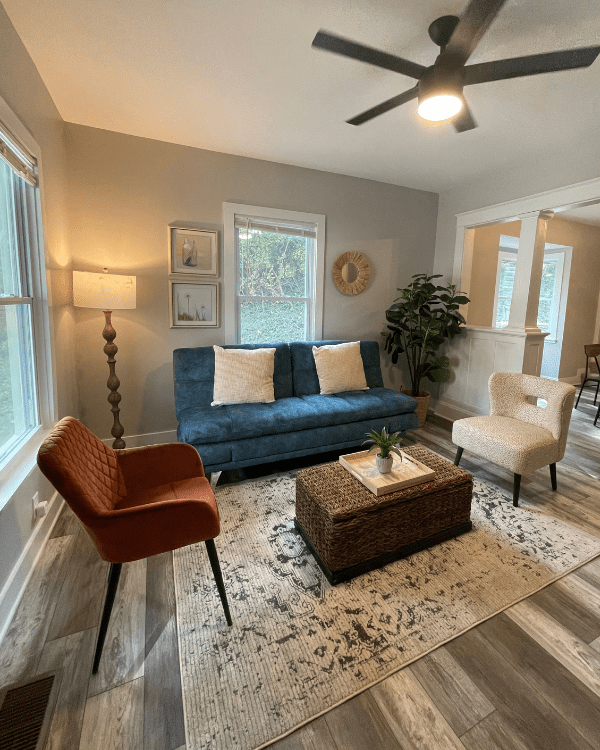 What we both love about the property is seeing the transformation from before to after. The duplex was built in the 1800s, and as I shared, was in really poor condition. To me, it now looks like a completely different place from the inside out.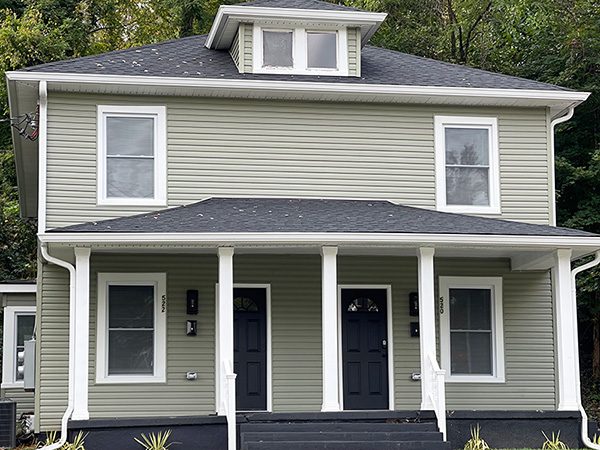 The process of working together to bring it back to life was so much fun. I love getting to work with Daron! And, once the property was finished, we listed it on AirBnb like we originally planned.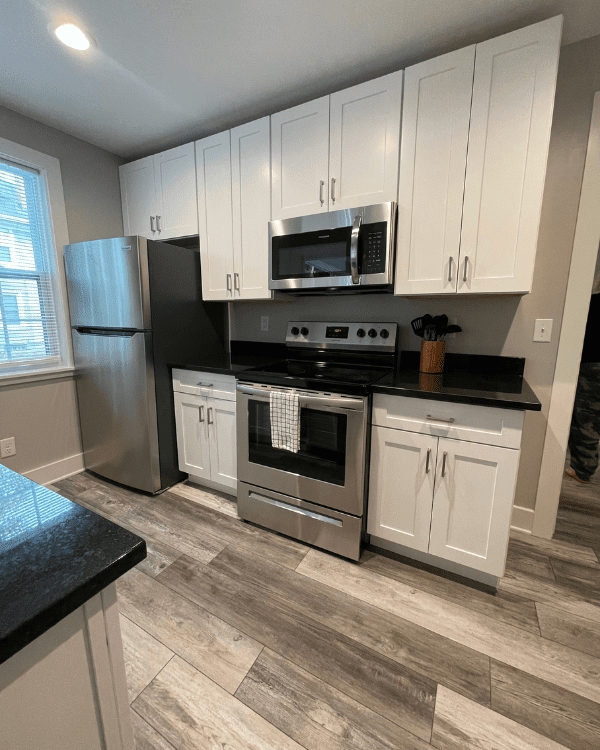 Tips to Be a Superhost on AirBnb
Being a good Airbnb host involves creating a welcoming and comfortable experience for your guests. Here are some of our best tips to help you become a great Airbnb host:
Be Honest.
People are happiest when you manage their expectations! Ensure that your listing accurately reflects your space, including its amenities, rules, and any potential limitations. Be clear about what guests can expect during their stay.
Respond Quickly.
Try to respond to guest inquiries and booking requests as quickly as possible. Prompt communication helps establish trust and a positive impression from the beginning.
Create a clean and well-maintained space.
Cleanliness is crucial in providing a pleasant experience for your guests. Make sure your space is spotless before each arrival, and consider investing in high-quality bedding, towels, and toiletries. We've found that during the busy season, it's easier for us to hire a cleaner to help us turn over the property quickly and efficiently.
Add personal touches.
Consider adding personal touches to make your guests feel welcome. This could include providing a small welcome basket with snacks, beverages, or local information. A handwritten note or a list of recommended local attractions can also go a long way.
Provide clear instructions and information.
Make sure to provide your guests with clear instructions on how to access the property, use amenities, and handle any appliances or equipment. A comprehensive house manual or guidebook can be helpful in answering common questions.
Offer local insights and recommendations.
Share your knowledge about the local area with your guests. Provide recommendations for restaurants, attractions, and activities that they might enjoy during their stay.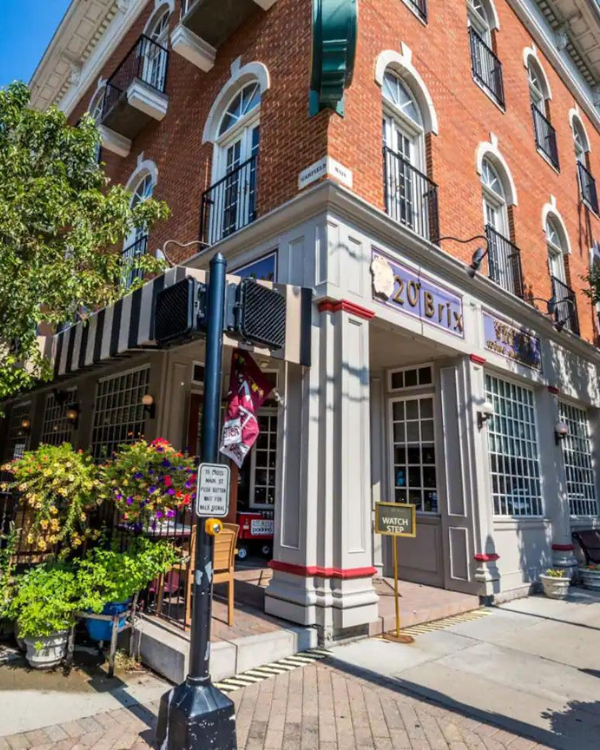 Be available and responsive during the stay.
Make yourself available to your guests during their stay in case they have any questions or concerns. Respond to their messages or calls promptly and address any issues that may arise.
Respect your guests' privacy.
This is one of our biggest tips to be a superhost on AirBnB! While it's important to be available for your guests, also respect their privacy. Strike a balance between being attentive and giving them space to enjoy their stay.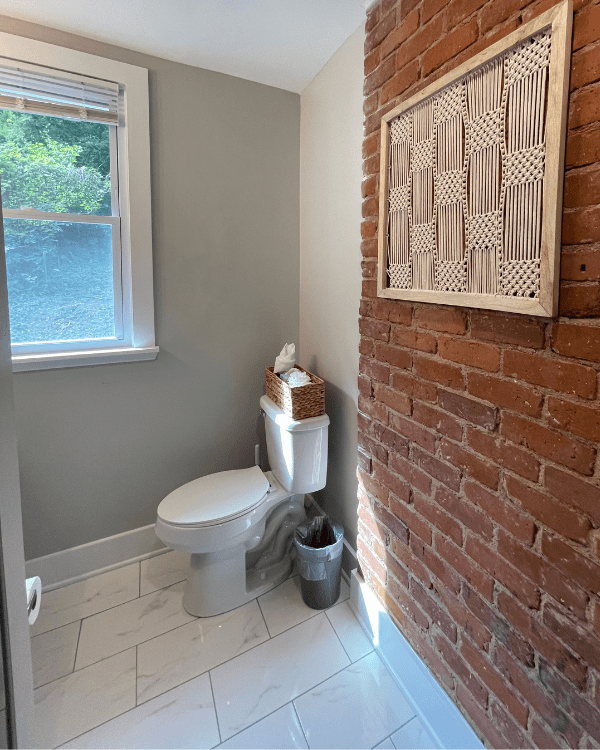 Be flexible and accommodating.
Whenever possible, try to accommodate your guests' needs and requests. Flexibility regarding check-in and check-out times can make a big difference in their overall experience.
Encourage reviews and feedback.
After each guest's stay, kindly request that they leave a review. Positive reviews help build your reputation as a host, while constructive feedback allows you to improve and address any areas of concern.
Remember, being a great host is about creating a positive experience and going the extra mile to ensure your guests feel comfortable and welcome. By implementing these tips to be an AirBnb superhost, you'll increase the likelihood of receiving positive reviews, attracting more guests, and enjoying a successful hosting experience on AirBnb.
XOXO,