Today I'm sharing some fun ideas to keep your kids busy at home!  Summer time, school vacations, and coronavirus quarantines all mean one thing: your kids are home all day, every day. While most parents relish the opportunity to hold their children a little bit closer, too much together time can start to take its toll on everyone.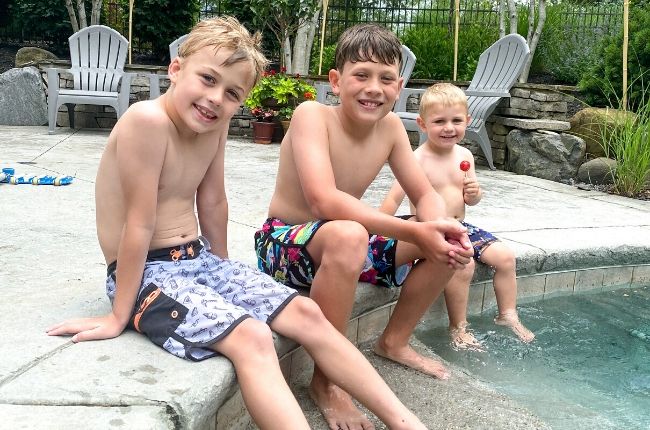 I know this from personal experience, haha!  Together we have a blended family of three and to keep us all happy and having fun, I have to be intentional to make sure we are staying busy.  It's my hope that these ideas keep you and your family engaged and entertained while you're all at home together.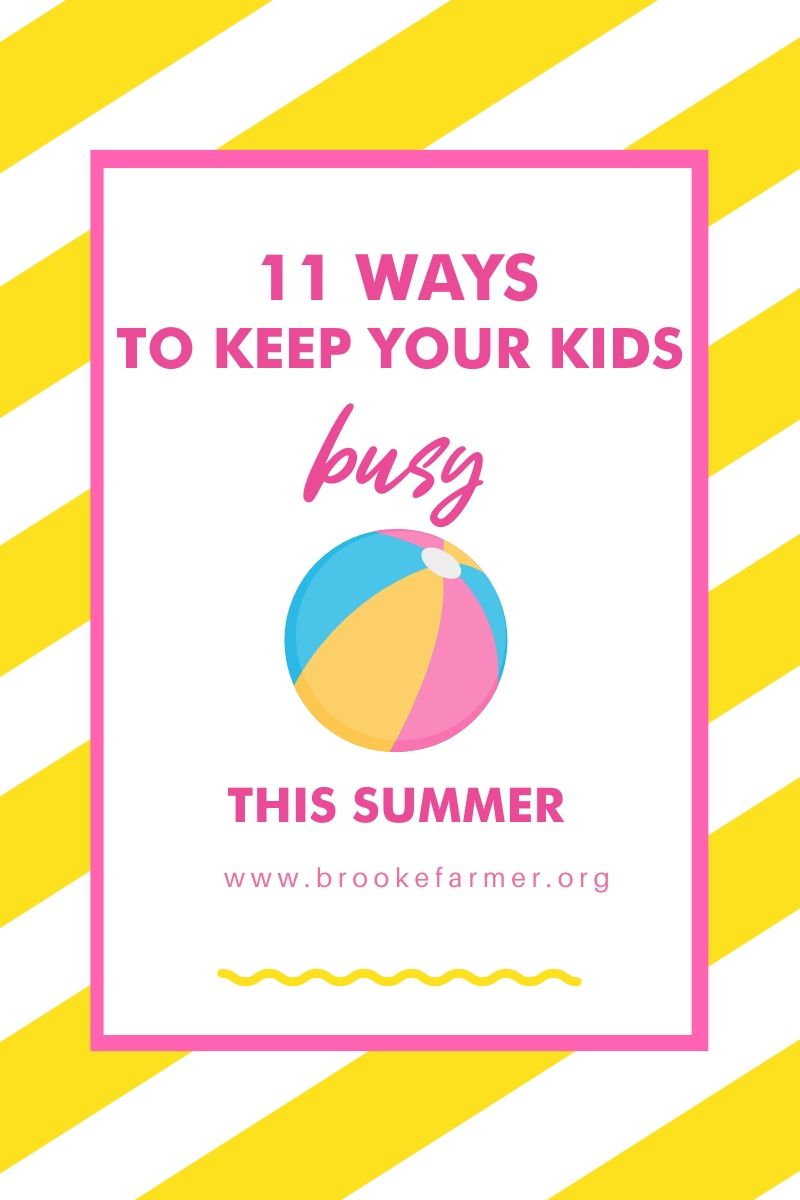 Pool Day
Nothing says Summer better than a day at the pool!  Whether it's the neighborhood pool, public pool, a friend's house, or your pool at home, this is my favorite idea to keep my kids busy while they're at home.  I have a rule that the kids have to stay outside for several hours a day when the sun is shining and it's pretty outside.  I try to keep pool time fun with floats, diving toys, and games they can play.  If a day at the pool is out of the question because of some of the restrictions with Covid-19 or you don't have access to a pool, another great option is to purchase a sprinkler or slip n slide.
Nature scavenger hunt.
If the weather allows, send your kiddos on a nature scavenger hunt around your neighborhood or as you take a walk together. Bring reusable or disposable bags to keep your treasures in. You can motivate your kids by offering a prize to the one who completes their list first. Click here to print the scavenger hunt template I recently found and used with the kids.  They loved it!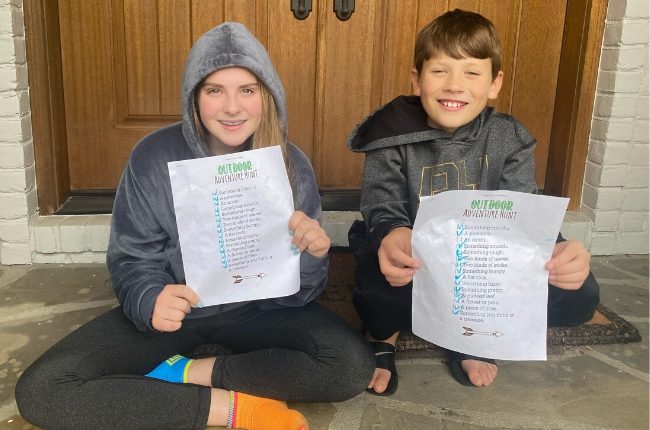 Bake for a neighbor or family member.
If you have neighbors who live close by, consider enlisting your children to help bake them something special. If you have extra produce from an orchard or garden, you may want to include that as part of the gift. It's even better if your children help harvest the goods themselves. As an additional activity, have your children include handmade cards of encouragement.  If you are looking for a great recipe to bake for family member or neighbor, try my Homemade Beef Enchiladas and Chocolate Chip Banana Bread.
Screen time.
It's definitely okay to build some screen time into the daily routine. It can be purely entertainment or you can incorporate some educational time as well. If your crew is like mine, then they might ask to play video games.  My rule is as long as I know the game is age appropriate and safe, I give them this time.  If you're looking for more educational screen time ideas and your child attends a public, private, or charter school, their teacher can often share log in credentials for free access to websites like Reflex math, Lexia, Epic, Scholastic, Brain Pop, and Discovery Education. If you are strictly a homeschool family, most of these websites offer inexpensive monthly or yearly plans for families who school at home. For totally free access check out Khan Academy, PBSkids, Seussville, Highlightskids, and Starfall.
Chalk art.
Chalk is very affordable to purchase, and drawing on the sidewalk or driveway is always fun. Consider leaving positive messages on the sidewalk for others to read as they walk by. Or check out this awesome tape resist chalk trend that's been taking over neighborhoods throughout the US.
Walk or bike ride.
Daily exercise is important for a healthy mind and body, so if your family is stuck at home you have to make use of the space around you. Not only is a trip around your local area good for your body, but it's a good time to slow down and point out some plants, animals, and landmarks that you might not otherwise notice in the car.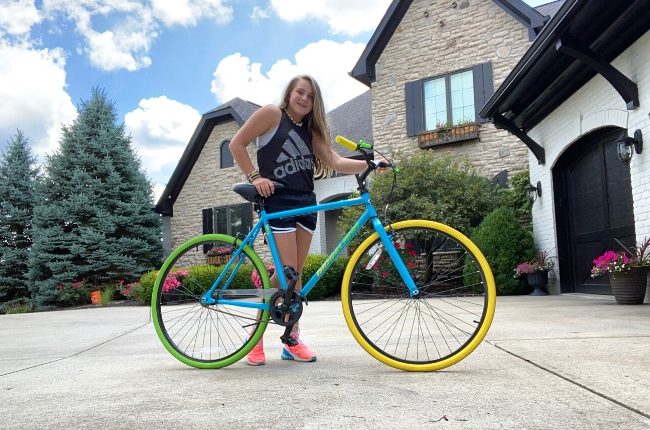 Clean house.
This may not sound fun at first, but you just need to channel your inner Mary Poppins to make it enjoyable. Crank up some awesome music, assign age appropriate tasks to each person, and join in with your kids as you clean or reorganize certain parts of the house. When you've finished, celebrate with some candy or popsicles for a job well done.  We have older children in the house and cleaning the house is part of their daily chores.  We believe in working together as a team at home and this is always a fun idea to keep to keep the kids busy!
Dance party.
You can access thousands of songs on a variety of music platforms these days. Have a dance contest or a dance off between members of the family. Or you can just have fun with a freestyle event. Let each person have turns choosing a song and picking the dance style. Take it to the next level by dressing up in theme (disco, 80's, country, etc.). We love having outside dance parties around the pool while we play a fun game of corn hole!
Card game marathon.
Uno, Crazy Eights, Old Maid, and Go Fish are classic, easy games every family can play together. For a more challenging game with older children try Skip Bo or Phase 10. Other great options are the Spot It! games, which combine cards, search and find skills, and matching abilities. Spot It! comes in several really cool themes (like Disney or MLB) so research your favorite before buying.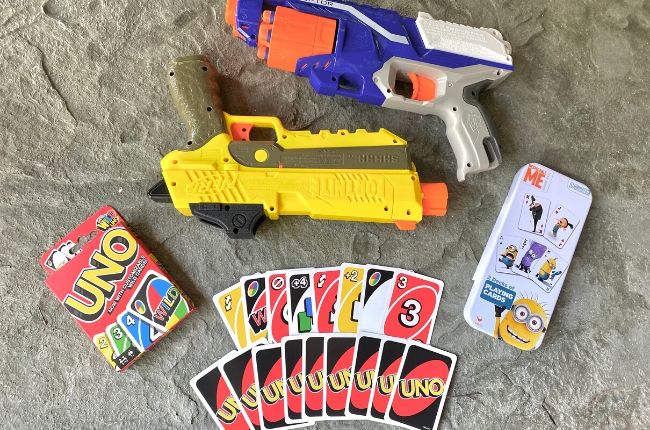 'Shelter' in place.
Building and playing in forts is practically a right of passage for children. This can be done inside or outside, and may need to include a parent's help initially. If you are a really brave parent, you can even let the kids sleep in their fort overnight! You can complete the experience with a fire and roasting marshmallows.  This is a great fun idea to keep your kids busy at home and overnight!
Nerf war.
Like most parents, you probably have a love/hate relationship with Nerf products. On the one hand, your kids can blow off some serious steam by launching foam ammunition at each other. On the other hand, you'll be finding said ammunition all over your home and yard for the next fifty years. Despite that, Nerf makes targets, all sorts of guns, and different types of ammo which all adds up to endless fun for your kids.
Other Fun Ideas to Keep Your Kids Busy at Home:
These are just a few activities to keep your children busy through the Summer months or any unscheduled days and weeks you may be facing. You can keep things very simple by pulling out art supplies, play-dough, puzzles, renting books from the library, or creating with a bin of Legos. Two important ideas to keep in mind are that you are spending time together as a family, but that it's also okay to let children learn to entertain themselves. Cherish this time when your kids are at home with you, because it'll be over before you know it.
I would love to hear some of the other activities and fun ideas that you found to keep your kids busy at home!  Share in the comments or tag me with a picture @everydaywithbrooke
XOXO,