Meal Planning Recipes #2 (January 11-17)
Hi Friends!  Today, I'm sharing my meal planning recipes and a few bonus recipes that I plan on adding to my meal prep for this second week of January.  Kicking off this New Year has proved to be busy with sending the kids back to school, taking all of my Christmas decors down, showing our house, and trying to get back into everyday routines.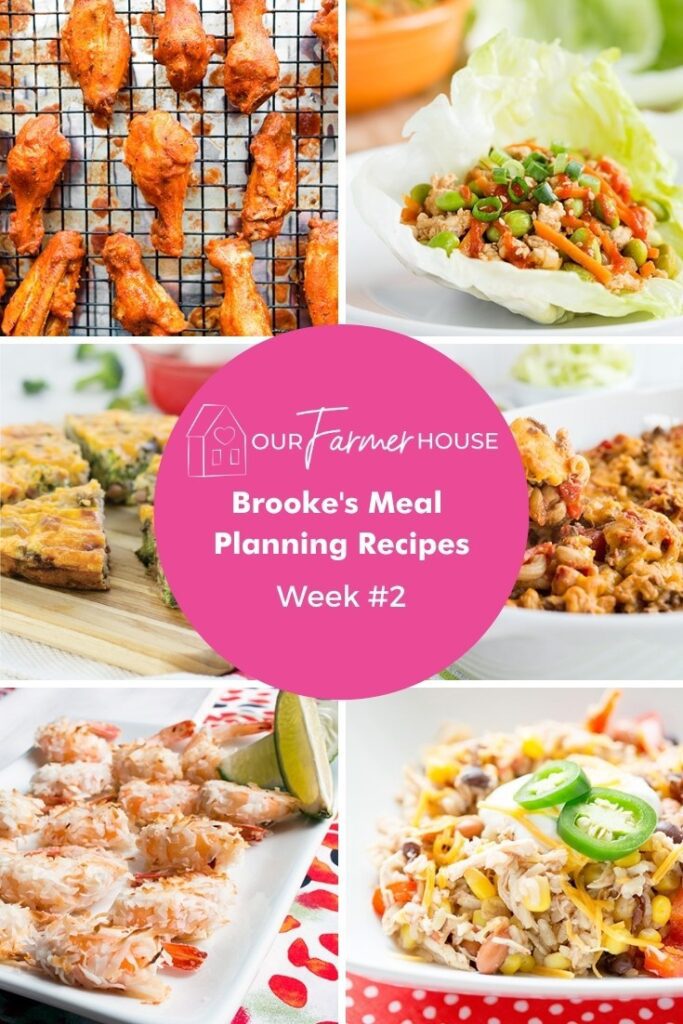 Speaking of showing the house, I'm excited to share that we received and accepted an offer on our house and we are moving!   Yes!  More to come on this including all the details in a later post.  We plan on celebrating this good news along with reorganizing and getting things ready for the move.  I've also made a conscious effort to continue to stay off of social media (it can be overwhelming with everything going on) and remain focused on family along with getting things organized for a great New Year!
As for our meal planning recipes this week, I'm focused on eating healthier.  I tried to pull easy recipes that are lower in calories but yet still family-friendly.  I also included two new recipes that I haven't made before. I'm looking forward to seeing how they turn out.
About my Meal Planning Recipes:
If there's one thing that I learned this past year, it's the importance of family and spending time with the people you love. I believe there's no better way to create memories and real conversation than around the dinner table.
But as a busy mom of three, I know it can sometimes be challenging and even stressful trying to plan out what you're cooking for dinner each week and putting together recipes. For this reason, I'm going to try and help make meal planning easy for you by sharing my weekly meal plans for dinner.
I try to meal plan at the start of each week.  Usually, I put together 7 meal planning dinner recipes for my family of 5.   Sometimes, I will add dessert, breakfast, and lunch recipes as bonus meals. I will also add suggested side dishes to the dinner recipes for added meal planning Inso.
Each week's meal plan will have the recipe links, photos, bonus recipes, and any additional notes that I include that might be helpful to your weekly meal planning.
Skinny Suppers Cookbook:
In 2016, I wrote a cookbook, "Skinny Suppers," and shared 125 lightened-up recipes. Many of you who follow me already have this cookbook, and you will find that I reference many of the recipes in the cookbook as part of my weekly meal plans.
If you don't have a copy of Skinny Suppers and would like to purchase it, you can order it here. It's a great cookbook filled with easy recipes that you and your family will love!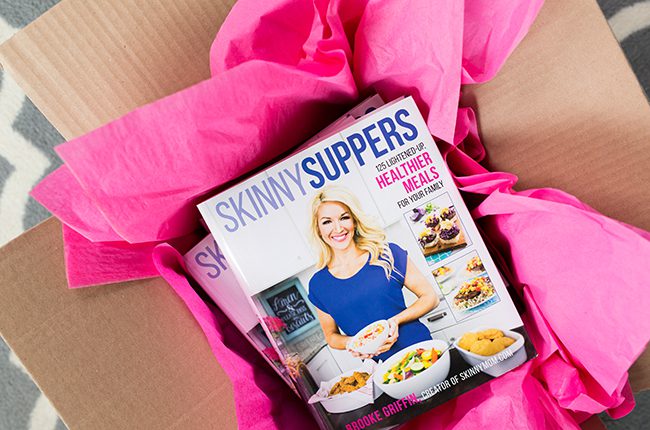 Our Farmer House Community:
Lastly, if you're on Facebook, join Our Farmer House Community, where I share recipes, cooking tips, and life updates. Plus, you can share recipes and photos with the group as well.
If you wish to get on our Sunday Email List, you can subscribe here, so you never miss a meal plan, recipe, or update.
Meal Planning Recipes Details:
All of the dinner recipes are designed to serve a family of 4-6 people. Many recipes will have enough leftovers for lunch the next day (my 17-year-old loves taking leftovers to school), or you can reheat for a second night's meal.
Feel free to switch out the dinner recipes and pick and choose your favorites. I do my best to try and come up with various family-friendly recipes, and I balance the meals out by alternating between different proteins, including beef, pork, chicken, and seafood.
My family doesn't eat many vegetarian recipes, but I do my best to add at least one vegetarian recipe to the weekly meal plan.
As for the bonus recipes, I try to add a few breakfast, lunch, and dessert recipes to the weekly meal plan to try and have as extras to prepare for your family. The suggested sides are listed alongside the main dinner recipe title and link.
If you see a recipe that does not have a link with the words "Skinny Suppers," this means the recipe is in my Skinny Suppers Cookbook. If you would like to purchase a copy, you can order here.
I hope these weekly meal plans inspire you and help you meal plan for dinner each week! If you have questions or recipe suggestions, please send me a message as I would love to hear from you.
XOXO,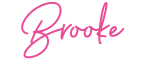 Monday
I'm testing out the new air fryer that I got for Christmas and making Oven-Baked Coconut Shrimp.  Instead of baking the shrimp in the oven, you can modify the recipe like I am and use an air fryer.   If you don't have an air fryer you can batch cook the shrimp in a skillet with a little coconut oil.  Simply lightly fry the shrimp until golden brown for 3-5 minutes on both sides.  I plan on serving the coconut shrimp with baked potatoes and a side of Balsamic Orange Crispy Brussel Sprouts.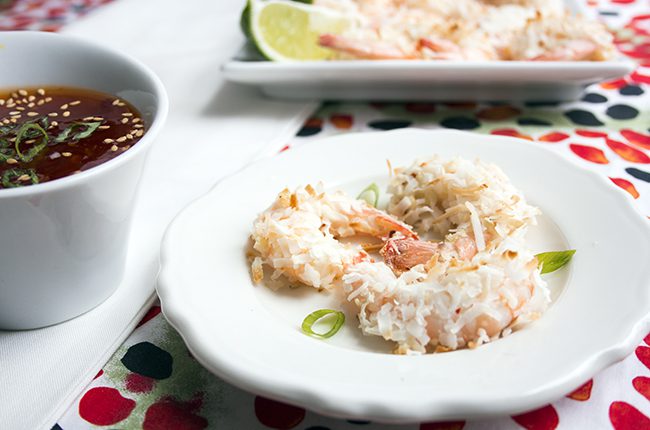 Tuesday
Staying with our Taco Tuesday theme, I plan on making Slow  Cooker Fiesta Chicken with Rice and Beans.  This dish is really easy to prepare in your slow cooker and I'm going to serve it with low-carb tortillas and Homemade Guacamole with blue corn chips and a side of salsa.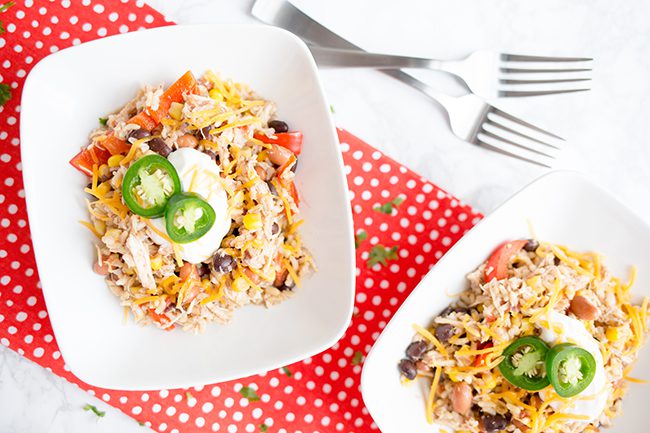 Wednesday
On the menu for tonight's dinner, I'm serving up Asian Turkey Lettuce Wraps.  I love this recipe as it's low in carbs and healthy.  For a side dish option, you can serve with whole grain brown rice or my recipe for Healthy Baked Crab Rangoon.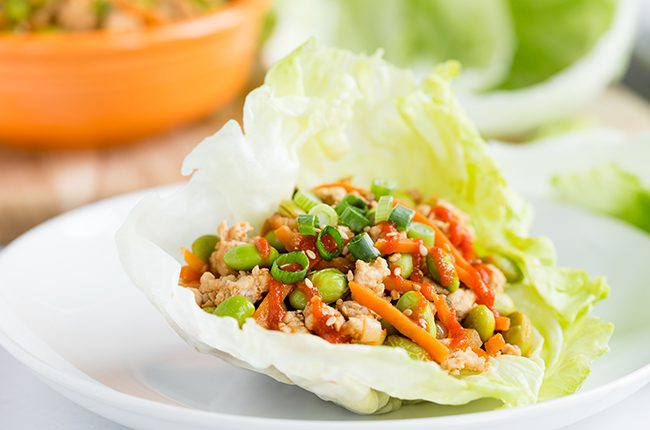 Thursday
Towards the end of the week, I like to keep things simple.  To do this I plan on making my recipe for Cheeseburger Casserole with Macaroni.  Loaded with creamy cheese, perfectly cooked macaroni, and bits of lean beef, it is packed with flavor.  I plan on serving this casserole with a leafy green salad or green bean fries made in the air fryer.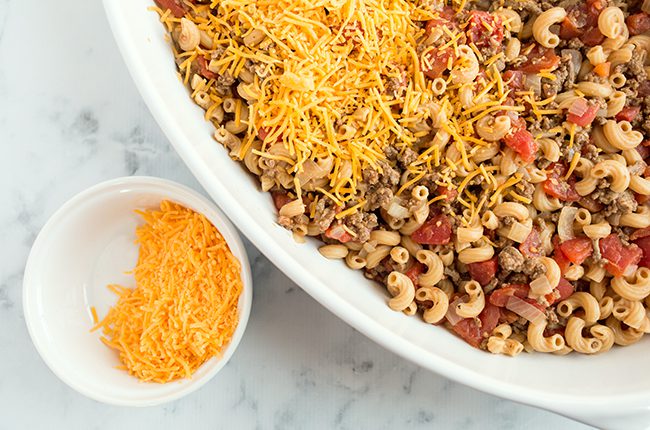 Friday
We love doing movie nights on Friday.  I'm keeping tonight's meal easy with a recipe for Healthier Buffalo Chicken Wings.  I plan on doing a fun charcuterie board with popcorn, veggies, and fresh fruit as sides the kids can choose from.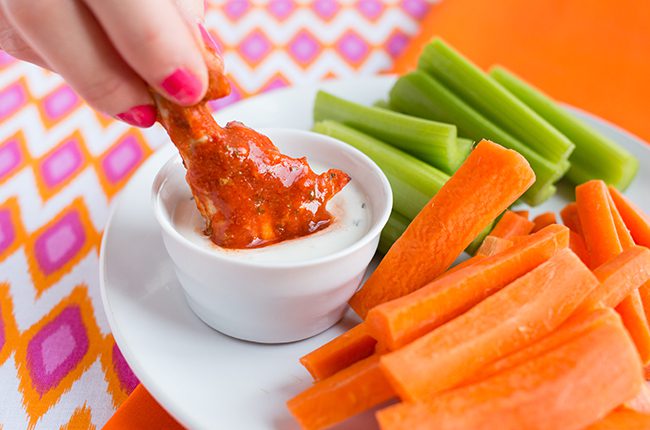 Saturday
Tonight I'm making one of my favorite vegetarian recipes that's in my Skinny Suppers Cookbook.  The Best Spinach Lasagna Roll-Ups.  I serve this alongside a leafy green garden salad and fresh garlic bread drizzled with olive oil.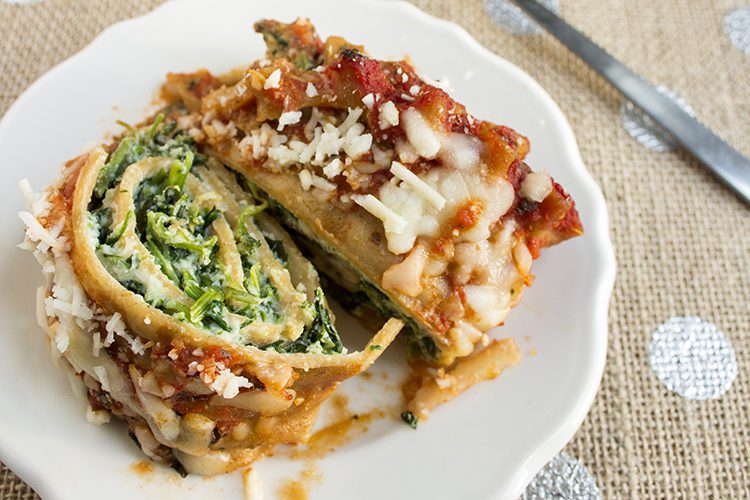 Sunday
This coming Sunday, I'm making brunch and trying out a new recipe for Million Dollar Bacon.  We have a restaurant here in Cincinnati called First Watch and this side dish is one of our most loved on the menu.  The bacon has maple syrup, brown sugar, and a hit of cayenne.  I'm excited to try out this recipe from My Forking Life.  I plan on making the bacon along with a delicious recipe for a Crustless Broccoli, Ham, and Cheese Quiche that can be found in my Skinny Suppers Cookbook:).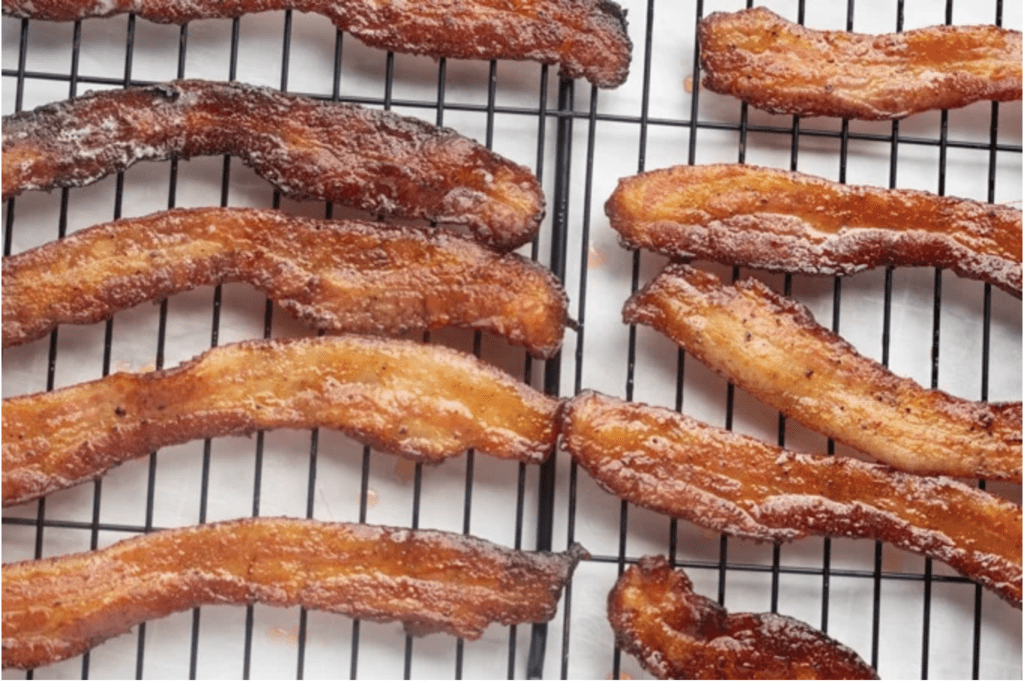 Crustless Broccoli, Cheese, and Ham Quiche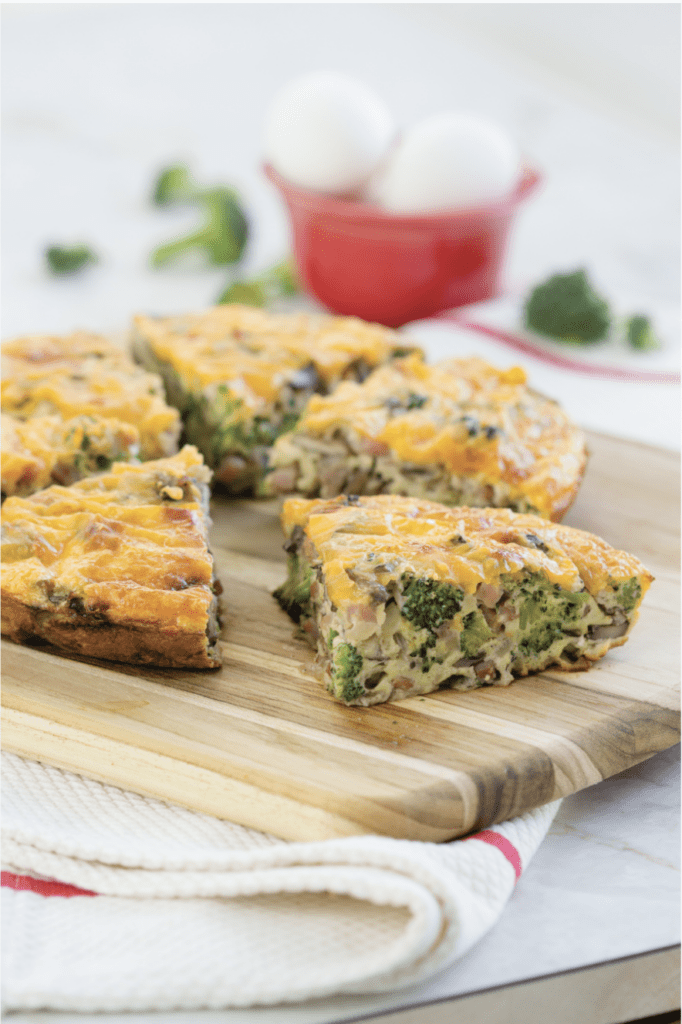 Bonus Recipes:
Sweet Treat: This week  I'm making I'm trying a new recipe that I found on Pinterest for Healthy Peanut Butter Oatmeal Cookies.   I've been trying to cut down on sugary sweets at the house. I think this will be a great dessert for us to try to curb our sweet tooth cravings. Thank you Kathryn from Kathryn's Kitchen Blog for the recipe as I can't wait to try it!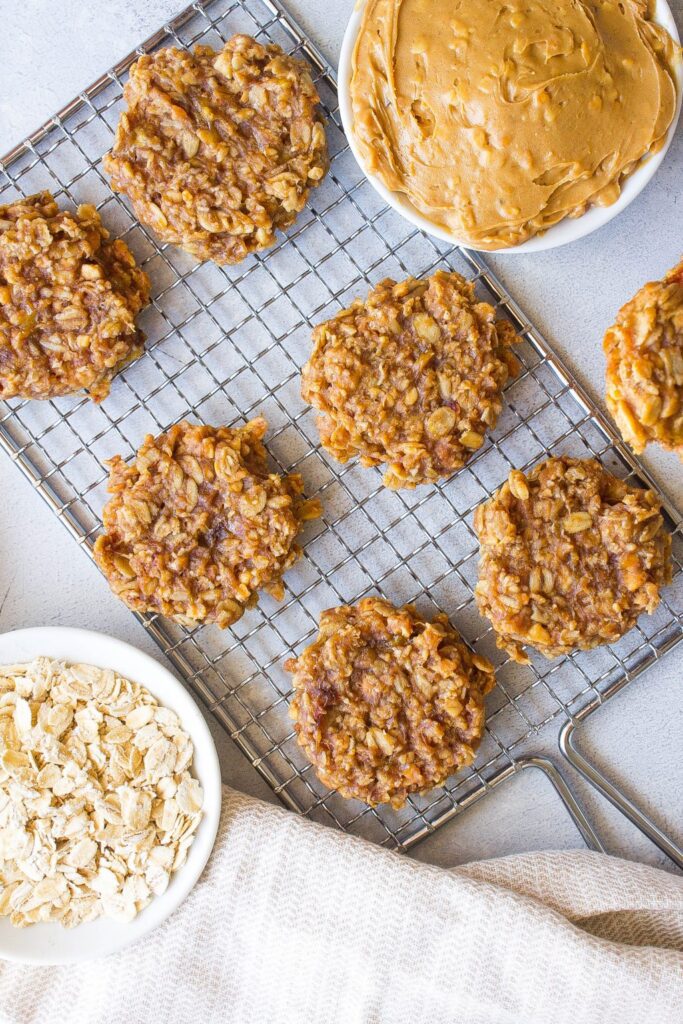 Protein Shake of the Week: Birthday Cake Protein Shake.  I thought this was only appropriate to make my birthday cake protein shake, especially with both Daron and I sharing birthdays this month.   One of the quickest ways I've found to drop extra pounds is by meal replacing one meal per day with a protein shake.  I use my favorite brand of protein powder by She Activates!  You can order here and for a limited time, it's on sale.
Pack and Go Recipe: Avocado Chicken Salad.  Daron loves avocados and this is one of his favorite lunch salads!  It's also a clean eating recipe and is loaded with fresh veggies and fiber.